Panforte Margherita is the "white" version of a traditional Italian Christmas treat that's chewy with fruit and nuts and aromatic with spices.  It's an unusual Christmas delicacy that tastes unlike anything else you've had – and will become a part of your Christmas tradition, too.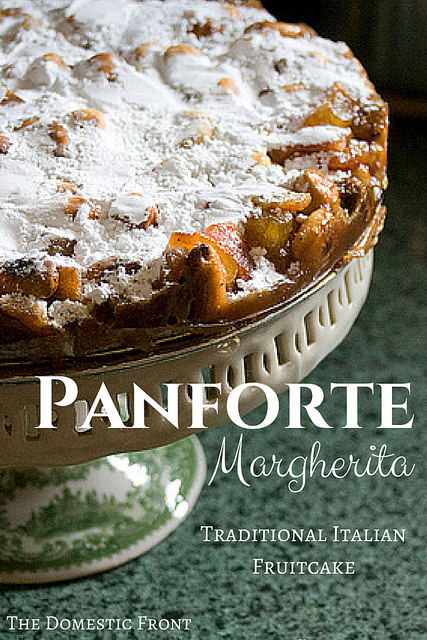 I have waxed rhapsodic on this blog about my love of a traditional Christmas fruit cake, a classic holiday dessert, but my love of fruit cake extends beyond the Dickensian Christmas cake. During my first year of law school, my parents spent the year living in Florence, Italy, and the Christmas I spent with them that year was the only Christmas I have spent away from home (whether home was in California or New York.) What I remember from that Christmas was the cold, damp air, the lights everywhere, but most of all the food. We went to the Mercato San Lorenzo and loaded up on Prosciutto, Grissini, Pecorino, and even, memorably, whole black truffles that we shaved over pasta for New Year's Eve. But what I loved the most were the sweets. Panettone in every bakery, and even better, panforte, a fruitcake like confection which may be the best thing I've ever tasted.
Panforte, a specialty of Siena, a hill town near Florence, dates back to the middle ages, when it was paid as a tax to monks and nuns, and was reportedly carried by Crusaders on the crusades. A combination of fruits and nuts, honey and sugar and spices, it is a cross between a caramel based candy and a cake. It is also utterly addictive, with a satisfying chew from the fruits and the caramel, and a crunch from the nuts.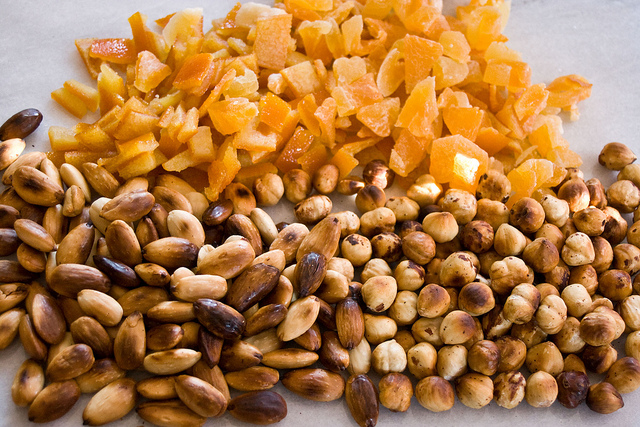 All panforte starts with a base of sugar and honey, but the fruits and nuts vary with the recipe. The two main types of panforte are panforte Margherita, which is lighter and usually contains candied citrus, and panforte nero, which has added cocoa and spices, and which usually incorporates more dried fruits like figs and raisins.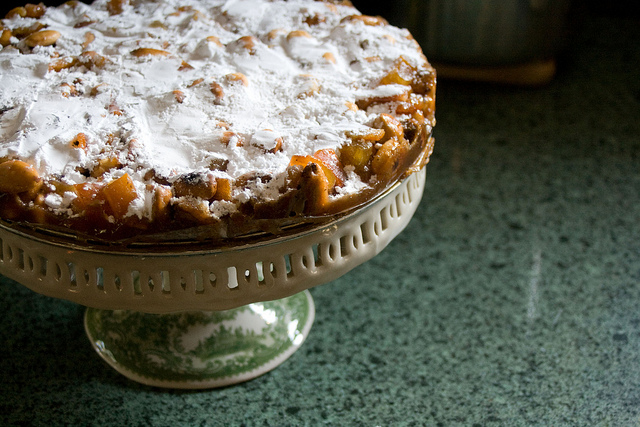 My Italian fruit cake recipe, adapted from Carol Field's the Italian Baker, keeps it fairly simple, with only two types of candied fruits (candied orange peel and candied melon) and whole toasted nuts (hazelnuts and almonds). The key to making panforte is not to overcook it – what starts with a delightfully chewy confection becomes a rock if the sugar is overcooked. It should be sliced thinly and served after dinner, traditionally with coffee or Italian dessert wine, but I personally can't resist snacking on it at all hours.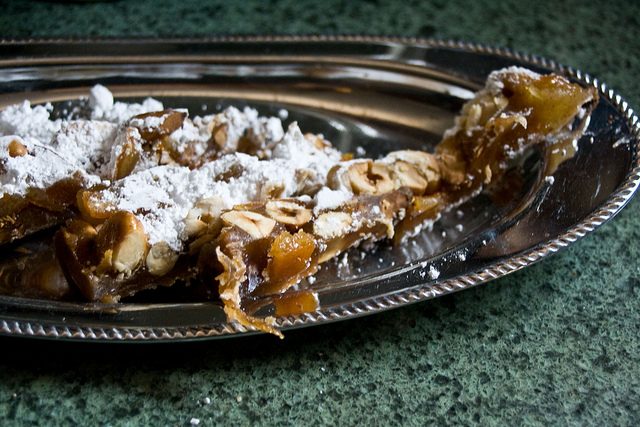 Panforte Margherita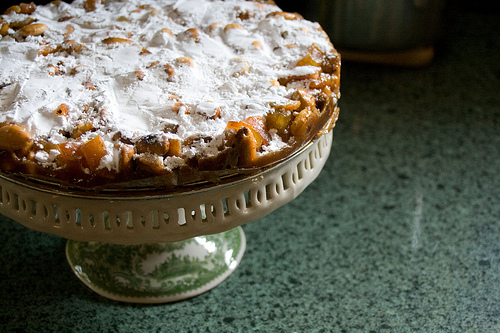 Ingredients
4 oz. whole hazelnuts, toasted and skinned
4 oz. blanched almonds, toasted (to blanch almonds, submerse in boiling water for a few minutes, then replace hot water with cold water. The almonds will slip right out of their skins if you apply gentle pressure)
4.5 oz. diced candied orange peel
4.5 oz. diced candied melon (dried cantaloupe is readily available and is effectively candied, as it has added sugar)
1 tsp lemon zest
2.5 oz. flour
1 tsp. ground cinnamon
¼ tsp. ground coriander
¼ tsp. ground cloves
¼ tsp. ground nutmeg
pinch ground pepper
5.5 oz. sugar
¾ c. honey
1 oz. butter
powdered sugar, for dusting
Instructions
Preheat oven to 350 degrees.
Butter and flour an 8 inch springform pan, line the bottom with parchment, and butter that as well. (I used a 9 inch pan, but I think an 8 inch would work better)
Combine the nuts and fruits in a large bowl. Toss with the flour, spices and lemon zest until the individual pieces are coated.
In a small saucepan, combine the sugar, honey and butter. Bring to a boil, and let boil about 15 seconds (or until the mixture reaches softball stage - about 240 degrees on a candy thermometer).
Immediately pour the sugar/honey mixture over the fruit and nut mixture, and, using a large wooden spoon, stir until the fruit is thoroughly coated with the honey mixture.
Pour the fruit/nut/honey mixture into your prepared pan. Use a buttered spatula to spread the mixture to the edges of the pan. Place the pan in the oven.
Immediately reduce the oven temperature to 300 degrees, and bake 30 to 40 minutes, or until the mixture is bubbly at the edges and still fairly liquid in the middle. (Err on the side of underbaking). Let cool thoroughly, and dust with powdered sugar before serving.
Notes
Adapted from the Italian Baker by Carol Field