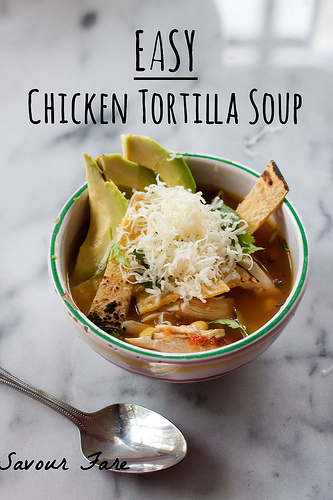 When it comes to dinner, I'm an obsessive planner.  With a full time job and an hour commute and two kids, my dinnertime meals are regimented.  But lunch is more spur of the moment.  Not exactly an afterthought, but definitely more of a "What do I feel like eating today?" meal.  And sometimes what I feel like eating is soup.
And when I feel like eating soup, I don't mean soup-three-hours-from-now-after-simmering-0n-the-stovetop, but soup within the next thirty minutes or so, like this Chicken Tortilla Soup.   It comes together quickly without sacrificing flavor. Without the long simmering, I'm looking for ways to add flavor fast.  Some of my favorite ways to add quick flavor to soups are:
Use good broth.  You CAN make soup from water, but if you're looking for a fast soup, a good broth is essential.  Making your own is great, but I also like the flavors of Trader Joe's Organic Free-Range Chicken Broth (Not reduced sodium), and Kitchen Basics Chicken Stock (Reduced Sodium OK in this case).
Use add-ins that add a lot of up front flavor.  A carrot will yield its secret over time, but if you're looking for fast, you want to add ingredients that carry a lot of flavor from the start.  This Mexican-inspired soup uses salsa and chilies to add a big punch of flavor.
Toppings!  Plain soup is just that – plain.  Toppings take the soup to a whole new level, like in this cauliflower soup recipe.   This Chicken Tortilla Soup gets tortillas, cheese, avocados, cilantro – the possibilities are endless.
This easy chicken tortilla soup is perfect any time you want a quick or last-minute meal.

Easy Quick Chicken Tortilla Soup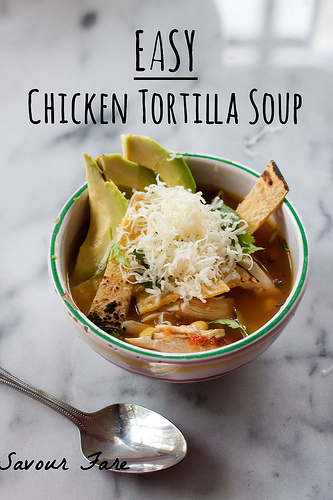 Ingredients
For the soup:
4 cups flavorful chicken broth (I like Trader Joe's Organic or Kitchen Basics)
1 cooked chicken breast, shredded (I used meat from a rotisserie chicken)
1 cup fresh salsa, like Pico De Gallo
½ cup corn kernels (frozen or canned are OK)
¼ cup pickled jalapenos, chopped
For the toppings:
1 California avocado
4 corn tortillas
2 ounces Monterey Jack cheese, grated
chopped cilantro
Instructions
For the soup:
Combine the broth, chicken, salsa, corn and jalapenos in a large pot.
Heat over low heat for 15 minutes, or until the flavors combine. Salt to taste.
For the topping:
Toast the tortillas (I toast them directly on my gas burner) and cut into strips. Slice the avocado.
Serve soup topped with tortilla strips, sliced avocado, cheese and chopped cilantro.