There's no denying it.  We are on the last gasp of summer.  Children are back in school.  Labor day is around the corner.  Even in Los Angeles, where the heat will continue for a month or two, the mornings are darker, the marine layer more persistent.  Usually I welcome fall (or rage that I live in a place where Autumn doesn't happen until November) but this year I find myself longing for an Indian summer.
What does summer promise us, after all, but time?  Time to sunbathe, to read, time to picnic, to go to outdoor concerts, to vacation, to relax.  In my mind, summer isn't just a noun – it's a verb.  I'd summer on a lake, in a whitewashed cottage, where the only demands on me involved swimming, telling stories, eating tomato sandwiches, and drinking rose.
Of course, I live in the real world, not in my mind's eye.  In the real world, there are mortgages to pay, schedules to manage, deals to be done.  My children don't so much take a summer vacation as they take a summer enrichment – filled with all the hip hop classes, camps, and activities that there aren't time for during the school year.  My job doesn't give me the summer off  – the only respite I get is from school year traffic.  The time of summer is always an illusion, leaving me wistful and wanting more.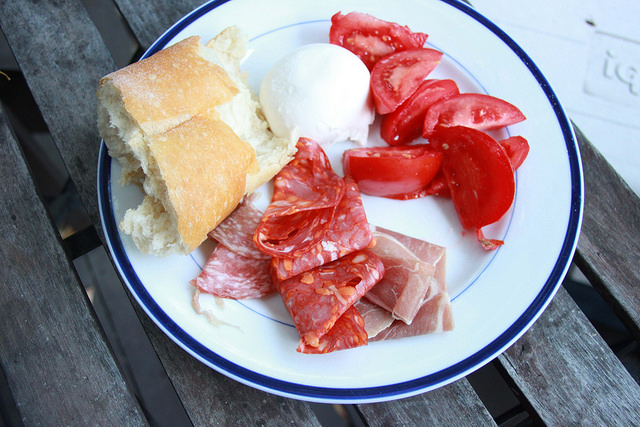 So I have to carve out little bits of time, where I can.  Take advantage of the late sunlight to stay up a little later, reading. Sleep in just a tad later on my day off, when nobody has to go to school or work or camp.  And avoid cooking dinner in favor of assembling it.
When you assemble dinner, it's a matter of minutes.  It feels like a luxury, and if you do a little shopping and prep on weekends, you can have dinner ready in a flash.  One of my favorite dinners involves some cheese (like burrata), a few slices of different types of charcuterie, and some tomatoes.  Add some bread, maybe a little green salad, some olives – whatever you have on hand really.  It doesn't heat up the kitchen, and it's easy to put together and eat.
When I want to go big, though, I always make a grand aioli.  It sounds incredibly fancy, but it's a Provencal dish that basically involves serving a big bowl of homemade garlic mayonnaise and a variety of things to dip in it.   Traditionally, a grand aioli is always served with salt cod, which is hard to find, hard to prepare and expensive to boot (at least in the US.) I substitute with a cheap and cheerful rotisserie chicken from the grocery store, which is improved immeasurably, as nearly everything is, by dipping in garlicky mayonnaise.
Other components can be according to your taste, because really, everything seems to be delicious when dipped in aioli.  I tend to respect the Provencal roots of the dish and put together a plate resembling a deconstructed Nicoise salad –  some steamed green beans, tiny potatoes (boiled or roasted), a handful of cherry tomatoes.  Toasted bread would also be good, or any leftover bits of veggies you have around – Grilled zucchini or eggplant, maybe some shrimp, even the ubiquitous (in my household) baby carrots.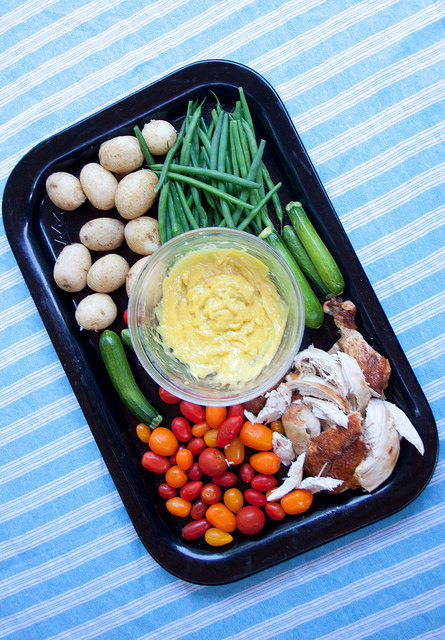 David Lebovitz has an excellent recipe for garlic mayonnaise that's at the center of the dish, but I often cheat, adding a couple of cloves of minced garlic, a squeeze of lemon, and a glug of olive oil to store bought mayonnaise.  The end result is still pretty darn tasty, and give you more time for reading, sunbathing, or just being lazy.
After all, is there a  reason we need to stop looking for time, just because summer is (almost) over?