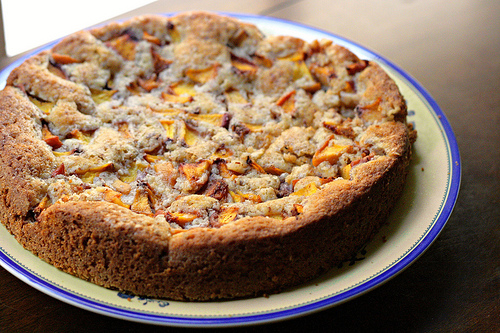 People who don't live in Los Angeles say that we don't have seasons. The sun is always shining, the grass is always green, it's always swimming pool weather. That's not entirely true. We have seasons. In the winter it rains and the world is green. The spring is full of marine layers and fog, studded with purple jacaranda blooms. Summer is hot and dry and brown and ridden with wildfires. In the fall it smells of dirt and the Japanese maple trees in Beverly Hills turn glorious colors and the silkfloss trees burst into glorious pink blooms. We have seasons.
They just don't change in September.
September in Los Angeles just an extension of summer, with less vacation and more traffic. At its worst that means triple digit temperatures, smoke filled skies from wildfires, and faded, stretched out summer clothes that need another month's wear squeezed out of them. But I like to think of this as a little blessing of Indian summer — sunny mornings warm enough to eat breakfast on the patio, evenings with a light breeze that are the perfect temperature for gin and tonics, tomatoes that continue to ripen on the vine, and summer fruits at the markets. Simple.


This cake is the embodiment of late summer simple pleasures. The batter mixes easily by hand — no need to drag out the big mixer or even the little one and is dense and light, moist and crumbly at the same time. It's a fitting vehicle for the perfect ripe peaches you see in the markets, or if the peaches you're getting are less than perfect, it's a terrific disguise. It's sweet enough to be a lovely dessert after a dinner of late summer corn and tomatoes and meat off the grill, but satisfying enough to be breakfast on those warm patio mornings.
And if you need another incentive to try it, this recipe will be featured in Merrill Stubbs and Amanda Hesser's upcoming crowd sourced cookbook (see how I just threw out that term as if I knew what it means? Yeah, I'm good like that.) as the winner of the best peach recipe contest. Read more about it at Food52.com. It also appeared in the Pittsburgh Post-Gazette. See? Famous.
Famous Simple Summer Peach Cake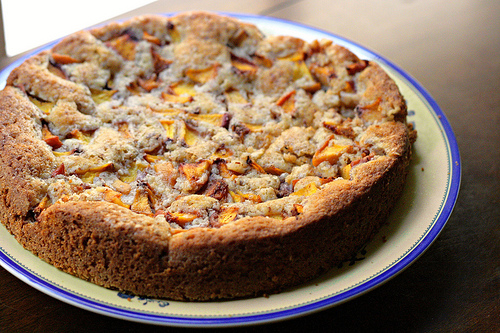 Ingredients
2-3 peaches
¾ teaspoons freshly ground nutmeg
1 cup sugar, divided
6 tablespoons softened butter
1 egg
½ cup buttermilk
½ teaspoon vanilla extract
¼ teaspoon almond extract
1 cup all purpose flour
½ cup almond flour (or finely ground almonds) (I buy this at Trader Joe's in the Baking Aisle and it's cheap. If you can't find it, almonds ground in the food processor will also work. You don't even have to peel them.)
1 teaspoon baking powder
¼ teaspoon baking soda
A healthy pinch of salt
Turbinado sugar
Instructions
Preheat oven to 350 degrees. Butter and flour a 9-inch cake pan.
Cut peaches into bite-sized pieces. Toss with nutmeg and 2 tablespoons of sugar. Set aside.
Cream together butter and remaining sugar with a wooden spoon or spatula. Add egg, buttermilk and extracts, and stir to combine.
Combine flours, baking powder, baking soda and salt. Add to butter mixture, mix until smooth (some lumps may remain). Transfer to the prepared pan.
Press peaches into top of cake. They can be nicely arranged, but I like to cram as many peaches as possible into the cake. Sprinkle turbinado sugar over the top.
Bake at 350 degrees for 10 minutes, then reduce the heat to 325 and bake for an additional 45-55 minutes.
Notes
This recipe was inspired by the summer breakfasts my mom used to make of peaches in milk with sugar and nutmeg.