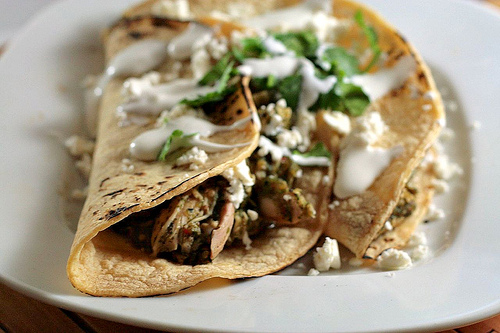 I like to to say I'm a California girl born and bred, but when I hit the tender age of seventeen I was ready for anything but. I wanted away from brown hills and palm trees, dry desert air and eternal sunshine. So when I graduated from high school, I lost no time in packing up my life and heading for college in New England.
New England was a revelation – the summers were a deeper green than I have ever seen, shading through a multicolored fall into a grey and black and sometimes white winter. I dove into the culture, donning peacoats and woolen scarves, going apple picking and clam digging. I picked leaves in the fall and lilacs in the spring. And even now my years in Connecticut have changed me, making people who are die hard Easterners think I must be one too.


But as much as I loved New England, and I do to this day, I remained a California girl at heart, and I think that a large part of this can be attributed to tacos. Tacos aren't unique to California, but they're a damn sight better here than I ever found in Connecticut. Every time I would go home for a visit, whether it was a flying Thanksgiving weekend or a long summer vacation, I headed straight for my favorite taco shop, Los Tacos, and indulged in machaca, carne asada, chile verde … I couldn't get enough of those little corn tortillas filled with savory saucy meat, chopped onions and cilantro. I kept up my Los Tacos habit through college and law school (in New York) and then … reality hit.
I started a job, people, and I no longer had regular California vacations. And I hit a low in my taco consuming life. One night in a fit of desperation, I started searching online for anything that could possibly resemble an actual taco and still be recreated in my New York City apartment kitchen. And Bobby Flay, dear Bobby Flay, came to my rescue. Even though I think the whole concept of Throwdown is kind of jerky, I consider Bobby a close personal friend because he saved me from a taco-less existence.
This story, of course, has a happy ending. I moved back to California (though I still miss New England desperately in the fall) and I now have a wealth of tacos at my disposal. Los Tacos yes, but also Loteria and Border Grill (which conveniently comes in a truck near my office). I can get Korean Tacos, Chinese Tacos, and Japanese Tacos. I am in Taco Nirvana.
But I still make these, because they're just that good.

Shredded Chicken Tacos with Tomatillo Sauce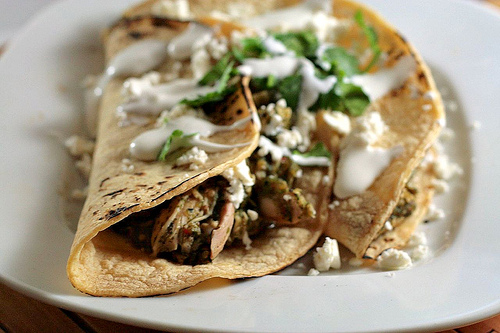 Ingredients
6 tomatillos, husked and washed (tomatillos look like small green tomatoes encased in a paper husk. They're not spicy at all and quite sour)
1 jalapeno pepper
Olive oil
½ small onion, coarsely chopped
2 cloves garlic, coarsely chopped
1 cup chopped fresh cilantro
1 lime, juiced
2 tablespoons honey
1½ cups shredded cooked chicken (You can make this with store bought rotisserie chicken or leftover cooked chicken, but if you don't have any lying around, you can poach chicken breasts in chicken broth for about 15 minutes)
8 corn tortillas
1 cup crumbled cotija cheese (Cotija is a dryish Mexican cheese - you can substitute feta, which is saltier and sharper)
cilantro to garnish
Crema or sour cream to garnish
Instructions
Using the flame from a gas burner on a stove or a blowtorch (I use my creme brulee torch), blacken the skin on the tomatillos as much as possible.
Place the tomatillos, jalapeno, onion, garlic, cilantro, lime juice, and honey in a blender or food processor and process until smooth. Add the mixture to a saucepan, add the shredded chicken, and heat through.
Heat the tortillas over the flame of a gas burner (better), or wrap in a damp paper towel and steam for 30 seconds in the microwave or a steamer. Spoon some of the chicken mixture into each tortilla, top with crumbled cheese, shredded cilantro and crema, and serve.
Notes
Adapted from Bobby Flay