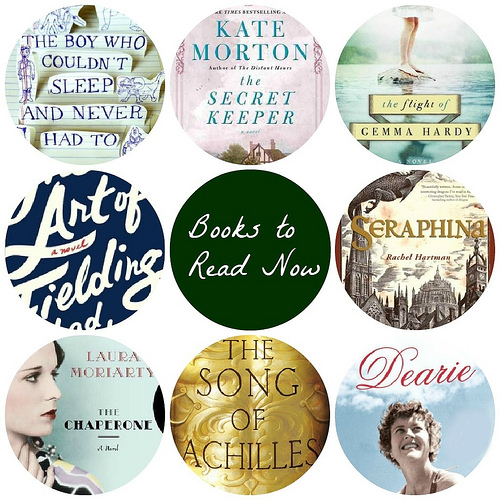 I've been writing The Domestic Front for nearly four (FOUR!) years, and while it reflects my love of food and family, I feel like there's a whole side to me I've been neglecting in these pages. I love to read. It's as essential to me as breathing. If I am trapped in a space like a doctor's office with nothing to read I will start reading the small print on the ibuprofen bottle in my purse. But I usually prefer books. People are often shocked when I tell them that I read over fifty books last year (and none of them were Fifty Shades of Grey. I started it, but the writing was so atrocious I really couldn't finish it. Also, it did not push any of my buttons.) I read every night before bed, and usually a little when I get up. I listen to audiobooks in the car (which isn't exactly reading, but it still counts). I read after my kids are in bed and before they wake up in the morning.
All the readers I know are constantly looking for book recommendations. So if you're a reader, or you'd like to become one, the following are a few books I've read and enjoyed recently. (You can also follow me on Goodreads, a great social reading site that's also a good way to keep track of what you've read and want to read. You are not, however, allowed to laugh at me. We can't always be reading War and Peace.)
(Note, links are affiliate links. That means I might get, like, a nickel if you click on them. I'll buy a tootsie roll and think of you.)
The Boy Who Couldn't Sleep and Never Had To
by DC Pierson
The story of a teenage boy nerd, told by another teenage boy nerd.   The narrator perfectly captures the teen boy voice without condescending, and tells the story of his friend Eric, who never, ever has to sleep.  The novel twists and turns with sci-fi elements – it reads like a comic book without the graphics.  It's funny, fast-paced,  suspenseful and poignant, and unlike anything else I've read recently.
The Secret Keeper
by Kate Morton
This book goes back and forth between an aging British actress (think Maggie Smith – that's what I did) dealing with her dying mother, and her mother as a young woman during World War II in London.  Part historical fiction, part family drama, part mystery – this one kept me riveted.  I listened to it on audiobook, and found myself driving around the block to finish chapters.
The Flight of Gemma Hardy
by Margot Livesey
This is a modernization of Jane Eyre, which might just be my favorite Gothic novel (it beats Wuthering Heights by a long shot).  Mr. Sinclair doesn't quite match the smouldering intensity of Mr. Rochester, but the lush descriptions of Scotland and its scenery are pretty wonderful.
The Art of Fielding
by Chad Harbach
I'm not really a sports person, but this novel – about a virtuoso shortstop at a third rate college and the people in his life – made me a believer.  Ken is always telling me that the power of baseball is the story, and in this book, the story is pretty powerful.  This one has parallels to Moby Dick (though it isn't as close a match as Gemma Hardy is to Jane Eyre) .  It's also a book about finding your place in the world and embracing your talents – whatever they may be.
Seraphina
by Rachel Hartman
I'm not always a fan of fantasy, thinking that it often falls into the cliches invented by Tolkien. This book, however, set in a smartly-imagined medieval world where dragons co-exist with humans in a diplomatic truce, proved the exception to the rule. The title character, a half dragon who is forced to hide her past because of the prejudices of the world around her, is nevertheless eminently human, and vulnerable. Worth reading.
The Chaperone
by Laura Moriarty
The premise of this book – Kansas matron chaperones a teenage Louise Brooks (silent film star) through a summer in jazz age New York, has a personal epiphany, and is forcefully dragged into modernity – is charming, and if the book ended there, it would have been a charming and entertaining read. What brought this book to the next level is that we see what Cora (the aforementioned Kansas matron) does with her epiphany, and her maternity, and how it changes her life. If you always wonder "what then?" after a book finishes, this is the book for you.
The Song of Achilles
by Madeline Miller
I, along with every freshman enrolled in English 129 at Yale, which was roughly a third of us, was forced to read the Iliad by freshman year. It was long. There were a lot of spear fights, and pierced nipples. This is a much more entertaining perspective on the story. Miller doesn't lose the poetic edge, but her story is that of Achilles, the famed warrior, as told through the eyes of his closest friend, Patroclos. It's a familiar story, made fresh.
Dearie: The Remarkable Life of Julia Child
by Bob Spitz
I adored My Life in France
which many people are familiar with through the movie Julie and Julia. This comprehensive biography goes far beyond the period described in that movie. I particularly loved the story of Julia's childhood in Pasadena (we attended the same elementary school!) but was also fascinated by her time in China and Sri Lanka during World War II, her career in television, and her growing influence in the food world. An interesting life, told by an able biographer.