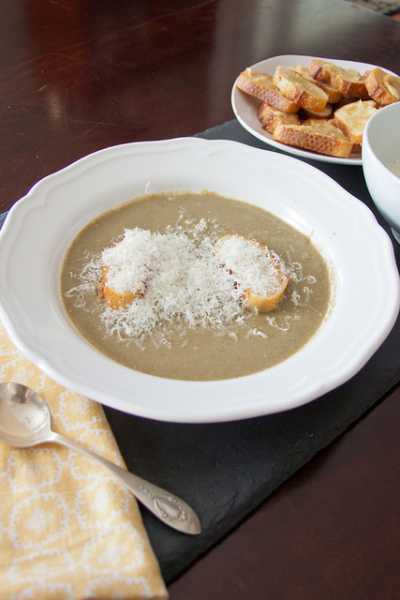 I never think of myself as a soup eater.  When I was a kid, even though I grew up in a foodie family, soup more often than not came from a can, and had water added to it.  It was neither particularly tasty nor particularly satisfying, and I carried that prejudice for a long time.
As an adult, however, who is tasked with feeding the multitudes (i.e. my children) with the contents of my refrigerator, I have come to appreciate soup.  Soup is flexible — you can add the vegetables you have, switch out the base, change the seasonings — and you'll probably still end up with a good dish.  Soup is forgiving — give me your tired vegetables, your poor meats, and the alchemy of the soup pot transforms them into toothsome delights.  Soup can be stretched to feed more mouths, and frozen and reheated without ill effects.  It can be fed to babies, and sick people and children and made sophisticated for a dinner party.  It can cook a little longer, or a little more quickly, or in the crockpot, or in the pressure cooker.  It might just be the perfect food.
This mushroom leek soup is the perfect example of flexible food.  It cooks up quickly, reheats well, requires very little fuss, and is infinitely adaptable.  If you want it vegan, swap out the chicken broth for vegetable broth and skip the cheese.  If you aim for gluten free, forget the croutons.  If you have a handful of leftover vegetables, you can throw them in the pot.  I added a couple of handfuls of baby spinach because I had it, but it can also be skipped if you don't.  You can even swap in onions for leeks, but they don't have quite the same delicacy of flavor.  Many people avoid fennel because they don't like licorice — here, the licorice notes are all but unnoticeable – the fennel adds a depth of flavor and a hint of sweetness which balances the mushrooms.  For me, accepting soup was tied to accepting my soup personality.  I am not so much a broth-with-stuff-in-it soup person — I tend to prefer smooth textured soups, like this Gazpacho or this Cauliflower soup.  Fortunately, the introduction of a hand blender handles the transition beautifully.  If you prefer a chunky soup, by all means skip the blending step.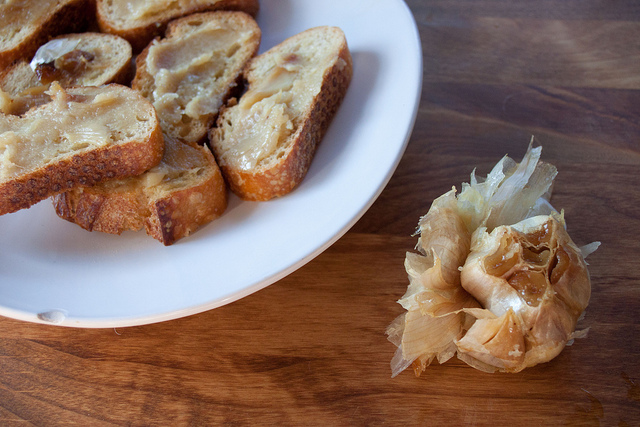 The roasted garlic croutons are also optional, but they (with the cheese) add another flavor dimension.  This mushroom leek soup is hearty enough to serve as a Saturday lunch, or elegant enough to start a fine dinner.
Mushroom Leek Soup with Garlic Croutons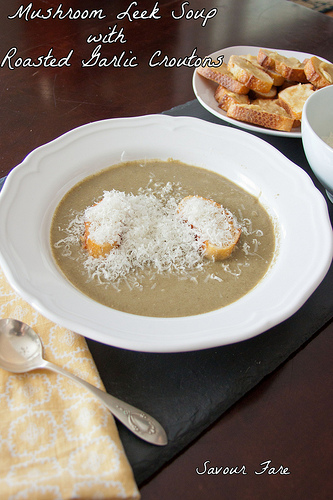 Ingredients
For Soup:
8 oz. Cremini Mushrooms
1 medium leek
1 Fennel Bulb
2 Tablespoons olive oil
2 small handfuls fresh spinach leaves
5 cups chicken broth
For Garlic Croutons
1 head garlic
1-2 T olive oil
several slices baguette
Parmesan Cheese for Garnish
Instructions
Make the Soup:
Slice the mushrooms, clean and slice the leek and thinly slice the fennel bulb.
In a medium dutch oven or soup pot, saute the sliced fennel, mushrooms and leek in the olive oil over medium heat until they are beginning to soften but not color. Add the spinach and saute until wilted.
Add the chicken broth, put the lid on your pot, and simmer over low heat for about 25 minutes or until the vegetables are thoroughly soft (the fennel will take the longest). Using an immersion blender, blend the soup until completely smooth.
To make the garlic croutons:
Meanwhile, preheat oven to 300 degrees.
Rub the papery outside off the head of garlic, and slice a bit off the top. Place in a square of tin foil, drizzle with half the olive oil, and wrap the head up into the tin foil in a package.
Arrange the baguette on a cookie sheet, and brush each cut side with the remaining oil.
Roast the garlic in its package for about 45 minutes, placing the baguette in the same slow oven for 15 minutes of the process or until the slices are crisp. The garlic should be golden brown and meltingly soft.
To serve:
Spread each slice of baguette with a clove of the roasted garlic. Float a couple of the garlic croutons on each bowl of soup, and top with grated parmesan cheese.