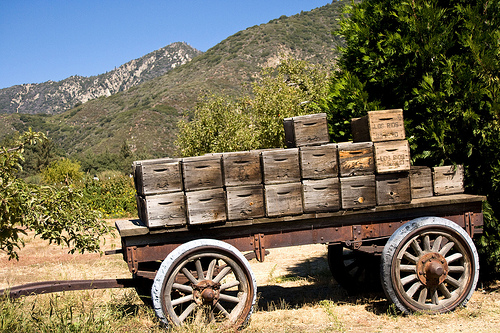 The first time I ever went apple picking was my senior year of college. Ken had his car on campus that year — a little blue Ford Festiva, that had been spray painted, and had no air conditioning or radio. We were celebrating one year of dating, still shiny and happy and young and new, and decided to head off into the wilds of Connecticut to pick apples. I wore my appropriate apple picking attire — a red and green gingham shirt, and we discovered the joys of fresh air in an orchard, of plucking apples off the tree, of cold pressed cider and hot apple cider donuts.
After that first year, we went every year we lived in the Northeast. When we lived in New York, we borrowed my father in law's car, or rented one (we could barely fit ourselves in our tiny Manhattan studio — where were we going to park a car?), and hit New Jersey, New York, and Connecticut to get out of the city and load up on apples. Apple picking was never about the apples — they're readily available at the Greenmarket after all — but about simple entertainment, fresh air, getting out of the city. And donuts. Don't forget the donuts.
When we moved to Los Angeles six years ago, I thought my apple picking days were through. Our climate is too warm to have apple orchards — we can pick oranges in our own back yard, but the autumnal fest was lost to me. Until this year. We piled into the little blue car (now, so many years later, a Prius, with air conditioning and an iphone connection), with the Nuni in tow and headed into the mountains, into the "mile high" town of Oak Glen. Nestled in the San Bernardino mountains just east of Redlands, Oak Glen boast six or seven apple orchards, and the crowds that go with them.

After a long hot summer, we finally found our fall.
We pulled into the tiny orchard of Willowbrook farms, which only plants Stayman Winesap apples. Fortunately, Stayman Winesap are good for baking AND eating. We were lucky, because an early frost canceled U-Pick at most of the orchards in the area (Hence some of the crowds). The trees are bigger in California, and the sun is hotter, but the act of plucking the apple from the tree is still pretty darn fun.
After Willowbrook, we headed to Snowline orchards. No apple picking. But barbecue. And a brass band. And a country store worthy of Connecticut.

(They also had Honeycrisp apples. My personal favorite.)
And most importantly, donuts. Hot donuts, made with apple cider and sprinkled with cinnamon sugar? I'm not sure there IS anything better. I forgot to take a picture before we ate them. You'll just have to imagine.
I don't know if the Nuni will remember her first time apple picking. After all, she is four, to my twenty. I do know that she said that it was more fun than Disneyland.
She may have been exaggerating, but I would like to note that she said this BEFORE the donuts.