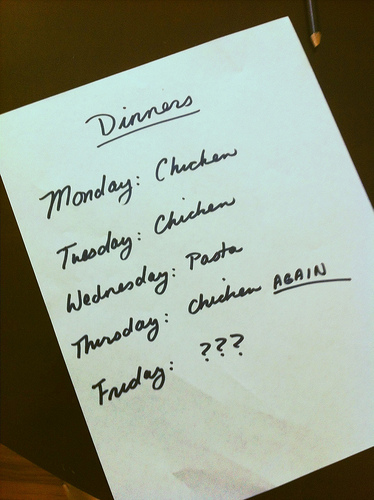 So if you listen to as many food-related podcasts as I do, you may have noticed that lately there has been a lot of talk about cooking (I blame Michael Pollan
)- about how it's healthier, and better for society, and connects you with your humanity, etc.  Which, hello? is great, and I've been saying for years! Yay cooking! We love it around these parts. I also, however, like to play the role of fairy godmother of the reality check. You know and I know that we would LOVE to make from-scratch, healthful dinners EVERY SINGLE NIGHT, but we also both know that sometimes that just isn't happening. Before you call the delivery man, or open (yet another) box of pasta, I present you for five ideas for easy, quick, no-fuss dinners. They don't require NO cooking, but they do require MINIMAL fuss and no thought whatsoever. I usually plan to have ingredients for at least one of these in the house at any given time, to account for traffic jams, late meetings, and general exhaustion.
1. Burrito Bowls
I totally got this idea from Chipotle – the king of the fast casual chain.  The idea is that you put all the ingredients for a burrito in a bowl!   Why are we paying $7 for this privilege at Chipotle again?  I usually start with brown rice – leftover is great, but the frozen rice from Trader Joe's (they really should be paying me, but they're not) is a great alternative.  Add some preseasoned beans from a can (black beans, or ranch beans, or refried beans, or other leftover beans), chopped tomatoes, avocados, cilantro, any leftover meat you might have, some salsa, maybe a little frozen corn …  It's really up to you.  It takes about 5 minutes to assemble, uses up leftovers and it's healthy to boot.
2.  Omelets
OK, this is cooking, but of the simplest kind.  3 eggs scrambled in a bowl, butter in a pan.  Tip eggs into a pan, ruffle up the edges, add whatever you have in your fridge – leftover meats, croutons, cooked vegetables, shredded or crumbled or cubed cheese, more salsa — and boom, you have dinner.  Ten minutes, tops.  You can do as the French do, and serve this with a green salad, or you can do as I do, add some green veggies into your omelet and then you don't even HAVE to make  a salad.
3.  Sausages
Every store has those pre-cooked chicken or turkey sausages — flavored with apples, mushrooms, basil, mango, habaneros – you name it.  Grab a pack, and heat them through in the oven or a hot skillet and serve with a salad.  Or serve on a bun like a hot dog with some coleslaw.  Or slice thinly and stir fry with some onions and broccoli and a little touch of vinegar.
4.  Fish Tacos
OK, this is kind of blasphemy for anyone who grew up in Southern California.  But I make fish tacos at home all the time.  Using fish sticks.  (Actually, I use the cod nuggets from Trader Joe's (See?  They should be paying me) but I have used fish sticks as well.  Bake them in the oven, throw them in a tortilla, add some of this slaw, some prepared salsa, a few sliced avocados. It's not Ensenada, but they're actually pretty darn tasty, and the kids love them, too. Corn tortillas generally are a no-fuss meal maker.
5.   Mezze
Call it mezze, call it tapas, call it cicchetti – this is the ultimate in the no cook dinner.  Basically, buy snacks and assemble them into a meal.  Try Middle Eastern:  Feta cheese, pita bread, hummus, stuffed grape leaves.  Or Italian:  Burrata with Tomatoes, sliced salami, white beans tossed with olive oil and sage.  Or Spanish:  Quince Paste and Manchego, Jamon Serrano, anchovies.  I try to have a salad on the side.  Or buy one.  This even feels adult and romantic.
I make a no-fuss dinner AT LEAST once a week.  What with the job, and the commute, and the kids — it's a sanity saver.  What are your no-fuss dinner standbys?