I must have missed out on the "party planning gene" that every other person in the world seems to have, or at least other moms. I look at Pinterest, with the decorations and the tablescapes and the elaborate menus – and break out into a cold sweat. The theme for my kids' birthday parties is "birthday party." Or really, "Come to our house and eat some cake."
But I LOVE to have people over. My idea of the perfect summer evening is sitting on our back deck with some good friends while our kids run wild in the back yard, chatting over a glass of wine or a margarita and eating yummy food. The key is relaxing and having fun, not throwing a fit over a menu. So I'm always looking for low-key, low-stress recipes to feed a crowd. Things that I can make that don't require a lot of last minute preparation (to allow for appropriate amounts of yapping and wine-drinking) but that are delicious enough that people want to come back and hang out some more.  Like these Crockpot Mexican Pork Carnitas.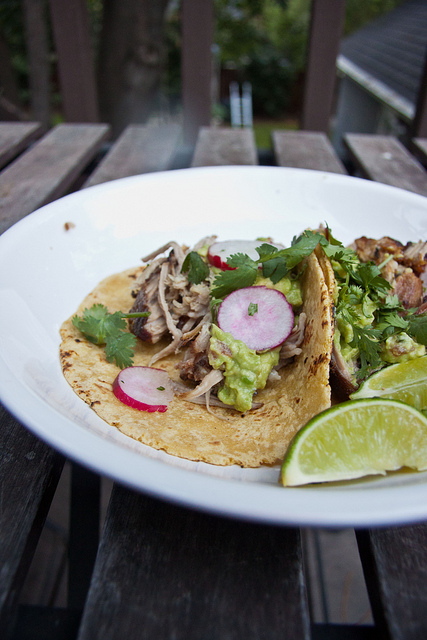 The crockpot is my friend in this quest, since I can do so much of the preparation long before guests arrive, and then do the cleaning and prepping in the interim. I love my Crockpot Carolina Pulled Pork so much that I decided to try another pork dish, this time with a south of the border spin. Mexican carnitas are traditionally cooked with oranges and lard. My crockpot version omits the lard, cooking the pork in a blend of orange juice and coca-cola (I did my research – apparently, this is pretty authentic). I finish off by quickly frying the chunks at the end of cooking to add a crispy crust, but you can skip that part. The resulting meat is flavorful, moist, and tender – great for tacos, nachos, tostadas, burritos — perfect party food!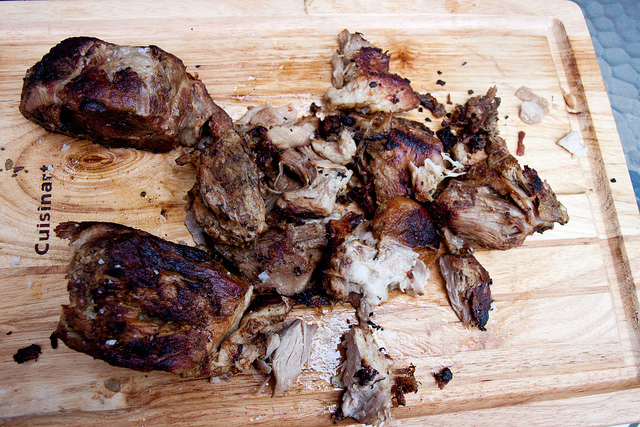 This feels like such a quintessential Southern California dish, with the flavors of oranges and coke. Do try to use actual Mexican coke – the sugars caramelize better than the corn syrup US version does. I happen to live near a few Latino neighborhoods, but Mexican Coke is becoming easier to find. If you can't find Mexican Coke, it's worth it to try to find another cola that's sweetened with sugar instead of HFCS.
Crockpot Mexican Pork Carnitas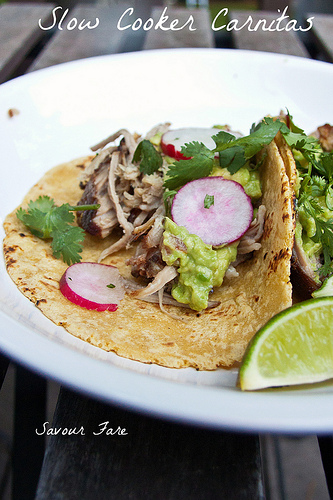 Ingredients
1 pork shoulder 3-4 lbs
1 head garlic
1 Tablespoon cumin
1 Tablespoon salt
1 bottle Mexican Coca Cola
3 oranges
3 Tablespoons oil
Instructions
Cut the pork shoulder into roughly baseball-sized chunks.
Separate and peel the cloves of garlic. Combine the garlic, cumin and salt in a food processor and process until a paste forms. Rub the paste over the pork chunks.
Place the pork chunks in a slow cooker with the coca-cola. Juice the oranges and add the juice and the peels into the slow cooker. Cover, and cook on low heat for 8-10 hours.
Heat the oil in a large skillet. Remove the chunks of meat from the crockpot, and fry them in the oil until a crust forms. Alternativey, break the meat into smaller chunks, spread it on a baking sheet, and broil for 5-10 minutes until crisp on top. Loosely shred the meat, and serve.
Notes
If you don't have a slow cooker, you can still make these carnitas! Bake them, covered, in a dutch oven with a lid - 45 minutes at 450 degrees, then 350 degrees for another 3 hours.