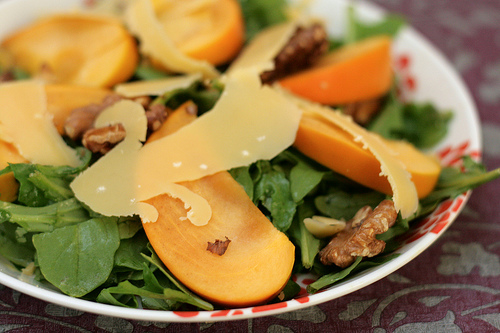 Fall produce – what do you think of? Apples, of course. Brussels Sprouts. Take a page from Thanksgiving and think sweet potatoes and cranberries. And pumpkins are, of course, inescapable, their leering visages popping up everywhere you go. Although I personally love all of these, the autumn crop which gets me all hot and bothered is the persimmon.
When I was a kid, persimmons were not as widely available as they are now, but they grow quite well in Southern California (and the trees are beautiful — they bear fruit after they lose their leaves, and look like they're decorated for the holidays), and my family always looked for persimmons in the fall and winter. We used the Hachiya variety, which is elongated and heart shaped, and terribly astringent unless it's gloriously squishily ripe, in breads, muffins and the annual Christmas night dessert of steamed persimmon pudding. The squatter, firmer Fuyu, which can be eaten when still firm, were eaten out of hand or used in salads, like this one.
If you've never had a persimmon, the flavor is very sweet and not at all acidic, but it has a slight spicy edge that makes it fit perfectly into autumn. Th sweet hachiya has an almost jelly-like texture when ripe — I like to freeze them, then partially thaw them and eat them with a spoon. The fuyu is eaten when firm, though not quite as crisp as an apple. The shiny skin adds an additional layer of texture, with a pleasing snap and and almost grainy feel that's reminiscent of a good pear. They add a layer of sweetness but also crunch to any dish that they are added to.


This salad combines some of the best flavors of fall, with persimmons, toasted walnuts and a dressing made from apple cider and apple cider vinegar. This is tied together with peppery arugula and a mellow, nutty aged gouda. It calls for the squat Fuyu persimmons — don't use Hachiya unless you enjoy wearing your lips in a perfect pucker. Enjoy it as a counterpart to all the Halloween candy that abounds today!
Flavors of Fall -- Arugula Salad with Persimmons and Gouda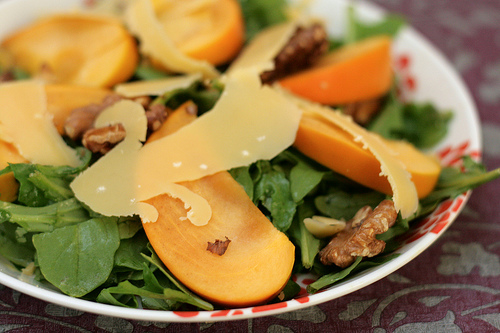 Ingredients
1 Fuyu persimmon, washed and sliced
3 c. baby or wild arugula leaves, washed
½ c. walnut halves, toasted
3 oz. aged gouda (aged a minimum of 12 months)
For the dressing:
1 T apple cider
1 tsp apple cider vinegar
1 tsp dijon mustard
1 T olive oil.
Instructions
Combine ingredients for salad dressing. Toss dressing with arugula and walnuts. Arrange dressed salad on plates; top with slices of persimmon and shaved cheese.