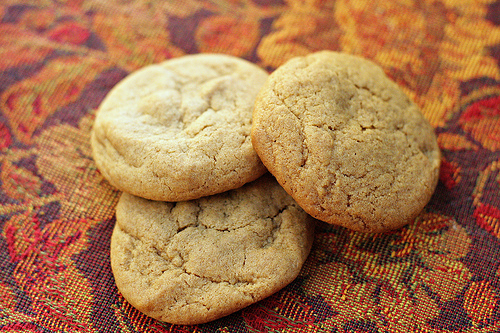 One of the things I truly love about cooking is the sense of community that's created around food. Not just the bloggers and their social media, the chefs and their late night hangouts or even the people around your dinner table, but the broader community that comes from the sharing of recipes. Every time I cook something from a recipe, I'm connected to the hundreds (thousands) of people who have cooked the recipe before (or something very similar. In cooking, like in so many things, there is nothing new under the sun) and when I am finding myself particularly prone to flights of fancy, I imagine sitting in a shadowy quilting bee with all the people who are sharing the secrets of the kitchen with me.
When the abstract "people who may have cooked a variation of this recipe" becomes the specific "person who provided the recipe," I find it particularly thrilling. I love old community cookbooks that have recipes for things like Mavis Pringle's Prune Whip, and I wonder just what Mrs. Pringle was like in the kitchen, whether her Prune Whip was often requested at bridge club, and where she in turn had gotten a recipe. Recipes that come from specific people have a certain zing to them — Mavis clearly felt this recipe was special enough to be her contribution to the Pacifica 1977 cookbook. It's an endorsement of sorts.
Of course, the best kind of recipes are ones that come from people you actually know, because not only are they approved by a source you trust, the act of cooking that recipe connects you to the recipe's giver. Every time I make Crockpot Carolina Pulled Pork, I think of my friend Mallory, whom I haven't seen in person in FAR too long, and it feels like she's in my kitchen with me, even though she's clear across the country.
These molasses cookies,which come from my friend Kas, are another recipe like that. I met Kas for the first time in person four years ago — a bunch of women flew in from all parts of the country for a weekend of storytelling, shopping and cooking. We came bearing gifts as a contribution to the weekend – homemade cakes and candy, and Kas baked up several batches of cookies. One bite of these chewy molasses cookies and I knew Kas and I would be fast friends — it didn't hurt that she's a lovely, down to earth person with a good head on her shoulders and a streak of whimsy. (And if you happen to live in the Austin, TX area, you, too could meet Kas — is there any higher recommendation for a personal trainer than the fact that she makes an awesome cookie?) Every time I make these molasses cookies, which are chewy in the middle, slightly crisp around the edges, and ridiculously, unbelievably "more"ish, I think of Kas, and I think of the other women I spent time with that weekend, and it makes the cookies taste just that much sweeter.

If you make these cookies (and you should — they're unbelievably good, very easy, and the recipe makes a huge batch, so they're great for holiday gifting and cookie exchanges (though the dough also freezes beautifully)), think about passing on the recipe. It's just a way of sharing in the grand community of cooks around the world, and giving someone else sweet memories of you.
Kas's Molasses Cookies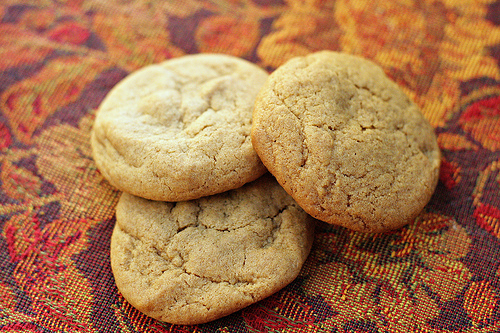 Ingredients
2 cups sugar
1½ cups (3 sticks) butter
½ cup molasses
2 eggs
4 cups all-purpose flour
1 t. baking soda
½ to 1 t. salt
2½ t. cinnamon
1 t. ginger
1 t. cloves
Instructions
Heat oven to 350 degrees.
In large bowl, beat sugar and butter until light and fluffy.
Add molasses and eggs; beat well.
Add remaining ingredients to butter mixture; mix well.
Form dough into walnut-sized balls and arrange onto cookie sheets lined with parchment paper or silpat, and flatten slightly with a spoon (or a 2 year old's clean hands).
Bake at 350 for 8 to 10 minutes or until edges just begin to brown. Cool 1 minute; remove from cookie sheets. Cool on wire racks.