Soup is one of those hearty, homey dishes I'd like to make more often.  Wintertime is when I crave soup, but it's also the time when our family business is at its peak.  Easy soups that cook relatively quickly, like this French Cauliflower soup, are the ticket to getting us through the winter.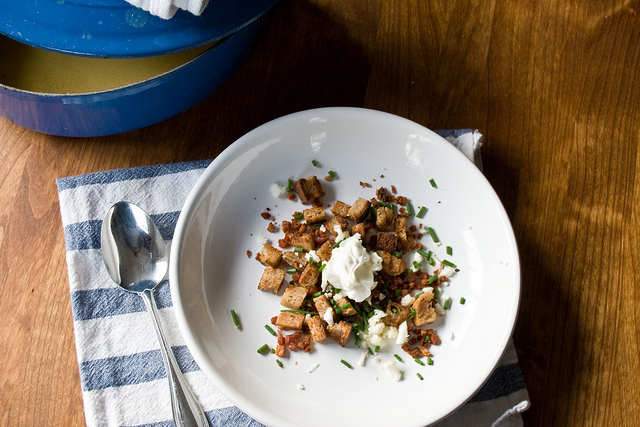 I sometimes feel like I'm running perpetually behind. Is it 5:00 already? Is it February already? How am I suddenly six months pregnant? Remember that vacation we took to Paris last July? I never shared it with all of you because I just finished editing my photos in DECEMBER. Expect a post in about April.
The nice thing about being behind on things is that reminders can feel like discoveries. When editing my Paris photos, I found the pictures I took at a wonderful meal we ate in the Latin quarter at Bistro y Papilles. Located in a small wine store, with a different set menu every night, it was the kind of wonderful meals that makes you feel like you're really in Paris. The menu that night started with a velvety cauliflower soup, served at the table in a big tureen. We were presented with shallow soup bowls that were garnished with a "salad" with lardons, croutons, cauliflower, herbs and creme fraiche, and the hot soup was ladled over the salad. All the garnishes brought a wonderful textural contrast to the soup, and it was one of the best things we ate that week.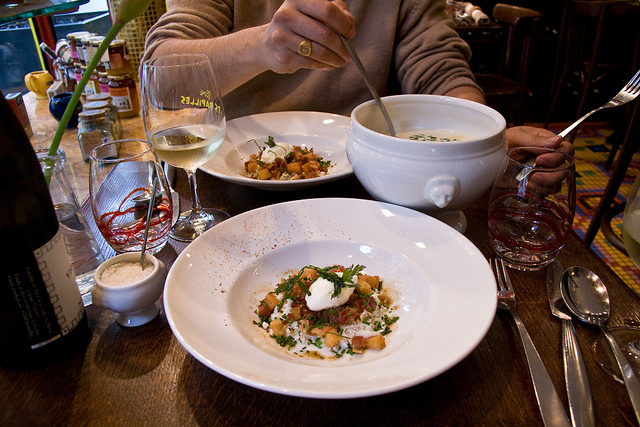 I've been making this easy cauliflower soup from Dorie Greenspan all winter. It's simple and relatively quick, and is creamy and smooth with no cream. But editing my pictures reminded me of that wonderful dish. It lacked the charming Parisian bistro date with my husband flavor, but certainly kicked the simple cauliflower soup up a notch. It makes the soup into a meal, accompanied by a green salad and some crusty bread, natch. (I should have called this blog "Simplegreensaladandcrustybread.com" since it's the serving suggestion for just about everything!)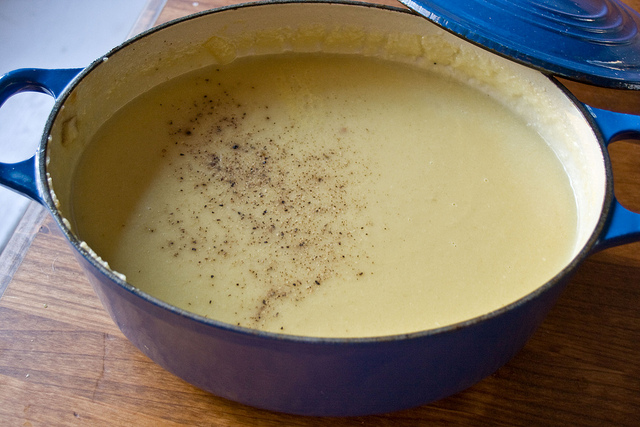 I figured I would try to share it with you before next July, when I figure nobody will be wanting cauliflower soup. Unless, of course, you're in Paris.

French Cauliflower Soup with Bacon and Herb Garnish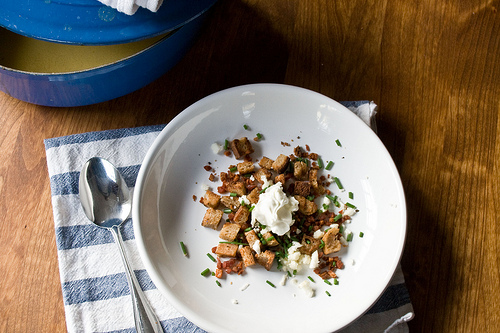 Ingredients
For the soup
1 T olive oil
1 T butter
2 large yellow onions
2 garlic cloves
3 stalks celery
1 tsp fresh thyme, chopped
12 oz. cauliflower florets (I cheat and buy the prebroken florets at Trader Joe's)
6 c. chicken broth
Salt and Pepper
For the garnish:
Pancetta or thick cut bacon, cut into cubes
Sturdy bread (I like the Pain Pascal from Trader Joe's), cut into small cubes
raw cauliflower, 1-2 florets, diced into tiny pieces (kitchen shears work admirably)
chives, minced
creme fraiche - 1-2 T per bowl
Instructions
To make the soup:
Finely chop the onions, garlic, celery and thyme.
In a 4 qt. pot or dutch oven, melt the butter and the olive oil together. Add the chopped onions, garlic, celery and thyme, a pinch of salt and a grind of pepper. Stir together to coat the vegetables in the butter, then cover and cook, stirring frequently, over low heat for 20 minutes.
Add the cauliflower and broth to the pot. Bring to a boil, cover and reduce heat. Simmer for 20 minutes, or until the cauliflower is soft.
Using a blender or immersion blender, puree the soup until smooth. Serve over garnish, with additional pepper.
To garnish:
Fry the pancetta or bacon, then set aside and crisp the bread cubes into croutons in the bacon fat.Pile the croutons, bacon, cauliflower, and chives in a shallow soup bowl. Top with creme fraiche, and ladle hot soup over the whole.