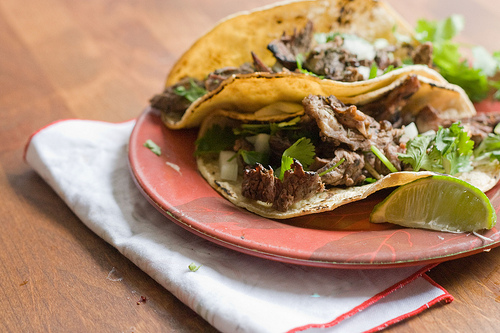 I should really call this Friday Cinco, since Sunday is Cinco de Mayo.   Which is really an excuse to eat guacamole and drink margaritas.  As if we need an excuse, right? 
1. From the Archives:
Cinco of my favorite Mexican-themed recipes for your own Cince de Mayo celebration. Or you know, Tuesday.
Super Autentico Carne Asada
Not at all authentic but super delicious Pineapple Avocado Salsa
My mom's amazing Easy Chicken Chilaquiles (like a casserole made with tortilla chips and cheese)
Shredded Chicken Tacos with Tomatillo Sauce
Super Spicy (don't say I didn't warn you!) Aztec Chocolate Cookies
So get in the kitchen, pop open a cerveza, and start the party.
2. Sustainable Scarves:
I am totally jonesing for one of these scarves from FashionaABLE. I heard Barrett Oliver, the founder, speak at Big Traveling Potluck, and it was so inspiring. Each scarf is made by hand in Ethiopia by a woman who is a former sex worker and has been given the opportunity to make scarves instead. And each one comes with the story of one of the women who made it, and how she can educate her children, or support her family because of your purchase. Isn't that amazing? I think they would make a fantastic mother's day gift, since they're so supportive of women. I am eyeing the Frehiwot in Marigold. (Hint Hint husband who may read this)
3.   La Dolce Vita
I was lucky enough to have lunch this week with the ladies of Vamoos Travel;.  If I had some spare dough and some spare time, I would be waiting in line to sign up for one of their amazing luxury culinary tours of Italy.  These ladies don't just plop you in a tour bus and send you to eat pasta in some tourist establishment — they provide all sorts of fantastic experiences, like visiting a artisan who makes Parmigiano Reggiano, or learning to make gnocchi in the kitchen of an Italian grandma.  Their next tour is in November, and they only take about 10 people, so they book up fast.
4.  A Kick in the Booty
If there has been a little too much dolce in your vita lately, you have to check out the Virtual Bootcamp from my friend Karen at Balance Personal Fitness in Austin.  I signed up for the first round (totally paid for, this is not a sponsored post!) and it's been great.  Karen sends me a workout 3 times a week, provides you tube videos to show me proper form, and answers questions and provides support in a special facebook group.  It's a total bargain.  Now, if only I could stay healthy long enough to work out consistently (I live with the world's cutest petri dishes).'
5. The Foodie Finish
One of the loveliest people I got to meet at the Potluck was Lillian of Chinese Grandma. She's also a great cook – she brought this amazing Roasted Cauliflower to the potluck and I ate TWO helpings (and there was a lot of food). I've found during this year of living vegetally that cauliflower is one of the most versatile vegetables, but Lillian's dish was a knockout.