If you've been reading this blog for all of five second you will know that I'm a Trader Joe's junkie. Part of it is hometown pride — the very first Trader Joe's opened in Pasadena in 1967 (and that location is still one of my favorites). Part of it is a loyalty to their great dairy prices and fantastic, well-priced convenience foods, like shredded organic Tuscan kale, and almond flour. But part of it (and not a small part) is that Trader Joe's has spoiled me for other wine merchants. Why spend $20 on a bottle of wine when you can spend $10? Or, let's face it, $4? Everyone knows about Two Buck Chuck (not my favorite) but I thought I'd point you to some of the other dirt cheap well-priced wines I've found at Trader Joe's.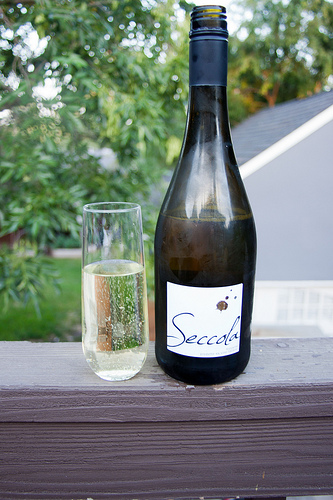 Wine: Seccola Frizzante
Region: Italy
Style: Light and Sparkling White
Price: $3.99 a bottle
I mean, it's sparkling wine for $4, and it's not Andre (which I fondly remember drinking at my 18th birthday, held in my college dorm room, so no judgment, but still …) This is a light, sparkling wine with a hint of sweetness. If you're familiar with champagne classifications, this isn't as dry as a Brut (what most people think of when they think of champagne) but it's not as sweet as a demi-sec. I don't mind the sweetness — I like this as a pre-dinner aperitif on a warm night, when a little sweetness takes the edge off. It also plays very nicely with some of my favorite warm weather cuisines, like Mexican and Thai – anything with a bit of spice — and it would be great for brunch (I'd say in mimosas, but why ruin sparkling wine with orange juice? Still, if mimosas are your thing, this would make a great mimosa. Or a bellini.) The bubbles aren't as fine as Dom Perignon, but it's a definite bubbly – similar in style to many Proseccos. The genius of this particular bottle is that it comes with a screw top, so you can have just one glass with your guacamole, put the lid back on, and enjoy your bubbles the next day, too.