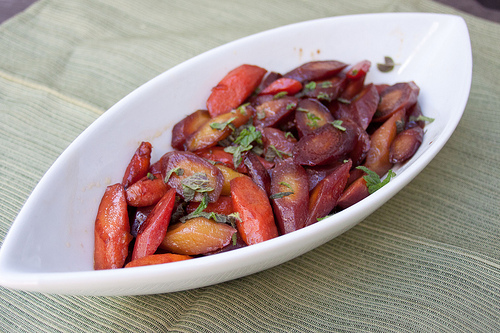 When I was a kid, we mostly ate salads.  My dad was not a vegetable-lover, and with a few notable exceptions (artichokes and asparagus) we primarily consumed our vegetables raw.  As a result, I held a deep-seated prejudice against most forms of cooked vegetables.  I rejected red peppers. I scoffed at spinach.  I pooh-poohed parsnips.  But the worst offender in my young mind was cooked carrots. (Possibly because this is one of those kid-friendly foods people were always trying to serve to me.)  I despised and loathed cooked carrots.  They were anathema, and not a morsel of the reviled substance passed my lips.
Fast forward several years to New York City, circa 2002.  I was browsing the shelves of my favorite used bookstore in Soho (Housing Works.  Wooden bookshelves, leather chairs, a little cafe in the back, a library ladder …) when I stumbled on a copy of the classic Mastering the Art of French Cooking
 by Child, Bertholle and Beck.  Then, as now, I was lazy (let's call it "time-pressed" – I was, after all, in law school) so I skipped through the eight-page cassoulet recipe or the 36-hour Boeuf Bourguignon, and lit upon the vegetables.  Carrots, braised in butter.  Six ingredients, two sentences.  I was sold.
I cut up my carrots, added my butter, my water, my salt, my sugar, and what resulted was a revelation.  Not nasty.  Not watery.  Not insipid.  Carrots expressing everything glorious about carrots except the crunch. I was hooked.  And that recipe, that first start, got me cooking more vegetables. which has brought me to my year of living vegetally.  Because here's the secret about vegetables.  They are good for you.  They are full of vitamins and nutrients.  They have fiber and antioxidants, and you can feel morally superior when you eat them.  But if we prepare them correctly and season them well, they are DELICIOUS. My husband and I were fighting over this particular batch.


I've made these several times over the years, and a hint of garlic definitely adds to them, and prevents the carrots from teetering over from savory territory into sweet (a definite possibility with cooked carrots, and the source of at least some of my childhood antipathy).  These would make a great side dish for Easter.  You can serve them at room temperature, and the whole carrot bunny connection is too cute.  The mint is optional but adds an extra little hint of spring.

Garlic Butter Glazed Carrots with Mint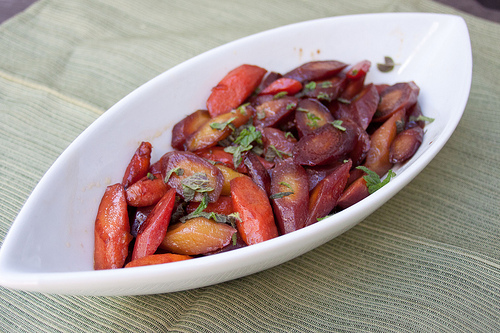 Ingredients
1 bunch carrots (about 6-7)
1 tsp granulated sugar
1 clove garlic, peeled and crushed
⅓ cup water
1 Tablespoon butter
generous pinch of salt
Chopped fresh mint (optional)
Instructions
Peel carrots and slice thickly into ½ inch coins (I've also made this with batons, or even those precut baby carrots)
Place all ingredients in a saucepan, bring to a boil, cover, and cook for about 15-20 minutes, or until the carrots are tender.
Taste for salt. Serve warm or at room temperature, sprinkled with fresh mint.