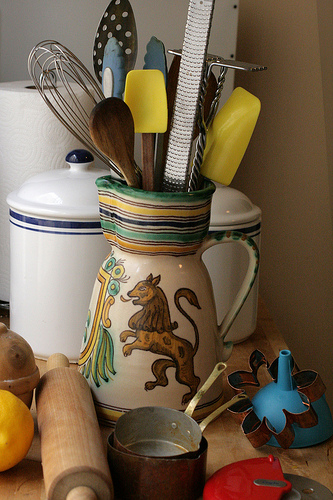 Today we're returning to our The Domestic Front Kitchen series with a post on Essential Kitchen Tools. While pots and pans are a little more universal due to either their straightforward functionality or their high space requirements, the tools you keep in your kitchen are idiosyncratic. I have a tendency to pick up kitchen tools right and left — people give them to me as gifts, I receive them in goodie bags at blog events, and I am magically drawn into every Sur La Table or Williams Sonoma I walk past. As a result, this list is not going to be a comprehensive listing of my personal kitchen tools, nor can it be an exhaustive list of every tool you should own. If you really love cherry clafoutis, you should probably indulge in a cherry pitter. If you make cobb salad every Saturday for lunch, an egg slicer might be your bag. This list is just intended to serve as a starter list of some tools I use and brands I love. Additionally, read on to the end to find out how to enter the first entry in the The Domestic Front March Madness Giveaway series and win some of my favorite kitchen tools!


Slicing
The first category of tools is what I think of as the cutters — among other things, these live out of reach of the toddler.

If there is a kitchen tool I am evangelical about, it is the Oxo Good Grips Swivel Peeler
. Peeling vegetables and fruits was always a dreaded task with those awful little metal peelers that were in my mother's kitchen when I was growing up, but now I positively relish it. And it's not just for peeling — want to make chocolate curls, shave parmesan or add a citrus twist to your cocktail? The Oxo Peeler's got your back.

Although a good quality, heavy chef's knife like this Wüsthof Classic 8-Inch Cook's Knife
has an important place in any kitchen, for most every day slicing and dicing tasks I reach for my lighter, thinner Santoku knife. The thinner blade makes it seem easier to get super thin slices of onions, potatoes or pears, and the indentations keep the slices from sticking to the knife. It's a little cheesy, but I have this Emerilware by Wusthof Santoku Knife
and it works for me.

For big slicing jobs, like making a potato gratin or a giant mass of caramelized onions, or if I want really paper thin slices or a big mass of julienned vegetables, I pull out the Benriner Japanese Mandoline Slicer
. It's wicked sharp, easy to use, and inexpensive. One word of warning though – it's ridiculously easy to get your fingers in the way of the incredibly sharp blades, so ALWAYS use the included finger guard. This PSA is brought to you by the (former) tip of my index finger.

For serious slicing jobs I pull out the big guns, but if I want to cut something small, trim the crusts off a sandwich, or um, open a package, I turn to my paring knives. I love this Chicago Cutlery 4-Piece Utility Knife Set
because the knives are sharp and the handles are pretty. Hey, it's not always purely about function.

The advent of the Microplane Grater/Zester
a few years ago was a kitchen revolution. OK, it's really just a carpenter's wood rasp, but the sharp blades suddenly made grating hard food items easy. The holes on the standard microplane are really too small for grating, say, cheddar cheese for a quesadilla, but for parmesan, chocolate, garlic, nutmeg or citrus zest, my microplane is awfully handy. The microplane removes any need to by preminced garlic, grated nutmeg or pre-grated parmesan, and therefore singlehandedly improves the dishes coming out of your kitchen.
Measuring
If you're going to do any serious cooking, you're going to need to be able to measure your ingredients. Obviously measuring spoons are essential, but in my opinion you'll need three different types of measuring cups — one for dry ingredients, one for wet ingredients, and one for something in between.

If you're measuring dry ingredients — flour, oatmeal, sugar, chocolate chips (hmm, I think I should make cookies!), you're going to want a set of cup measuring cups like this 5-Piece Stainless Steel Measuring Cup Set
. Most cookbooks contemplate that you measure dry ingredients by the "scoop and level" method, which involves dipping the cup into your bag of flour and leveling off the top, and these are what you need for that. (Brand doesn't really matter in this case — I usually use my antique copper measuring cups I inherited from my mother, but this set looked functional and reasonably priced).

For liquid ingredients, you'll probably want something more like this Pyrex 2-Cup Measuring Cup
. For one thing, the measuring cups above are designed to be filled to the brim, and when I fill them with liquid, I inevitably spill some. For another thing, this glass measuring cup can serve as a miniature defacto mixing bowl, if you're mixing, say, butter and milk and eggs for a bread pudding. Finally, the glass can be microwaved, which is great if you need to add warm milk or melted butter to a recipe.

Finally, if you find yourself measuring a lot of sticky things, like honey, molasses or peanut butter, I have to recommend this Adjust-A-Cup measuring cup
. The center cylinder has little silicone blades that scrape against the outer cylinder, which means these are by far the easiest way to get the last little bit of sticky stuff out of the cup. It can measure both liquid ingredients, like corn syrup (there's a little bit of give from the top), or dry ingredients, like peanut butter (that you can level off). And the whole thing comes apart for easier cleaning.
Other

Tongs are real workhorses in the kitchen. With tongs, you can pull things out of boiling water, toss salads, serve spaghetti, turn things in a pan with more precision and control than a spatula affords, and even pull items off of tall shelves. I grew up with the slippery metal kind, but now I swear by these Oxo Good Grips Locking Tongs
. The tips are coated with silicone, which gives them a better grip, and they lock closed for easier storage.

Finally, what would a kitchen be without a can opener? You know me well enough to know that cooking my own beans is something I do only occasionally, and sweetened condensed milk is a pantry must. There's nothing more frustrating than a can opener that doesn't pierce the can, or that's hard to turn, so whenever I need a new one (Periodically, ours gets lost), I go and get another Oxo Good Grips Can Opener
. What can I say? The products work.