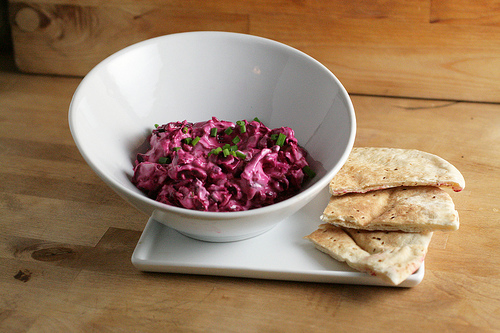 When I was a little girl, my favorite restaurant was a steakhouse in my hometown called the Sawmill. The interior was one of those 1980's restaurants with no windows, an open kitchen, dim lighting, a terrarium, rough-hewn wood beams and leather club chairs, but to very small me it was heaven. I always ordered a steak sandwich and a Shirley Temple (in a short glass, with extra cherries), but what really made the restaurant my favorite was the old fashioned salad bar. Young children don't usually have that much control over what they eat, but at a salad bar I was master of my destiny. After much trial and error (what is the POINT of baby corn?) I settled on the winning combination of romaine lettuce, spinach (this was before the era of ubiquitous mixed greens), chick peas, scallions, croutons, bacon bits, blue cheese dressing and beets. This was a particular treat because we NEVER had beets at home — to this day my father claims to be allergic based on a rash he got in 1948 (and to this day, I remain skeptical about the existence of such an allergy), and I loved their earthy sweetness.
Fast forward to 2006, and when enjoying a lovely (outdoor) dinner at a local Greek restaurant in Los Angeles, I discovered Patzaria — a Greek spread made from yogurt and beets. Spread on toasted pita bread, the sweetness of the beets tempered by the tang of the yogurt, this spread was my favorite beet dish I had had since those childhood salads. So I decided to reconcile the two experiences, and come up with my own patzaria that replicates the flavors of my childhood nostalgia with a modern Greek spin.


The result is this — an American Patzaria. Roasted beets with yogurt, yes, but add the blue cheese and bacon from the Sawmill's salad bar, and you have something very special indeed. Instead of the overwhelming sweetness that can dominate some beet dishes, the salty pungency of the blue cheese and the smokiness of the bacon add balance, and the whole is salty, smoky, sweet and addictive. Served on triangles of toasted pita, this disappeared alarmingly fast in our household — I don't know if it was the sweetness of the beets or the lurid magenta color they imparted to the yogurt base, but the Nuni repeatedly asked for more.
The Sawmill is long closed, but at least I can introduce my daughter to the wonder of beets. Now all we have to find is an old school salad bar. Has anyone seen baby corn lately?

Beet, Blue Cheese and Bacon Dip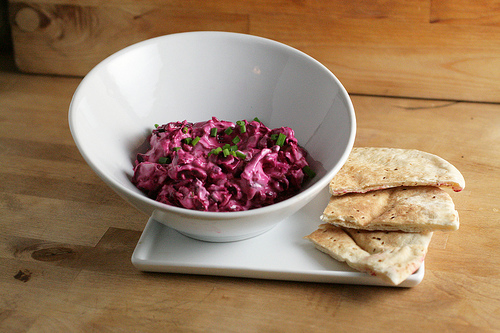 Ingredients
2 medium beets
1 cup nonfat Greek style yogurt
1.5 ounces blue cheese, finely crumbled
2 pieces bacon
1 tablespoon chives, finely minced
3 pieces pita bread, lightly toasted
Instructions
Scrub the beets, drizzle with olive oil, sprinkle with salt, enclose in a foil packet and roast at 350 degrees for 40 minutes to an hour, or until tender. Let cool and chop into a fine dice.
Fry the bacon until crisp. Let cool, and chop finely.
Combine the yogurt and the blue cheese in a small bowl and mash with a fork until the cheese in incorporated into the yogurt.
Add the chopped beets, bacon and the chives. Mix thoroughly until the entire mixture is a rather alarming magenta hue (this actually helps convince 3 year old girls to eat it, believe it or not). The mixture may be covered and stored in the refrigerator right away, or eaten immediately.
Serve with toasted pita triangles. Enjoy.
(As a housekeeping note, I'm
giving away a set of Oxo Tools
and you have until 11:59 Pacific Time Wednesday to enter! What are you waiting for?)