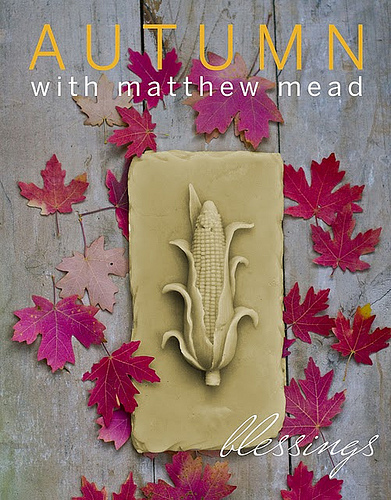 Today, finally, there is a hint, just a hint, of fall in the air. September is always like this. Friends across the country are talking about back to school, sweater weather, local apples, hot cocoa. Meanwhile, September is the hottest month in Southern California. We have back to school, sure, but I remember sweltering in a lot of classrooms as a child. This past week was impossible — too hot to go outside, to sleep with the windows open. But this morning the world was gray with fog and I could almost smell leaf mold. (which is a good thing).
To celebrate this momentous occasion, I'm having a (very rare) giveaway!
I mentioned a while back that I was privileged to work on a story with Matthew Mead for his upcoming magazine, Holiday with Matthew Mead, which should be on newsstands in October. For those of you not familiar with Matthew, he is a style maven — the official food photographer for the Associated Press, the former style editor for Country Home, and the publisher of amazing seasonabl bookazines, which are chock full of GORGEOUS photos and ideas for decoration, entertaining, and cooking. He works with ahem, FABULOUS bloggers, and did I mention the photos are gorgeous? Autumn with Matthew Mead has just become available, and I can tell from the sneak preview I've received that it will be full of all sorts of great ideas to celebrate my favorite season!
The Fall 2011 edition of Autum with Matthew Mead is available now, only through Matthew's website, but they asked me if I wanted to give away a copy to my readers and I knew you all would jump at the opportunity. I'm going to do this a little differently than normal, though. Instead of leaving a comment here, you'll get one entry to win a copy of Autumn with Matthew Mead (a $22 value) by subscribing to my brand-new newsletter. FYI, the newsletter will be monthly (at first) and will feature some original content. I will never share your email address with a third party.
I'll choose the winner at end of day Friday, by randomly selecting a subscriber from the list (those of you who already signed up has automatically entered). I'll confirm by email with the winner (you must respond within 24 hours) before picking another winner. You can leave a comment here, too, of course!