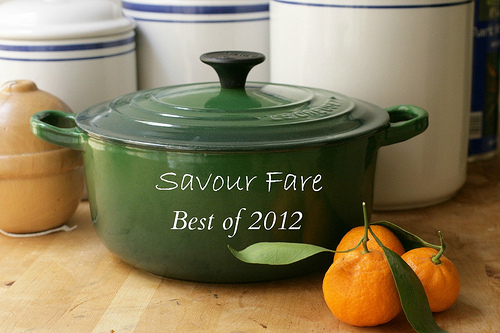 Happy New Year! The holiday season has been a whirlwind for us, both in good ways (baking! presents! holiday shows!) and not so good ways (stomach viruses! ear infections! bronchitis!) but I always like to take a moment as the year turns to reflect on the year we're leaving behind and plan for the year to come.
I know everyone is thinking ~ New Years! Resolutions! But in truth, everyone knows that New Year's Day is for lazing around the house in your pajamas and recovering from New Year's Eve, and that the real start of the year is January 2nd.
I'm going to take advantage of that loophole, and spend the first post of 2013 looking back on 2012. The election happened, the apocalypse did not (though some people probably think the election WAS the apocalypse). And I shared some of my life and recipes with you over the year.
I always say about The Domestic Front that I write what I cook, and what my family eats. And that is true. Every recipe I share is something I have made and loved. But there are some recipes that I have made, and made again and made again, which have become an integral part of our family repertoire. These are the recipes that are The Domestic Front classics.



French Cauliflower Soup with Bacon and Herb Garnish
I never think about garnishing soup, but the garnish here elevates this simple soup to sublime. The perfect weekend lunch, and it instantly transports me to Paris.

Oatmeal Breakfast Bars
Kid friendly, mom friendly. You can make them and freeze, and grab on your way out the door. I made a batch before the baby was born, and they were a lifesaver in those early weeks. A great way to get a healthy breakfast on the go.

Moist Orange Layer Cake with Orange Buttercream
I made this first for the dog's birthday. And then again for a Lenten potluck. And Easter. And my grandmother's birthday. And my husband's birthday. Orange cake is a winner for every occasion, and this is a keeper recipe.

Red Pepper, Roasted Garlic and Goat Cheese Canapes
I've been making these for years, and they never fail to please. Easy to assemble, fun to serve, and both casual and elegant. Recipe came, of course, from my mother.

Gazpacho.
I never really understood the appeal of Gazpacho, until I tried this recipe. A pitcher lived in my refrigerator all summer.

Bircher Muesli (or Swiss overnight oats).
I spent the fall making big jars of this every week and taking it to work for a morning breakfast. A great way to start your day with whole grains and fruit- I particularly love it with the chewy steel-cut oats.

Halal Style Chicken and Rice
I've made this again and again and again this year. For my husband's birthday. For friends with a new baby. For Sunday dinner, and Tuesday dinner. And maybe for tomorrow night's dinner, now that I think of it.

Chicken Cobbler Pot Pie
Comfort Food at its finest, and a great way to use supermarket rotisserie chicken.

Sweet Potatoes with Gorgonzola Cream and Toasted Walnuts.
I made this for the blog and it was requested for Thanksgiving. It's good enough (though rich) that it's worth making outside of the traditional Thanksgiving sweet potatoes.

Spiced Chocolate Buttermilk Pie
The flavors of fall, an old fashioned texture, and just the hint of chocolate make this a pie that will show up again and again on our Thanksgiving table. Bonus: Once I got the recipe down, the pie comes together in a flash.