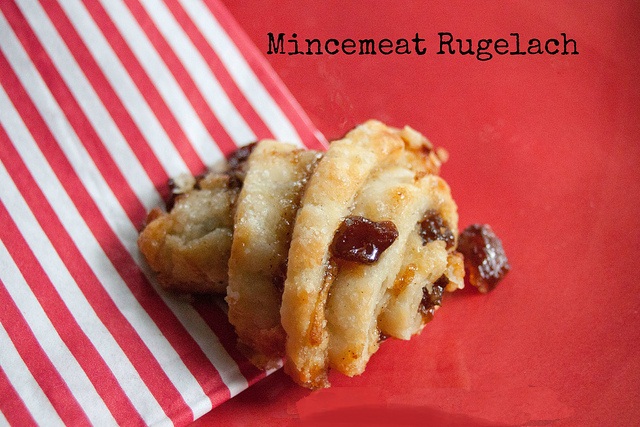 Sometimes holiday traditions can feel like checking the box. As a parent, I want my kids to develop memories of the holidays with annual traditions that define the season. At the same time, as a parent, the holiday season is so full of to-do's – Stocking stuffers! Teacher gifts! Holiday performances! Christmas Cards! While efficiency doesn't necessarily smack of "holiday spirit" anything that can give me two for one bang for my buck on holiday traditions is AOK with me.
I wrote two years ago about how mince pies are special to me and my family mythology but I don't always have time for pie baking at Christmas. Cookie baking, however, is de rigueur – for cookie parties and teacher gifts and of course, Santa Claus. The solution should, of course, be glaringly obvious — mincemeat cookies!
Rugelach dough, of course, is very similar to a lightly sweetened pie dough, and mincemeat, with its combo of dried fruit and sugar, is not that dissimilar from traditional rugelach filling. Rugelach is a traditional Jewish cookie, of course, and Mincemeat is a traditional Christmas treat, but I have an ecumenical attitude when it comes to good food.
And good these are — not too sweet, crisp on the outside with a soft center. You get an echo of mince pies, but these are lighter, despite the prodigious amounts of butter and cream cheese in the dough. And if you want lighter still, you can make smaller cookies by forming into pinwheels and slicing before baking.
Relatively simple cookies with a classic flavor? That's going to become a tradition in my house.
Mincemeat Rugelach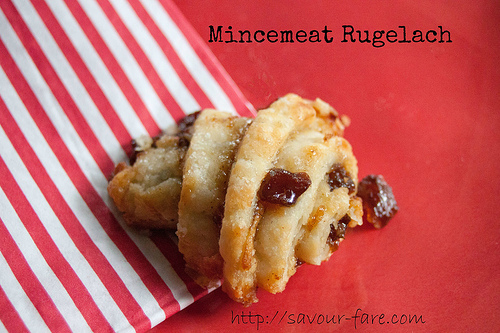 Ingredients
8 oz. cream cheese
1 cup butter
¼ cup granulated sugar, plus more for sprinkling
2 cups flour
½ recipe homemade vegetarian mincemeat (You can also doctor commercial mincemeat by adding a little candied orange peel, some freshly grated apple and a slug of brandy. You should note, however, that many commercial mincemeats do contain meat.)
Instructions
In a food processor, combine the cream cheese and butter, cut into chunks, the sugar and the flour. Process by pulsing until the mixture resembles crumbs. Divide into four piles on plastic wrap, use the wrap to help coalesce the crumbs into a ball, flatten each ball into a disk, then wrap and chill in the refrigerator for 1-2 hours.
Preheat oven to 350.
Roll each disk into a 11-12" circle, spread mincemeat thinly over the dough, then cut into long triangles and roll each triangle, fat end first. (Alternatively, roll the dough into rectangles, spread mincemeat, roll up into a log, and slice).
Place each cookie on a cookie sheet lined with parchment or a silpat, sprinkle with granulated sugar, and bake 15-25 minutes, or until golden brown.