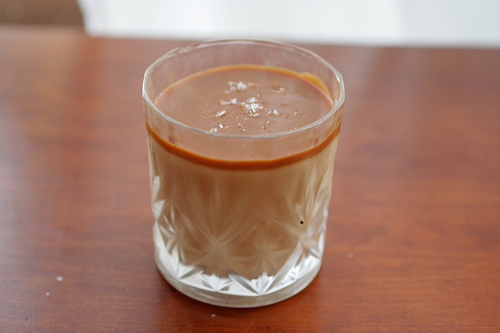 Some of my friends who read this blog seem to be laboring under the delusion that I am a gourmet cook. While I do occasionally go a little crazy with some super fancy cooking, I imagine that my everyday cooking is a lot like yours. I cook dinner for my family. I use what's on special at the store, or on a good week what I've found at the farmer's market. I call my mom for recipes, or look in a cookbook, or troll the internet. And usually I feel pretty lucky if I manage to get a main dish and a vegetable (or two) on the table at a reasonable hour for dinner. I just also happen to put it in a nice dish and take a picture of it.
Probably the place where my life as a "food blogger" separates from my life as a plain jane home cook is in the area of desserts. If we're going to eat dessert, I'm not going to buy some ice cream or some oreos (the way I might have in my pre-blogging days) and satisfy my sweet tooth that way. I'm going to cook and photograph and post the recipe. And the thing is, I like it better that way. Homemade desserts are better. Fresher, free from strange ingredients, and much more likely to be worth the calories. But the thing is, you don't have to be a gourmet cook to make dessert. My taste runs towards the simpler desserts, like warm home baked cookies, or a simple panna cotta ,(ignore the Italian — panna cotta is as easy as it gets) or what could be the most prosaic of home desserts — pudding.


When most people think pudding, they think little plastic cups full of goo. But homemade pudding is SO much better — at once cleaner tasting and more complex, with a lighter texture and sweetness. And the ingredients are pantry staples — milk, sugar, a little cornstarch. This butterscotch pudding from pastry great and celebrated wit David Lebovitz is the perfect example. The butterscotch flavor is more complex than any prepackaged product. And the pudding, while sweet, doesn't have that cloying sweetness you find in a box. And it's dead easy.
Of course, being a food blogger, I had to tart it up with some of my Salted Caramel sauce (now a staple in my refrigerator) and a sprinkling of sea salt to mimic my favorite dessert at Nancy Silverton and Mario Batali's Pizzeria Mozza, the Butterscotch Budino, and if you're so inclined and want to get fancy I would highly recommend this course of action. But if you're in the mood for simple and homey, the pudding alone will suit just fine.
Speaking of being a food blogger, my Grilled Pimento Cheese Sandwiches are a finalist at food 52 this week. Go over and vote for it. (If you're not familiar with Food52, it's this incredibly cool crowdsourced cookbook being put out by Amanda Hesser and Merrill Stubbs — check it out!

Salted Caramel Butterscotch Pudding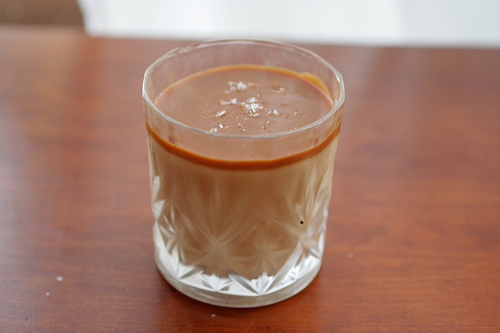 Ingredients
½ stick (2 oz.) salted butter
1 c. packed dark brown sugar
¾ tsp. coarse sea salt
3 T cornstarch
2½ c. whole milk
2 large eggs
2 tsp scotch whisky (I happen to have this in the house because my father is an enthusiastic scotch drinker, and it does add a wonderful flavor, but if you feel so inclined you can skip it. If you use a peaty scotch like Lagavulin or Talisker it gives the pudding an intriguing smoky flavor that isn't for everyone - you might want to stick with a nice Highland or blend if this turns you off)
1 tsp. vanilla extract
Instructions
Melt the butter in a saucepan, add brown sugar and salt, and stir until the butter and sugar are incorporated. Remove from the heat.
In a separate bowl, whisk together the cornstarch with ¼ c. of the milk until it's homogeneous, then whisk in the eggs.
Pour the rest of the milk into the brown sugar butter mixture, and whisk until it's all incorporated, then whisk in the cornstarch egg mixture and return to low heat, and bring the mixture to a boil, stirring frequently.
Once the pudding begins to bubble, reduce heat to a simmer and cook an additional minute, whisking constantly. Stir in whisky and vanilla. If the mixture has curdled, you can smooth it out with a blender or immersion blender. Pour into 4 glasses and chill for at least an hour.
Notes
Adapted from David Lebovitz