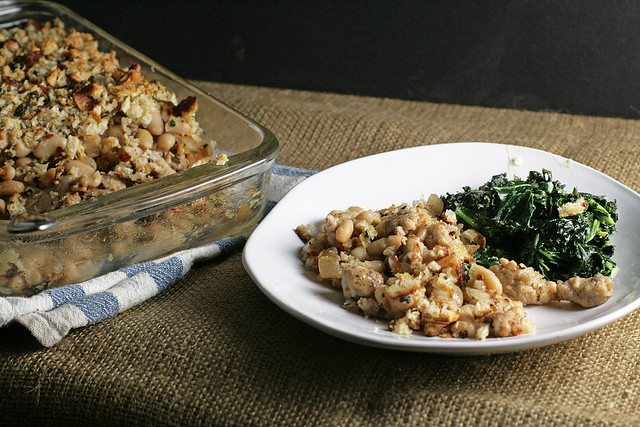 When you're cooking dinner for your family every night, it's easy to get into a rut and/or run out of ideas (yes, even if you're a food blogger. I often panic when I sit down to make my weekly grocery list, then I start by looking through cookbooks and websites for ideas, which turns to procrastinating by looking through Facebook and CNN, which oddly enough do not provide many meal planning ideas, before I give up and make the things we had last week because hey, we liked them then.) The point is, when I see something that looks like it might become a regular in my family dinner plan, the heavens open up and choruses of angels sing Hallelujahs. Hey, inspiration is a glorious thing.
And that is why, when I saw this rather unassuming dish on Peanut Butter and Jargon via Tastespotting (which seems like it should be an excellent source for meal planning but usually leaves me craving melted cheese, gooey desserts and cocktails. Not that I'm complaining) I jumped on it. It contained all sorts of things I like in a meal – it's reasonably healthy, easy to prepare and made from simple fresh ingredients. I love a good casserole but I so rarely see a casserole from scratch – one that isn't dripping with cheese or cream of something soup, and this one — made with onions, white beans and chicken sausage and topped with breadcrumbs — was like a breath of fresh air.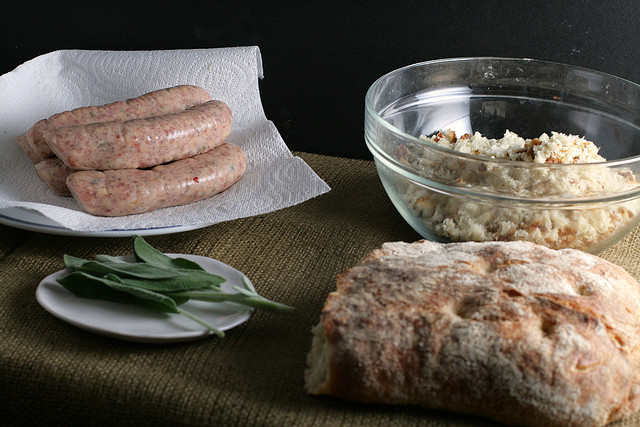 I was so excited by this recipe that I went out and bought the ingredients that day, and I cooked it two days later, namely today, and I was so pleased by the outcome that I decided to share it with you TONIGHT. It's really more than the sum of its parts (though the parts themselves are excellent) — just the kind of rustic, hearty fare my family likes on a cold winter night after a long day of work. Even the Nuni, who would be perfectly happy to live on Cheerios, Snapea Crisps and lollipops, deigned to eat several bites (at first she said it was too spicy, but when we assured her that it was not, in fact, very spicy at all, she ate it bit by bit, declaring with each bite "This bean not too spicy. This chicken not too spicy.") So there you have it — two year old approval, and that, my friends, is rarer than gold. This is definitely going into regular rotation in the The Domestic Front household.
Just a few notes — because this has so few ingredients, it's worth it to use very good ones. I used Sicilian Chicken Sausages from Trader Joe's, which have fresh tomatoes and cheese in them, and are, indeed, a little spicy, and a good quality ciabatta bread to make the breadcrumbs. Even the olive oil adds flavor, and I would bring out the extra virgin for this one.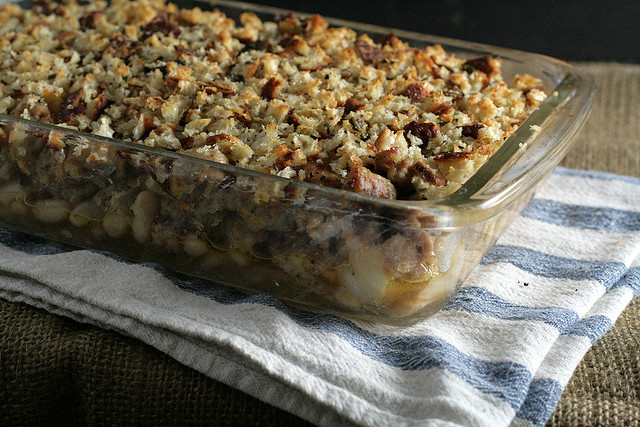 Sausage Casserole with White Beans and Sage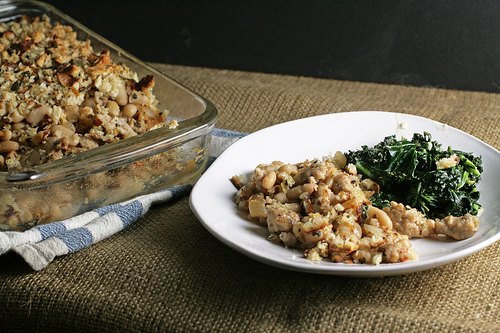 Ingredients
4 oz fresh crumbs from good quality crusty country bread, such as ciabatta, (the easiest way to get crumbs from fresh bread is to pulse it in the food processor, but a box grater can also be used)
¼ c. extra virgin olive oil, divided
⅓ cup whole fresh sage leaves (about 25)
1 large onion, chopped
4 garlic cloves, minced
1 lb chicken sausage, casings removed
½ cup dry white wine (I used Pinot Grigio, which also paired nicely with the finished dish)
2 14.5-oz cans cannellini beans, drained and rinsed
salt and freshly ground black pepper
Instructions
Preheat oven to 400 degrees. Grease a 9X4 baking dish with olive oil or nonstick spray.
Drizzle about 2 T olive oil over the bread crumbs to moisten. Season with salt and pepper and set aside.
In a large skillet, heat the remaining 2 T olive oil over medium heat. Add the sage leaves and fry gently, stirring periodically, until the leaves are crisp, then remove them from the pan onto a paper towel.
Add a little more olive oil if the pan looks dry, then add the onions and garlic to the pan and saute until golden brown and translucent, about 5 minutes.
Add the chicken sausage, breaking it up with the back of a spoon, and cook until no longer pink. Add beans, then wine to the pan and scrape any browned bits off the bottom. Cook 2-3 minutes, or until wine has been mostly absorbed and beans are creamy. Season to taste. (I find this benefits from a good turn of the pepper grinder). Crumble about 5 sage leaves into the chicken mixture and put it in your prepared pan.
Crumble an additional 5 sage leaves into the breadcrumbs, then sprinkle them atop the chicken mixture and bake in a preheated oven 15-20 minutes, or until the breadcrumbs are crisp and golden.
Notes
Adapted from Martha Stewart via Peanut Butter and Jargon