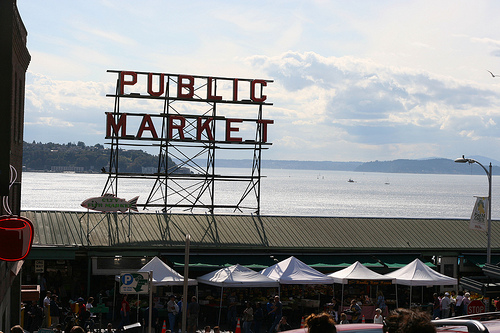 This past weekend, I traveled to Seattle to attend the International Food Bloggers' Conference, 2010. I'm still mulling over the main takeaways I have from the weekend, which will come in a separate post, but I thought I'd share with you all some of the details of the event. I will say that while the schedule was jam packed, the content was generally excellent. I know that Foodista and Zephyr Adventures, the organizers of the event, will have several of the sessions available online at the conference website, and if you are interested in the whys and hows of food blogging, they are definitely worth watching. The sponsors listed on the site are also worth checking out. I was incredibly impressed with the commitment of all the sponsors to creating and producing amazing food and food related products. The sponsors were chosen well, and were a terrific fit for the conference attendees, all of whom care deeply about food, how it is produced, and where it comes from. What the website can't provide is the amazing food we were offered and the amazing people in attendance. To every single person I spoke with this weekend, I want to say this: "I'm so glad we got to meet and talk at IFBC. I just wish we had had more time for conversation!" Food bloggers and food producers are quite an amazing group of people, and the passion in the room was palpable. Sadly, I was too busy talking to people to photograph them, but, true to my calling, I did make pictures of a lot of the food:
I slipped out before the conference began on Friday to visit Seattle's Pike Place market. Salmon was, predictably, everywhere.

They don't actually allow you to visit Seattle without watching people throw fish. This was the fish throwing stall. I was trying to capture these oysters, which were HUGE, but then someone came along and covered them with ice before I got the shot. Use your imagination.

I did get some fantastic berries at the Pike Place Market though. These tiny strawberries were so sweet and flavorful!

The Hotel Monaco was the conference hotel, which was in a prime downtown location. Somehow I lucked out and got a suite, so I thought I'd post the picture, a la the Pioneer Woman.

More channeling of Ree Drummond:

The programming was all held in a huge warehouse/factory belonging to Theo Chocolate. It was filled with long tables and gold ballroom chairs, and Foodista had hung chandeliers from the ceiling. Very atmospheric, but TERRIBLE for photographs.

We had the option to tour the working factory at Theo Chocolate (a tour that's available to the chocolate). I was nearly bowled over by the chocolate smell in there, and so impressed with Theo's commitment to fair trade and the passion of everyone who worked there for chocolate and social justice. (They also make darn tasty chocolate. Try the coconut curry bar).

For lunch on Day 1 they brought in several local Seattle area chefs, who prepared small plates, which were paired with wines from the Walla Walla Wine Alliance (the L'Ecole 41 Semillon is worth trying). This was my favorite — a braised octopus over chick peas with chorizo, prepared by Chef Shannon Galusha of Bastille.

Other lunch plates included a marinated zucchini carpaccio prepared by Chef Jason Stratton of Spinasse (which I ate so fast I failed photograph), a steak tartare prepared by Chef Daisley Gordon of Campagne, and a salmon carpaccio prepared by Chef John Howie of Seastar.

The last afternoon session was interrupted by the sounds of a flamenco guitar from the adjacent lot, and as soon as we went outside, we were assaulted by the gamey, charred scent of grilled lamb meatballs. A Spanish cocktail hour was sponsored by the Secret Sherry Society. I can't tell you more about it, as I've been sworn to secrecy, but the sherry cocktails (made with fino sherry, some orange liqueur and an orange twist) were fantastic.
Dinner was equally fantastic, but the light was TERRIBLE and I have no pictures.
The next morning's breakfast from Top Pot Doughnuts. Not bloodsugar friendly. Not that that stopped me.

For lunch on Sunday, several local food trucks were brought in. As an Angeleno, food trucks are getting to be commonplace, and I don't love the lines, but the food was terrific, and the vendors were all incredibly enthusiastic.
Tending the fire at the Rolling Fire Pizza Truck:

Preparing to pour the batter at Anita's Crepes:

Carne Asada, Grilled Fish and chicken Mole tacos from El Camion (ironic that I traveled from Los Angeles, the spiritual home of the taco truck, to Washington to eat tacos from a truck, but I fully admit these were good tacos.)

Rose Ann Finkel of Pike Brewing pours her Dry Wit beer with justified pride. This was a terrific beer — a white ale with strong herbal notes. I also tried Pike's Kilt Lifter and was very impressed — I'm looking for a local source for their great beers.

As you can probably see, the food was delicious — produced and prepared with care. Bravo to IFBC for feeding food bloggers well — we're picky, but worth it.