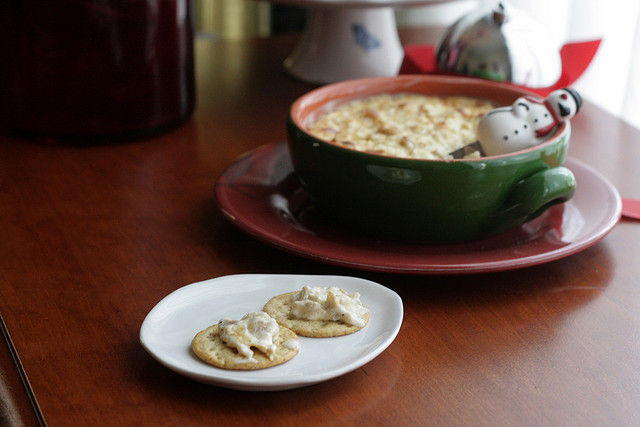 I know that you're already falling out of your chair in excitement because this is the first The Domestic Front post in quite some time that didn't feature sweets. I may have gone a wee bit overboard there with the Christmas baking, I admit it. And I'm sure you're ready to get back to the business of cooking real food.
Unfortunately, this week is New Year's Eve, and New Year's Eve means parties, and party food, although fantastic, is not really REAL food, so you're just going to have to wait a bit. What I have for you today, though, is an easy, delicious, guaranteed-to-please party dip (it would be great for the Superbowl too) that is a fixture in my family's holiday repertoire.


What I love about this dip is that you can keep the ingredients on hand (and I usually do) and it comes together very quickly so it's great for spontaneous gatherings (or some at home cocktail hour munchies) as well as planned affairs. I've seen other versions of this dip, but this one, which I've inherited from my dad, is by far the best.
My Daddy's Hot Clam Dip
Everytime I serve this at a party, people rave over it. It's almost embarrassing how easy it is to put together.
Ingredients
Recipe
Hot Clam Dip
1 8 oz. block cream cheese
1 can minced clams, drained, with the juices reserved (I always buy Snow brand. If you don't like clams, you can substitute crab)
1-2 T prepared horseradish sauce (I like Beaver brand hot horseradish sauce)
grated onion (optional)
salt and pepper to taste
¼-1/2 tsp Sriracha or other hot sauce (this just gives it a little kick)
Crackers for serving (we usually serve with Ritz crackers)
Instructions
Preheat oven to 350.
In a small ovenproof bowl, combine cream cheese, clams and horseradish and mash thoroughly until combined. Add sriracha to taste, a little grated onion if you're using (I only add this step when I have a half of an onion sitting around in the fridge), and juice from the can of clams until the dip is thinned to a dipping consistency. Season to taste.
Place bowl in the oven and bake for 15-20 minutes, or until the top is beginning to brown. Serve with crackers.