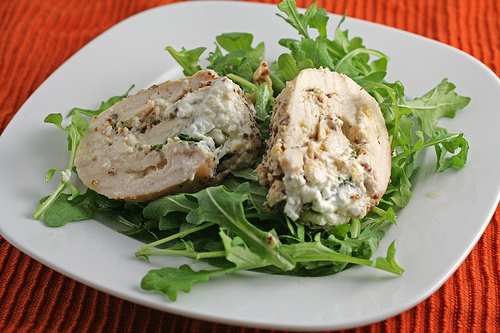 The summer after I graduated from college, I took off for Europe. I wasn't living the bohemian life with a backpack and a Eurail pass (Quel horreur!), I was traveling with my parents and about 30 college juniors on a summer program for my mom's university. The downside of this plan was that I spent three weeks in a hotel room with my parents in what may be the most boring down on the French Riviera. The upside was that we got to take a leisurely coach ride (OK, it was a bus, but coach sounds much more romantic with its regency overtones) from Paris, through Southwestern France, and into Provence. We visited Chateaux in the Loire Valley, peered over the defensive walls in Carcassonne and tasted wine in the caves of Bordeaux. But the experience that really stuck in my mind was the day we visited the goat farm. We drove up through bucolic pastures into a fenced yard which held any number of baby goats, and then we were ushered to a small restaurant where we ate a five course lunch featuring goat cheese. There was goat cheese quiche and goat cheese flan, and aged cheeses with fruit. But the dish that I loved the best and that I still remember, many years later, was a goat cheese salad with honey. The sweetness of the honey perfectly balanced the pungency of the cheese, and the vinaigrette on the salad added a lovely acid note.
It was that dish that I had in mind when I created this maple mustard chicken with goat cheese. I'm always looking for new things to do with chicken, which seems to be the ubiquitous protein, and to add some flavor to chicken breasts. In this dish, Chicken breasts are pounded thin, and then marinated in a sweet vinaigrette of maple syrup, mustard and lemon juice. They're then spread with good fresh goat cheese and some arugula (which adds a lovely nutty taste) and then baked.



The sweetness of the maple syrup is a lovely complement to the goat cheese, and the whole thing is a lovely and healthy option for a weeknight dinner that can transport you to rural France, even if the bucolic fields baby goats not included.
Maple Mustard Chicken with Goat Cheese and Arugula
Ingredients
3 large chicken breasts (I had the most enormous chicken breasts ever -- apparently from the Dolly Parton of chickens. One breast fed the three of us easily. But this makes great leftovers).
½ c. maple syrup
½ c. mustard (I used whole grain mustard because I had it for another recipe, which sadly was kind of a bad date. Regular dijon mustard also works swimmingly)
½ c. lemon juice
2 tsp. smoked paprika
pinch salt (the size of the pinch will vary depending on how salty your mustard was)
5 oz. soft fresh goat cheese
a couple of handfuls of arugula leaves
Instructions
Some time before you make this, place the chicken breasts in a plastic bag (to contain the mess), and using a meat hammer or a rolling pin, pound them relatively flat (a minimum of a few hours, but I like to do it the night before. This is a particularly good dish to plan for the day after you've had a bunch of conference calls at work).
Mix the lemon juice, maple syrup, mustard, paprika and salt. Marinate the chicken in the mixture for a few hours, or up to a day.
When you're ready to cook them, preheat the oven to 450 degrees. Spread the goat cheese on each chicken breast, add a small handful of arugula and roll them up from the arugula side. Secure with kitchen twine and place in a baking dish.
Bake for 30-40 minutes, or until juices run clear and the internal temperature reaches 150 degrees. Let rest for about 10 minutes, then slice and serve over the remaining arugula, moistened with pan juices.