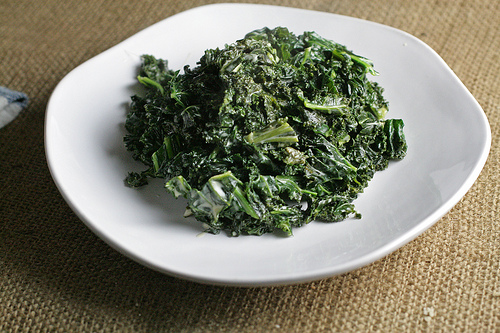 Something funny has been happening this winter — kale has become a staple in my refrigerator. A week rarely passes when I don't buy a bunch, either from the farmer's market or during a Whole Foods run. It's a combination of being drawn to the purported health benefits of kale, admiring its ruffled appearance and just plain liking the taste. Kale has a savory heartiness that doesn't contain the metallic tones of spinach or the sometimes bitter flavors of collards or mustard greens.
Creamed Kale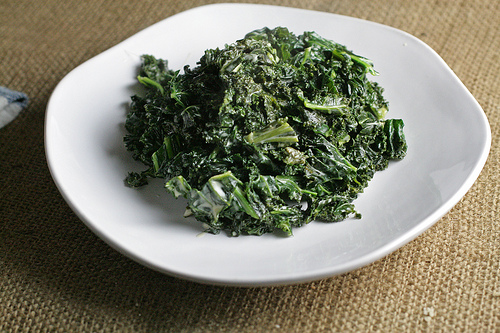 Ingredients
1 bunch kale
½ c. chicken broth
pinch salt
⅓ c. heavy cream
pinch sugar
Instructions
Wash the kale and remove most of the tough stem from each leaf. (I usually run a knife along the back). Chop the kale into rough ribbons.
In a medium saucepan, combine the kale with the salt and chicken broth. Cook over medium heat, stirring frequently, until the kale is wilted and the chicken stock has been absorbed or evaporated -- the pan should be almost dry.
Add the cream and the sugar and cook until the cream is mostly absorbed and coating the kale. This won't take long.
Serve with almost anything, and ignore the fact that you're eating heavy cream because after all, it's kale. It couldn't get much healthier, right?
Notes
Adapted from Saveur
Sometimes I make kale chips or crispy kale (google and you'll find a kajillion recipes — one of these days I might even get around to posting my recipe, but it usually gets eaten too fast to take pictures), but more often, especially when my kale buying enthusiasm and my cooking time do not overlap, I end up making this creamed kale. It can be made with wilted greens, which is a plus in the flexibility department, and is easy and delicious to boot. In fact, if you've been paying attention round these parts, you may have noticed creamed kale keeping company with
Lamb Top Round and Pommes Anna on New Year's Eve
, or
setting off this chicken sausage casserole
. It's a versatile and hearty dish, and one that has become a regular in my kitchen.