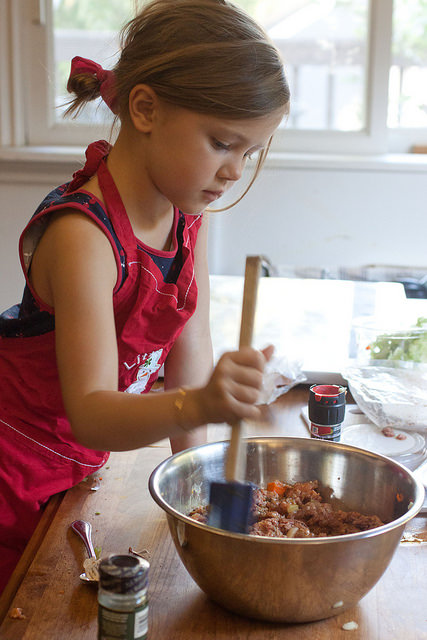 I live 2 minutes away from where I grew up.  This was a combination of happy chance and deliberate decision making – we knew we wanted the kind of beauty and community my hometown provided, and when we decided to buy a house, the first one we looked at happened to be here, in this neighborhood, 2 minutes away from my childhood home.    What that means is that to some extent, my children are living my childhood – playing in the same park, reading in the same library, walking the same streets.
My childhood comes back the most vividly for, me, however, when I'm in the kitchen, with my daughter (who is truly my mini-me), making dinner from my mother's recipes.   Cooking together is a thread that  links the generations of my family.  One of our family's favorites is meatloaf – the recipe is forgiving enough for little hands to help, and we can work together – chopping, mixing, shaping.  I let her choose the McCormick spices we add (within reason), and she has pride of ownership when the meal comes out of the oven, "Daddy, I MADE UP this recipe."  The meatloaf becomes hers, as it has been mine, and my mother's before me. When we gather outside to eat (because we are Californians, and we eat outside three quarters of the year), I hope that my children feel the strong sense of home that I felt, that brought me back here, to my home town, to my neighborhood, and to the family table. That is American Homemade to us.
We love recipes that have been in our family for generations, but I'm always on the lookout for new recipes that our whole family will enjoy.  McCormick (who kindly sponsored this post)  has just launched a new FlavorPrint tool that makes that easy.  You can answer a series of questions about your family's tastes, and it will suggest recipes that your family will love.  The more you use it, the better it knows you, and the better your recipes will match you. My FlavorPrint profile tells me we like sour, coffee/chocolate and caramelized flavors, which is pretty on the nose!
I encourage you to create your own FlavorPrint profile, and share your American Homemade story.  What meal best symbolizes the power of homemade cooking to you?
Mom's Meatloaf with McCormick Spices
Ingredients
½ cup fresh breadcrumbs
⅓ c. milk
2 stalks celery, finely chopped
½ small onion, finely chopped
2 eggs
1½ lbs. ground beef
½ lbs. meat from sweet Italian sausage links, casings removed
1 tsp McCormick garlic powder
½ tsp McCormick chili powder
1 tsp. McCormick poultry seasoning
2 T. Worcestershire sauce
Ketchup to taste
Instructions
Preheat oven to 350.
Soak breadcrumbs in milk. Add meats, eggs, vegetables, McCormick spices and worcestershire sauce, and mix well.
Line a roasting pan with foil. Form the meat mixture into two oval loafs, and brush ketchup or barbecue sauce over both loaves.
Bake at 350 for 1 hour or until loaves are firm to the touch.
This post was sponsored by McCormick via  KitchenPlay, but all opinions are my own.