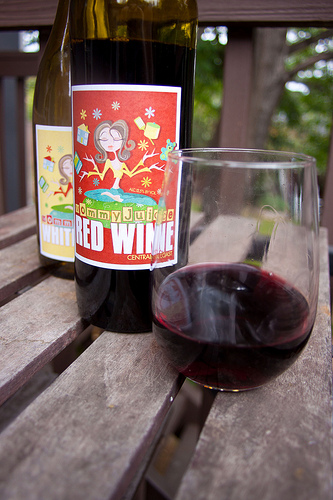 I think we've already established two important facts about me – 1) I like to drink wine and 2) I am not a snob about wine. When I was offered the chance to review MommyJuice wines – a new range of California wines, I was intrigued. The post is sponsored, but the opinions, photos, words, yada yada — that's all me, baby. Oh, and please drink responsibly. And you probably shouldn't read this if you're under 21.

Thank you MommyJuice Wines for sponsoring this post! MommyJuice can be purchased online at MommyJuiceWines.com. Californians: Visit your local CVS store to pick up a bottle of MommyJuice for Mother's Day!
I immediately liked that MommyJuice was owned and made by a mom – I like to support women-owned small businesses, and it would be unbearably condescending if some 20something bachelor dude said, "Hey, let's make a wine called Mommy Juice." But I was a little skeptical of the name. I mean pretty much all of the moms I know are driven to drink by their children enjoy a glass of wine now and then, but I usually turn to wines with schmancy, European names, like La Rana Fuchi, or Clos de Grenouille Puante. What's up with MommyJuice? I couldn't serve it to my boss, or the PTA President. That would be kind of embarrassing.
But then I had one of those days. You know those days? Started normally enough – Nuni at school, Bootsy resisting his nap. And then I picked Nuni up from school and she was complaining of an itchy head. (Moms of elementary age children are all quaking in their boots right now.) Lice. Gross, right? I mean, I could see the bugs crawling in her hair. Which is still giving me those cold shivers. Off to CVS, purchase of some insecticidal shampoo and a nit comb, which wikimedicine ensured me would deal with the problem. So I doused her head and then combed out the hair, still finding wiggling critters. The shampoo did not seem to have adequately addressed the problem. So I called in the big guns. The professional nitpickers. And a very charming gentlemen came to my house, combed out the Nuni's hair, found an alarming number of nits, declared the rest of us infestation-free (whew) and left us with a protocol list a mile long.
As I was doing my FIFTH load of laundry that evening, (Sanitation mode!) that bottle of Mommy Juice called to me. This was not an occasion requiring Vino del Ranocchio Puzzolente. This required Mommy Juice. A big, BIG glass of Mommy Juice.
And here's the thing. You can TOTALLY serve this to your boss. (I might decant it first). Both of the wines are Central Coast of California (my favorite wine region in California – the cooler coastal temps make for interesting wines, IMO). The Red is a blend (77% Cabernet Sauvignon, 16% Merlot, 3% Malbec, 2% Cabernet Franc, 2% Petit Verdot) with a nice balance of tannins and acidity and some bright berry and cherry flavors. It pairs beautifully with food — (I drank the rest for lunch the next day with a roasted mushroom, aged cheddar and aioli sandwich, which was a great pairing). The white is a lovely, dry, aromatic Central Coast Chardonnay – not too heavy on the oak (the downfall of many California Chardonnays) or the malolactic fermentation (that "buttery" flavor). It had some bright fruit flavors as well, with a melon overtone and a teensy hint of floral. Both are totally respectable wines, and it would be a cute baby shower gift or hostess gift for girls night.
Now the details: MommyJuice wines are available at CVS stores (mine had marked it down to the bargain price of $7 and change) and at Northern California Target and various other nationwide retailers. You can also buy wine and Mother's Day gift packs at MommyJuiceWines.com. Right now they're running a sweepstakes on their Facebook Page – if you post a picture of MommyJuice on the shelf of your local CVS, you can be entered to win a set of Mommyjuice Glasses (and if you can't tell from the picture, those are BIG glasses. You're welcome).
You might as well stock up now, because you know one of THOSE DAYS is coming.
I was selected for this opportunity as a member of Clever Girls Collective, and the content and opinions expressed here are all my own.