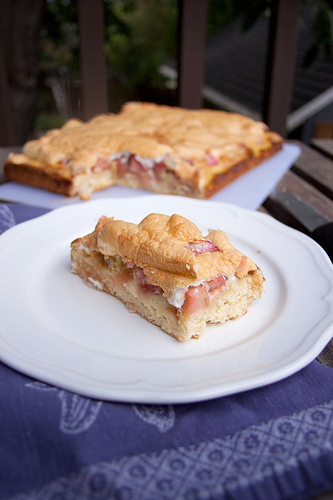 I am something of a rhubarb fiend. My great-grandparents had a big patch of it when I was growing up, and stewed rhubarb featured heavily in visits. I love that tart-sweet unique flavor, and the glorious PINK color. It fulfills all my girly food fantasies.
I haven't been able to find rhubarb for most of this spring. I forlornly cross-examined the clerks at Whole Foods ("But WHEN will you have it in stock?"), fruitlessly haunted farmers' markets and researched growing my own, so I would not be left rhubarb-less forever (Apparently, Los Angeles used to be a huge center for commercial rhubarb growing, but sadly, it's impossible to get the varieties that grow well in the heat any more).

Finally, the universe heard my entreaties, and rhubarb has appeared (cue chorus of Hallelujahs). What's more, it appeared in my CSA box. Thanks, universe.
I decided to celebrate with cake. I heard mention of a German dessert called "Rhabarberkuchen" somewhere on the interwebs, and immediately it summoned an image of a soft, yeasty cake topped by soft, tart rhubarb. A bit of googling made me decide to finish it off with a meringue. The result – a not-too-sweet coffee cake with a rhubarb tang which is perfect for teatime but just far enough on the spectrum from cake to bread that you don't feel guilty eating it for breakfast (or Mother's Day brunch.)
And it's pink. What's not to love?
Yeasted Rhubarb Coffee Cake
Ingredients
For the dough:
½ package rapid-rise yeast
2½ cups flour
½ tsp salt
3 Tablespoons sugar
¾ c plus 2 T milk, lukewarm
1 medium egg, beaten
2 Tablespoons butter, very soft
For the filling:
2 egg yolks
⅓ cup plus 2 Tablespoons sugar, divided
3 Tablespoons heavy cream
1 lb rhubarb, washed, trimmed and chopped into 1 inch pieces
For the meringue
4 egg whites
⅓ cup sugar
pinch salt
Instructions
Make the base:
Combine the flour, salt, yeast and sugar in a mixing bowl.
Pour over the warm milk, and combine. Add the egg and the butter. Knead until elastic. (I used the dough hook of my KitchenAid mixer).
Place dough in a buttered dish, and let rise 1 hour.
Preheat oven to 375
Grease a 9 x 13 baking pan with butter. Spread the dough over the base of the pan.
For the filling:
Combine the egg yolks, cream and 2 Tablespoons of sugar. Brush over the dough.
Toss the rhubarb with the remaining ⅓ cup sugar. Spread rhubarb over the dough.
For the meringue topping:
Beat the egg whites with the salt until soft peaks form. Add in the sugar, bit by bit, until the mixture is stiff and glossy.
Spread the meringue over the rhubarb.
Bake at 375 degrees 30 minutes.
Notes
The dough is an adaptation of a recipe from Nigella Lawson's How to Be A Domestic Goddess. The meringue will be crispy when first pulled from the oven, but will soften very quickly. You can omit the meringue entirely if you prefer.