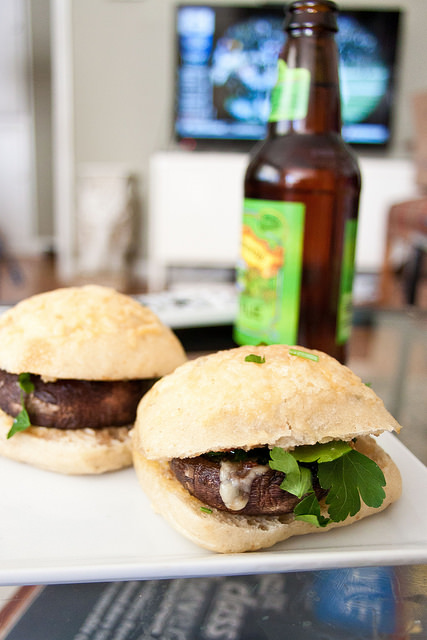 The Super Bowl, oddly enough, seems to be one of the biggest food holidays of the year.  I don't know why it's more food-centric than the Fourth of July, or Easter, or Cinco de Mayo, but there you have it.  I myself am not a huge fan of professional football (LA hasn't had an NFL team since I was in elementary school, which lessens the thrill somewhat) but I can always get behind a party.  Especially a party that involves those semi-junky foods that you always want to eat but usually don't because they are not good for you.  Foods like buffalo wings, potato chips with onion dip, and jalapeno poppers.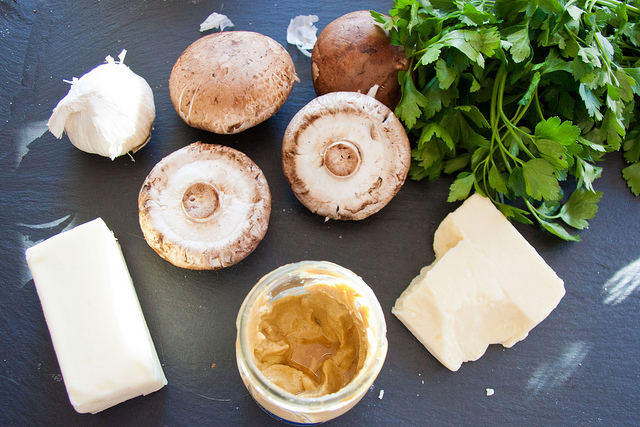 This year, however, I am trying to eat more vegetables, and last time I checked, buffalo wings are not vegetables.  In the past, I have scoffed at "healthy" Superbowl recipes. The whole point of Superbowl food is that it's unhealthy.  Nobody wants to eat kale chips while watching men pummel each other in freezing cold weather.   This year, though, I saw my vegetable challenge as a Super bowl challenge too – could I come up with a healthi-ER recipe that doesn't feel like a compromise?  Something that's so delicious you want to eat it MORE than the meaty alternative?
I don't mean to brag, but I think I've accomplished just that.   Little sliders (fun to eat!, finger food that one can eat on the couch while watching the TV), made from mushroom caps (We'll ignore the fact that for purposes of the challenge, mushrooms aren't exactly Vegetables.  They are like vegetables.) oozing with garlic butter and melted cheese.  Forget the Super Bowl.  I want to eat these EVERY day.  (And I could, too- they do contain butter and cheese, but it's not excessive.)  They're so good that nobody will notice they're eating healthi(er) food because they'll be too busy licking their fingers and asking for more.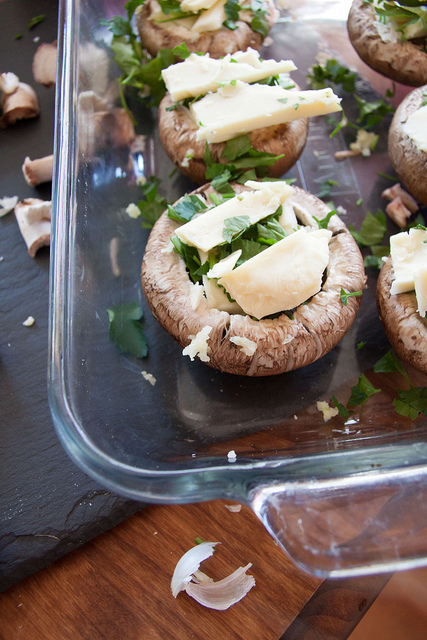 The best part is that these are easy to make, and most of the prep work can be done in advance. No flipping burgers on the stove top – these just pop in the oven, and with some quick assembly, you're left with mouthwatering, succulent little sandwiches, perfect for a winter's afternoon.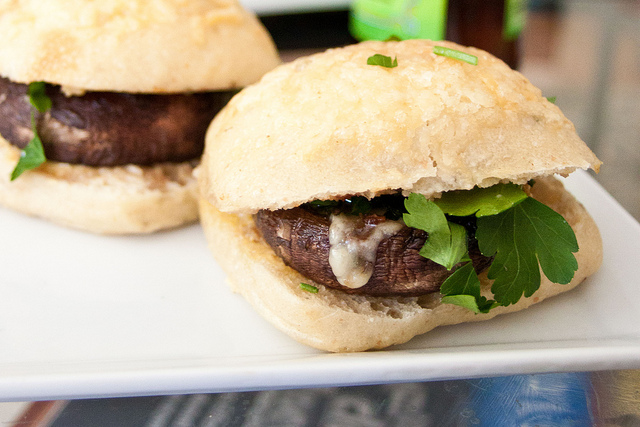 Garlic Butter Mushroom Sliders
Ingredients
8 baby bella mushrooms (these are Portobello mushrooms that are a little on the small side -- about 2 inches or so across.)
8 small cloves garlic
3 Tablespoons of butter
½ cup chopped parsley, divided
4 oz. sharp cheddar cheese
8 smallish rolls - I like the rosemary parmesan rolls from Trader Joe's, but any dinner roll sized roll will work
Dijon Mustard
Instructions
Preheat oven to 400 degrees
Wash the mushrooms and remove the stems. Place them stem side up in a baking dish.
Put about 1 clove minced garlic and 1 tsp butter on top of each mushroom. Add a sliver of cheese, and sprinkle with some of the chopped parsley.
Bake the mushrooms for 15 minutes
While the mushrooms are baking, heat the rolls slightly and cut them open. Spread one of the cut sides with a smear of mustard.
Place 1 mushroom in each roll, and serve immediately. If you like, you can use the rolls to sop up any extra mushroom juices in the baking pan prior to serving.
Psst! Here are a few other recipes that are on the healthier side or feature vegetables that are still perfect for the Super Bowl:
Beets, Blue Cheese and Bacon Dip
Black Eyed Pea Salsa
Guacamole
Creamy Hummus
Roasted Garlic, Red Pepper and Goat Cheese Canapes