The fantasy: Your house is clean. Your children have finished their homework and are playing by themselves quietly and without incident. You have the time to chop, sauté and simmer, and fill your house with good smells as you make a leisurely, healthy dinner, which your delighted family eats with enthusiasm.
The reality: There was an accident on the freeway, so you're home from work 40 minutes later than usual. Your daughter has emptied the contents of her backpack all over your living room, which is now strewn with glitter and various bits of paper. You're supposed to send a signed form to daycare with your son, but you can't find the paperwork anywhere. Your husband is working late. Bedtime is approaching. You need to get dinner on the table, quickly, but if you try to serve carrot sticks and chicken again your family will storm the barricades.
OK, maybe that's just my reality. But I'm sure you have your own unique challenges.
The point is, we all want to live the fantasy. We want to cook entirely from scratch and feed our families healthy, homemade food every day of the week. But the reality doesn't always stack up, and that's where the harried cook turns to shortcuts, in the form of the supermarket rotisserie chicken. It's healthier than frozen lasagna, quicker than starting from scratch, but not the most exciting meal. Here, then, are ten ideas for turning that rotisserie chicken into something fabulous. (Or, if you are living the fantasy, and have managed to follow the constant food writer suggestion of "Just roast a chicken!" then these are ideas for using up the leftovers.)

1. Tacos. I grew up in Southern California, so tacos are an integral part of the foodways of my subconscious. Toss some leftover shredded chicken with some green salsa, and pile into a corn tortilla with the toppings of your choice. I like pico de gallo, crema (Mexican sour cream), and shredded cabbage mixed with cumin and lime juice. Shredded cheese, diced tomatoes, and cilantro are also great additions.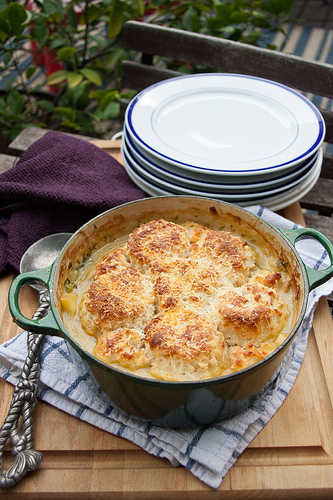 2. Pot Pie. Chicken pot pie is classic comfort food, loved by children and adults alike. The combination of pastry, chicken and vegetables is supremely satisfying on a cold night. Using leftover chicken in the filling is a little secret to speeding up the process. My favorite variation on pot pie uses a biscuit-like cobbler topping – no rolling! The recipe can be found here: Chicken Cobbler Pot Pie by The Domestic Front.
3. Casserole. I know that it's not fashionable among food bloggers, but I admit that I have a weakness for an old school casserole with cream-of-something soup, and my husband and kids invariably love it. I never had this growing up, so a "hot dish" is as exotic to me as Thai food might have been to someone who grew up in Kansas. I've found that leftover roast chicken is an ideal vehicle for the casserole goodness, as most recipes just cook in the oven long enough to heat the casserole through. One of our favorites is this Poppyseed Chicken from Christy at The Girl Who Ate Everything; another good one is this Chicken Almond Rice Casserole from Alice of Savory Sweet Life.
4. Soup. Chicken soup is so famous, it spawned an entire series of saccharine books. Although old-school "Jewish penicillin" is made by cooking the chicken in the soup, you can rustle up a decent weeknight dinner by adding cooked chicken to good quality stock (homemade or store bought) and some vegetables. Try this basic chicken and rice soup from Two Peas and their Pod, or this chicken farro kale soup from Kalyn's Kitchen.
5. Salads. When the weather is warmer, nothing beats a great salad for dinner, and chicken and salad have always been a good match. When you're absolutely beat, mix leftover minced chicken with some mayonnaise, chopped scallions, sliced almonds and dried cranberries and serve with crackers in a nod to 1950's ladies luncheons. For a more modern spin (with more vegetables), add cooked chicken to a green salad like this Japanese ramen salad or make a barbecue chicken chopped salad.
6. Fried Rice. If you have leftover rice with your leftover chicken, making your own fried rice is a natural solution, and easier than you think. Stir fry some vegetables (peas, carrots, snow peas, chopped green beans, chopped onions) in a large skillet, add the cooked rice, some chicken and bits of scrambled egg. Season the whole thing with soy sauce and fish sauce, and you have a quick, family friendly dinner. If you need a recipe, try adding chicken to this Veggie Fried Rice from Annie's Eats.
7. Pulled Chicken. The lovely thing about cooked chicken is that it shreds beautifully. Mix in a good dollop of your favorite barbecue sauce, and you've got your own pulled chicken. Use it to make sandwiches, or go crazy and use it to top nachos.
8. Curry. One of the first recipes I ever learned how to make was a chicken curry recipe that used cooked chicken. I make no representations as to its authenticity — I don't think that green apples and milk feature heavily in traditional subcontinental cuisine — but it is quick, delicious, and, depending on the curry powder you use, mild enough even for picky five year olds. The five year old fun factor can be increased by garnishing it with sliced bananas, raisins, dry roasted peanuts and toasted coconut. The recipe can be found here: Easy Chicken Curry, by The Domestic Front.
9. Sandwiches. I'm a big fan of sandwiches for dinner, and cooked chicken makes an admirable base for any number of good ones. Roll some chicken up in a pita with hummus and parsley for a Middle Eastern version, or add pesto, arugula and melted provolone and serve on a ciabatta roll for an Italian panino. (In Italy, note that a panino doesn't have to be grilled, just any sandwich made with bread other than sliced bread.
10. Pizza. When all else fails, everyone in my family will eat pizza. It's a universal food. Adding leftover chicken (which crisps marvelously in the oven) adds a good bit of protein, and adding vegetables makes me feel like it's a somewhat healthy meal. Pizza toppings, of course, are subject to your whim and to the vagaries of your pantry, but the below recipe is one I like:
Recipe: Chicken and Green Pizza
Ingredients
1 lb. Pre-made pizza dough
½ cup pesto
1 cup shredded mozzarella cheese (or you can use a combination of parmesan, asiago, and provolone)
2/3 cup diced leftover roast chicken
2/3 cup shredded Tuscan kale
1 small fennel bulb, thinly sliced
8 scallions, halved lengthwise and sliced into 3 inch segments
Preheat your oven as hot as it can go (mine goes to 550). Open a window and start your fan.
Shape the dough into two roughly round pizzas, about 9" in diameter, and lay on two cookie sheets lined with parchment.
Spread the pesto on the pizzas, followed by the cheese, the chicken and the vegetables.
Bake 7-10 minutes, or until the crust is golden and the cheese is bubbly.
Serves 4.
This post is part of BlogHer's Dinner, Faster editorial series, made possible by Land o' Lakes.