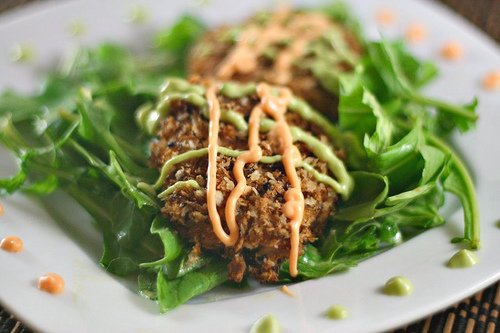 I am often asked where I learned to cook. I am someone who cooks regularly, and enthusiastically and sometimes even ambitiously, so I suppose this is a simple and obvious question. But the answer is multilayered. I learned to cook from my family, though I don't remember many sessions of standing by someone's side as they explained some technique or recipe to me. I learned to cook from eating, since long practice and exposure to good food has given me experience in what tastes good. But most of all (and I suppose this is fitting given that I am the child of two English professors and a confirmed bibliophile) I learned to cook from the written word.


Although I don't remember spending a lot of time in the kitchen with my mother while she explained the precise step by step of cake baking, I do remember spending a lot of time with her in the den, sitting on the sofa with a pile of cookbooks on the coffee table, planning our next meal. We went through Wolfgang Puck and Patricia Wells, the Junior League of San Francisco and a 1962 McCall's cookbook, but the "books" we turned to most often were the back issues of Gourmet magazine my mother had collected over the years. The gorgeous pictures and nearly foolproof recipes were always food for inspiration. I vividly remember the Saffron Vichyssoise we made for a Hollywood Bowl outing (though I can't remember what we went to the Bowl to see), or the Green Bean and Purple Potato salad we made when I graduated from high school. When I moved away from home and had my own kitchen, I continued to turn to Gourmet for recipe inspiration and cooking techniques. I learned to make risotto one summer in college when I sublet an apartment with two other girls and dug up this recipe for Spinach Risotto which even now is my go-to risotto recipe. I started to explore how to cook vegetables when I moved to New York, and this cauliflower recipe became one of my favorites. I even adapted a recipe from Gourmet to be the middle layer of my wedding cake. I still read the magazine cover to cover each month and find inspiration, whether it's in the form of recipes or writers I adore. Gourmet isn't just a magazine that showed you good living – it is one that teaches its readers how to make life good.
I've been a loyal subscriber to Gourmet for many many years, and my mother was before me and so were other women in my family. I grew up with Gourmet, and I learned to cook with Gourmet, and that is why the news that after nearly 70 years it will cease publication leaves me in literal tears. I can't imagine a world without Gourmet, yet come November, I'm going to have to.
RIP Gourmet. It's been a good run.
This crabcake recipe is one of my favorites from Gourmet. Like so many of their recipes, it has become my go to recipe. The crab cakes are baked, not fried, and have a filling that's primarily crab. The browned panko breading is a neat trick that I've used in other recipes as well — it gives a lovely crunch and flavor without deep frying. I serve this with the avocado sauce it was originally featured with, but also with a sauce made from mayonnaise and sriracha chile sauce, which adds a nice and spicy note.

My Love Affair with Gourmet -- Crab Cakes with Spicy Avocado Sauce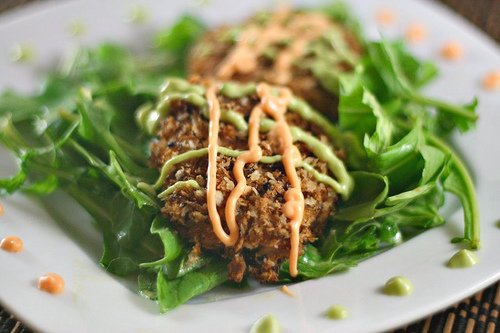 Ingredients
For sauce
½ ripe medium California avocado, pitted and peeled
1 tablespoon mayonnaise
1 tablespoon fresh lime juice
¼ teaspoon salt
¼ teaspoon sugar
1 fresh jalapeño or serrano chile (including seeds), stemmed and quartered lengthwise
¼ cup fat-free (skim) milk
For crab cakes
1 pound jumbo lump crabmeat, picked over and coarsely shredded
3 tablespoons low-fat mayonnaise
¼ cup minced fresh chives
1 tablespoon fresh lemon juice
1 teaspoon Dijon mustard
¼ teaspoon black pepper
½ cup panko (Japanese bread crumbs)
1 tablespoon unsalted butter
2 garlic cloves, smashed
½ teaspoon herbes de Provence or ¼ teaspoon dried thyme
¼ teaspoon salt
Instructions
Make avocado sauce:
Combine avocado, mayonnaise, lime juice, salt, sugar, and one fourth of chile and pulse in a food processor until chile is finely chopped. Add milk and process until smooth. Transfer sauce to a bowl and chill, covered.
Make crab cakes:
Put oven rack in middle position and preheat oven to 400°F. Place parchment or foil on a large baking sheet.
Stir crabmeat, mayonnaise, chives, lemon juice, mustard, pepper, and 1 tablespoon panko in a large bowl until thoroughly combined.
Melt butter in a medium skillet over moderate heat, add garlic and cook, stirring, until the garlic is golden and starts to smell garlicky, about 2 minutes. Add herbes de Provence, salt, and remaining panko and cook, stirring, until golden brown, about 6 minutes. Discard garlic.
Form crabmeat mixture into six small patties, and carefully turn each patty in the crumb mixture until it is coated. Transfer to a baking sheet. Bake until heated through, about 15 minutes. Serve crab cakes with sauce.
Notes
Gourmet, April 2004
For more on the end of Gourmet, see the following blogs:
Julie at A Mingling of Tastes is hostinga blog event to celebrate Gourmet.
Stephanie at Wasabimon posts a a recipe from one of my favorite food writers who wrote for Gourmet.
Jennie at In Jennie's Kitchen posted about Gourmet and another blog event celebrating the magazine.
Paige Orloff of The Sister Project also remembers Gourmet as an integral part of her childhood.
Amy of Cooking With Amy posts about her grief about losing Gourmet.
Maggie at Pithy and Cleaver wrote about her family memories of Gourmet.
Jess at Sweet Amandine wrote a lovely tribute to Gourmet.