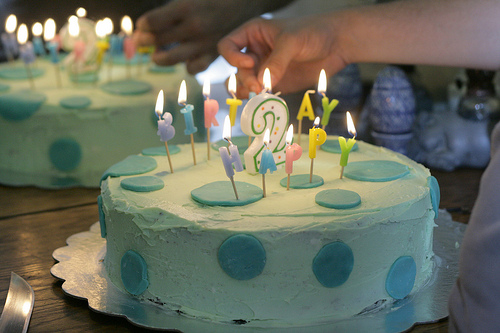 My darling daughter very recently turned two. The Nuni is growing up — getting more independent, more vocal, more affectionate, more skilled. She chatters and tumbles and climbs her way through life. The Nuni was quite pleased to have a birthday, especially one that involved bubbles and balloons and cake, and has been known to sing a rousing chorus of "HAPU CAKEY NUNI!" six or seven times a day.
I, on the other hand, now have to live with a two year old, which means that my life is now full of more drama than the Real Housewives of New York. Either a tutu is too short or a spoon is too shiny or I am not promptly answering some silent or intelligible command and then you better WATCH OUT. On the other hand, there are kisses and pretend play ("I cooking Mommy!" being my favorite, natch) and a constant source of entertainment. So it all balances out, I suppose.
But I digress. Birthdays are the name of the game, and if you are me, that means birthday cake, and homemade birthday cake at that. I asked the Nuni several times before her birthday party what kind of cake she would like — Strawberry cake? (She loves strawberries) Orange cake? (My personal favorite) Gateau d'Opera? Being two, she would only answer me with the cryptic "Green Cake". Now I could have taken this in any one of a number of directions — all organic, local and sustainable ingredients? Chock full of spinach and zucchini? But I decided to treat this as simply a color request. I thought I'd stay simple, not only for my general sanity this year but also because I hope to establish a precedent of a rather basic cake that would become the standard, de rigeur birthday cake. (I shudder to think what I put my own mother through. My standard request throughout my childhood was something I called "purgatory cake" – angels food on top, devil's food on the bottom, with a chocolate mousse filling and seven minute frosting. Can you imagine the number of bowls?)
I decided on chocolate cake, because, well, it's chocolate cake, and no further explanation should be necessary. I scoured my cookbook library, websites and back issues of cooking magazines to find the perfect chocolate cake recipe, and I think this may just be it. It's moist but structured enough to stand up to layering and frosting, chocolatey without being bitter or too intense, and relatively simple to mix (although it does take two bowls). It would take to a good chocolate frosting, but to accede to my daughter's request for a "geen" cake, I went with a white frosting and green food coloring — cream cheese frosting because I like it better than buttercream, and white chocolate for richness and pizzazz. Finally, I dug out my old cake decorating chops and decorated it with chocolate plastic, in no small part because I can't pipe frosting to save my life.

To make the cake, I adapted a recipe from Cook's Illustrated — I changed the original to use ingredients I usually have in my kitchen and to up the chocolate factor. It has an unorthodox mixing method — instead of the typical "cream butter and sugar, add eggs, then alternate flour and liquids" you begin this cake by making a "pudding" in a bowl over warm water of cocoa, sugar, semisweet chocolate and water (water adds moisture without diluting the flavor the way milk would). Then, while this is cooling, you beat eggs and yolks with sugar until fluffy, then add the chocolate mixture, and only then do you add butter. Finally, add the liquid (in this case, buttermilk) and dry ingredients in alternating batches. Bake them in round cake pans with straight sides — this is important! Many cake pans have flaring sides, which makes them stack easily for storing, but makes the resulting cakes much harder to stack and frost).
The frosting comes together easily — just be gentle when you're melting the white chocolate, as it has a tendency to seize. I usually melt chocolate in the microwave, but white chocolate is just fussy enough that it's worth using the double boiler (or bowl over pan of simmering water.) To assemble the cake, spread a bit of frosting and jam on one cake layer, then stack them (and check before you start frosting to make sure they're straight). Whenever you want a smooth frosting, or when you're frosting a dark cake with light frosting, it's always a good idea to use a crumb coat, which is a thinnish 1st coat of frosting that catches the crumbs and keeps them in place. You chill the cake with the crumb coat before applying the real coat of frosting, which should be smooth and blemish free. At least theoretically. Some cakes may need two crumb coats, and this is probably one, as if you look closely at the picture of the finished cake you can see a few flecks of dark chocolate in the frosting. However, I'm serving this as a birthday cake to friends and family, none of whom a) notice or b) care, plus perfection does NOT run in my blood, so I think I can live.
Chocolate plastic is a neat accessory to cake decorating — it tastes fantastic and doesn't require any specialty ingredients — just chocolate and corn syrup. To make it, you melt chocolate and cause it to seize by adding corn syrup, then knead it until it's smooth. If you're a sculptor you can use it to mold into flowers or other shapes, or you can roll it out (on a surface dusted with powdered sugar or cornstarch), cut it into shapes with cookie cutters, and affix those shapes to your cake. It has a bonus of tasting pretty darn good if you use decent chocolate, unlike many things you can use to decorate cakes. I used gel food coloring to color both the frosting and the chocolate plastic, and used two sizes of round cookie cutters to cut shapes in the plastic.
I consider baking a homemade birthday cake to be a sacred duty. I want to lavish my girl with love and attention and celebration to mark her birthday, and to celebrate the day I became a mother. And if the milestones bring drama with delight, well, at least I can hole up with leftover chocolate cake.