When I was in eighth grade, my yearbook had a Best Best Best list. That's right, instead of Best Most Least (you know — nerdiest, most likely to succeed, etc.), the powers that be decided to boost our self-esteem by making every characteristic a positive one, and naming more than one person to each category. Categories included "Best Smile", "Athletic", "Desert Island Buddy", "Intelligent", "Likely to Succeed", "Friendly". In this feast of touchy feely happiness, do you know what I was listed as? "Talkative." That's right. The only quality in the list that was of dubious distinction. The fact that I was just as intelligent, friendly and likely to succeed as the rest of these yahoos seemed to pass my classmates by. I got "Talkative."
So I embrace it. In high school and college I became a drama geek (talking on stage!) and a debater (more talking on stage!). I went to law school, so now I talk for a living. (Actually not. I'm not that kind of lawyer. I think I really write emails for a living.) And now I started a blog, which is just talking on the internet. Take that, "Talkative".
Which is a long way of telling you that Wordless Wednesday? Not my forte. "Disjointed Stream of Consciousness Wednesday" I could probably do. "Garrulous Wednesday"? I'm your gal. But wordless is hard for me.
So without more ado, I present to you, with aplomb, and witha flourish not at all Wordless Wednesday!
Garden Progress as of a few weeks ago: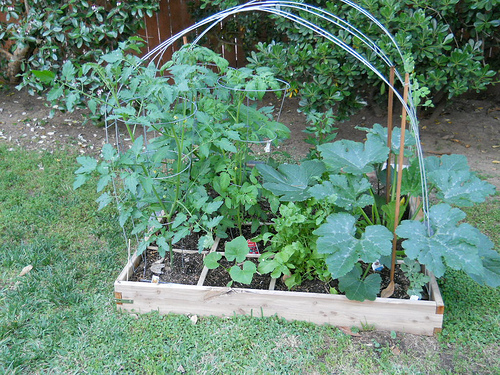 (Remember this?
Garden Progress last week. I've never seen tomatoes that tall:

The completely fabulous spread of Creminelli Salumi they thoughtfully provided to our last Food Bloggers LA meeting. Of course, I couldn't snap it before most of it disappeared. It was DELICIOUS. You need to go find some of this. Or order it online.
The completely stunning rose garden at the Huntington Library, one of my favorite places on earth:

Little girl (it goes without saying she dressed herself in black velvet and cherry apron)

The Nuni got my camera. This is the best picture she took: