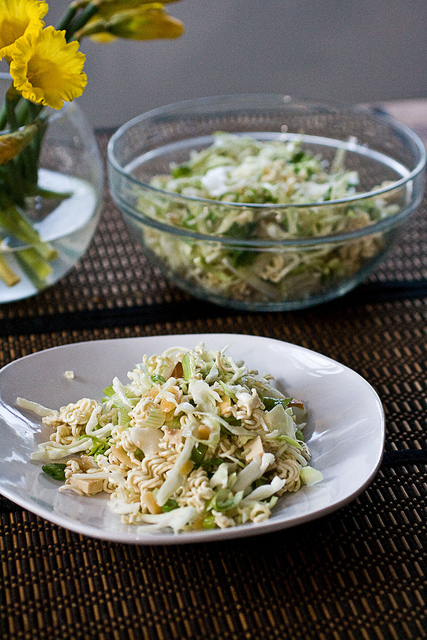 It's far too cold in Los Angeles this week to even think of having a picnic, or eating a salad. We've had rain and fog and nighttime temperatures in the 40's. I've been digging out my thick sweaters and my boots and thinking of building a fire in the fireplace. It's MAY, people! I live in Los Angeles! Apparently Mother Nature didn't get the message.
Regardless of the weather, Memorial Day is around the corner! Which means PICNICS! And POTLUCKS! Or mayonnaise slowly congealing in the hot sun until it becomes liquid death, and "I'm a vegetarian/lactose intolerant/in a neurotic relationship with pasta." Well, given these parameters, have I got the dish for you. I got it from my friend Corrine (of the apparently departed casavillecooking) who deals with dairy and egg allergies in her family, and is therefore a great source of vegan and dairy-free recipes. This dish is a perfect potluck dish — it's vegan (or not, depending on your additions), dairy-free, egg-free, and not too starchy. You can make it gluten-free by replacing the ramen noodles with rice noodles fried in a little oil. It's also easy and quick to make, can be scaled up or down, and can be adapted to suit your tastes and your audience. With no mayonnaise, it will hold for a few hours without refrigeration (it also makes a great brown bag lunch dish). And did I mention it's delicious? Flavorful, kid friendly — it even features healthy vegetables!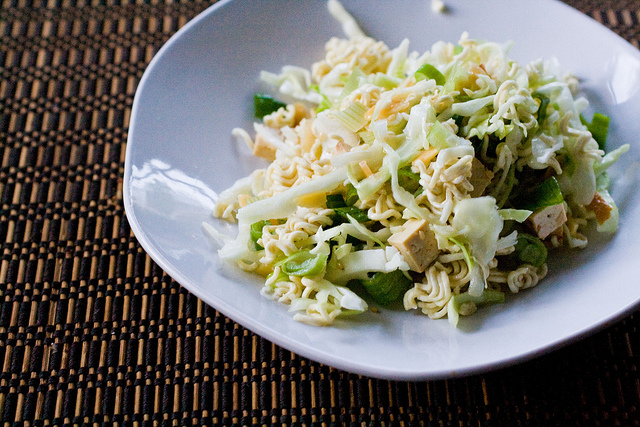 So really, what are you waiting for?
Oh yeah, the recipe.

Japanese Ramen Salad
Adapted from Casaville Cooking
Ingredients
Salad:
8 green onions, finely sliced
1 lb shredded green cabbage
two 3 oz packages of ramen noodles, broken
¼ cup toasted sliced almonds
¼ cup toasted sesame seeds
6-8 oz. firm seasoned tofu, cut into cubes OR 6-8 oz. cooked chicken, cut into cubes (optional)
Dressing:
3 T sugar
⅓ cup olive oil or peanut oil
6 T rice vinegar
1 tsp sesame oil
Salt and Pepper to taste
Instructions
Make the dressing:
Combine all ingredients for dressing. This can be made in advance.
Make the salad:
In a large bowl, combine scallions, cabbage, ramen noodles, almonds, sesame seeds, and tofu or chicken.
Toss lightly with dressing to combine.