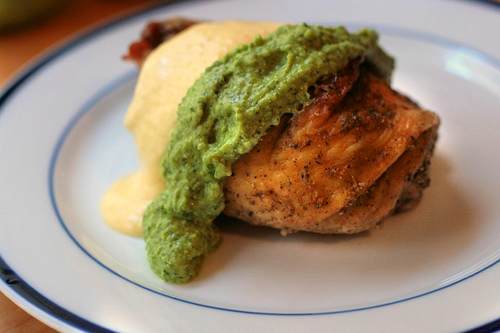 OK, so the weather is cold in Los Angeles, and today we even had – gasp – rain, but it's June, so it's summer, darn it. And summer means long twilit evenings, casual get-togethers with friends, copious cold white wine, eating al fresco, and meals that are fuss-free and delicious.
This Peruvian chicken is perfect for one of these long summer evenings. It can be prepared entirely in advance, served hot or cold or somewhere in between, and it appeals to even fussy eaters, although the chicken and both sauces have a slight kick from the heat of chilies and pepper. There's enough flavor here that it stands up well to any starchy side dishes you want to throw at it (potato salad, corn, french fries) and the recipe is easily scaled up to serve a larger crowd. And the two sauces add to the party feel, with their bright colors, zesty flavors and variety.


Really, it's pretty great chicken for those long sunlit evenings sitting on the terrace, or those cold dark ones curled up and listening to the sound of rain. Because if the trappings of summer aren't meeting your expectations, at least the food can.