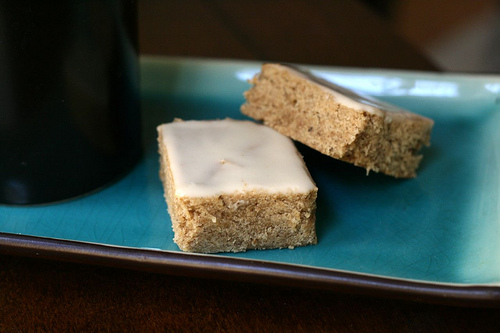 See here for the rest of the post.

Chai Bars with Honey Ginger Icing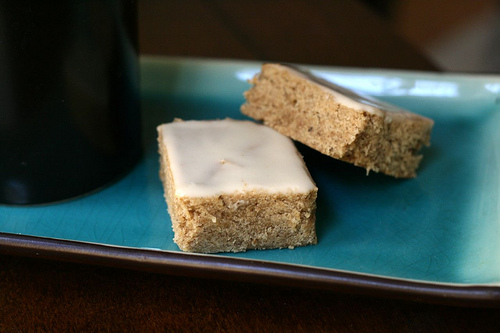 Ingredients
For the cookies:
½. c. brown sugar
½ c. white sugar
1 cup butter, softened.
1 egg
2 c. flour
1 pinch salt
1.5 tsp ginger
1.5 tsp cinnamon
¾ tsp. cloves
¾ tsp ground cardamom
¼ tsp black pepper
¼ tsp ground star anise
For the icing:
2 Tablespoons honey
1 tsp. ground ginger
1 cup powdered sugar
water
Instructions
For the bars:
Mix butter and sugars in a mixing bowl until thoroughly combined. Add egg and mix well. Add flour, spices and salt, and stir until the mixture is thoroughly combined. Press into a 9X12 baking pan that has been greased with Baker's Joy (or buttered and floured) and smooth with a spatula until the dough is even and flat. Bake at 350 for 20-25 minutes until the cookies are a pale golden brown. Let cool.
For the icing:
Mix honey, ground ginger, and powdered sugar together in a bowl. Add water until the icing is at a spreadable consistency, and spread over the cooled cookies. Cut with a pastry cutter or pizza wheel. It will take several hours for the icing to become firm enough to transport, so plan accordingly.