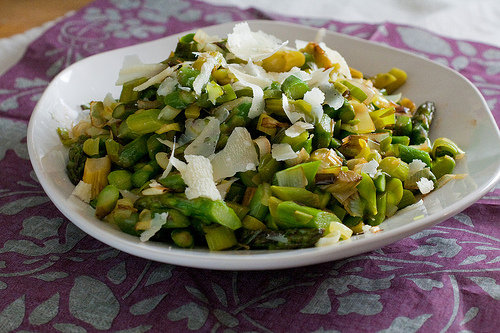 Spring has sprung. Sure, I live in LA, where a sunny day could just as easily mean December as it could April. People are always exhibiting various degrees of suntan (usually related to their house's proximity to the beach), and flip flops are a year round fashion statement. Fortunately, I like to frequent the farmers' markets (particularly the Hollywood Farmer's Market, which I think is the best farmer's market in Los Angeles), and the signs of spring are unmistakeable. Strawberries are a big tip off, trucked in from Oxnard, and so are the lilacs that are only around for the early birds. The very first tomatoes are appearing, but the vegetable that says "spring" to me is asparagus. The thin and tender stalks are all over the market.

Now, I love steamed asparagus with a little hollandaise, or roasted asparagus with olive oil, but sometimes I just don't feel like going to the effort that steaming and roasting require. (And don't ask me why it seems like a big deal to turn on the oven or dig out the two part steamer, but it does). That's where pan sauteeing comes in. You don't need a special asparagus cooker or a hot oven. Just a skillet, a little butter, and some quick knife work, and you have a dish fit for a king. The asparagus stay bright green and tendercrisp, with the flavor being undimmed by high heat roasting and undiluted by water. I like to add some leeks for a mellow oniony bite — the combination is really fantastic. Topped with some curls of sharp and grainy parmiggiano, this dish is simple, quick and delicious.
Sauteed Asparagus with Leeks and a Giveaway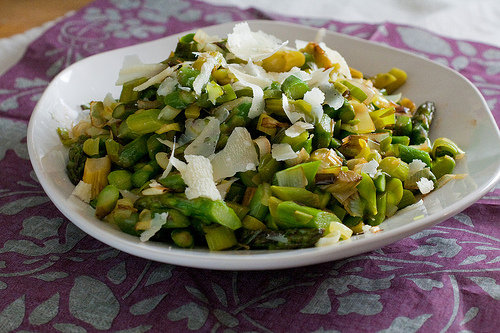 This is really more of a technique than a recipe, so the amounts are approximate
Ingredients
2-3 bunches asparagus
2 leeks
1 T butter
a little parmigiano reggiano, for garnish
Instructions
Cut the tips off the asparagus and the roots and greens off the leeks, leaving about an inch of green on the leeks.
Wash the leeks thoroughly and slice lengthwise, then thinly slice each half. Cut the asparagus into a rough chop, leaving the asparagus tips intact.
Melt butter in a saute pan, Add the leeks and asparagus and a pinch of salt, and cook over medium heat, stirring frequently, until the vegetables are tender.
Serve garnished with curls of parmesan.