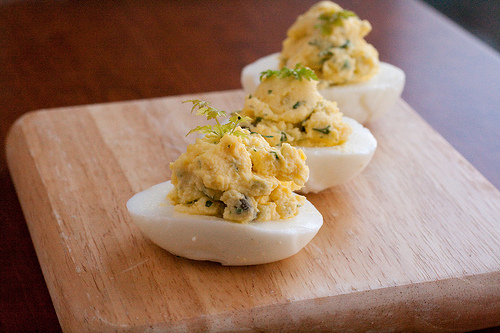 I have vivid childhood memories of dyeing Easter Eggs. We always made my family's traditional Craftsman flower eggs, but I also spent many a spring break waiting impatiently for the eggs to take on a deep color sitting in vats of vinegar with those little Paas tablets. Now that I am the mom, I try to recreate for the Nuni some of my own childhood joys, so I buy dozens of eggs each Easter, ripe for the decorating.
What I am faced with as an adult that I didn't realize as a carefree kid is that after the fun of the Easter Egg hunt comes a long slong of trying to use dozens of hard boiled eggs. There are only so many plain hard boiled eggs you can eat, though a dash of tabasco helps matters immensely. Likewise, egg salad, although a love of mine, can quickly grow tireseome. Enter deviled eggs.


Deviled eggs are one of those foods that's never fashionable but always popular. Reveal a plate of deviled eggs at a party and they will invariably be met with enthusiasm, and while everyone helps themselves to one (except for the few, sad egg haters), the talk will turn to recipes, because everyone has a favorite, and it's usually their mom's. Some people's mothers always put curry powder in their deviled eggs, others pickle relish. My own mother was a fan of tarragon, but I myself like the combination of salted capers, parsley, and just a dab of anchovy. These deviled eggs are salty and flavorful and perfect for spring. You don't even have to wait for the Easter eggs.
The perfect way to boil eggs is to put them in a pot of cold water. Ideally, the eggs will fit perfectly in the pot, without a lot of room to roll around, and the water should cover the eggs. Turn on the burner to high and set the timer for 15 minutes. When the timer goes off, immediately remove the pan of boiling eggs and place them in a bath of cold water to cool.
That's the perfect way to boil eggs. I'm still working to find the perfect way to peel them so they don't cling to the membrane and create a pockmarked appearance. I've heard the addition of baking soda to the boiling water can help, and you can bet that my Easter eggs were all boiled with a touch of baking soda this year. We haven't yet tested how that affects the Paas and vinegar.
Planning your Easter menu? The Domestic Front has lots of great recipes. Try this Italian Stuffed Chicken, a Spring Pea Soup, or a Fruit Terrine with Tea Gelee, or this Potato Salad Gribiche. For dessert, our family always has a "bunny cake", which could take the form of a Carrot Cake or this Springtime Strawberry Orange Cream Cake.

Deviled Eggs with Capers and Parsley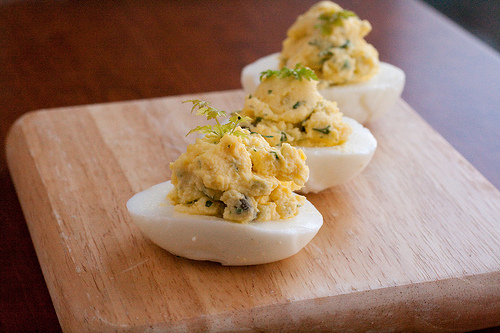 Ingredients
6 eggs, boiled for 15 minutes, cooled and peeled
3 T mayonnaise
2 T salted capers
2 T parsley, finely minced
½ t. anchovy paste
1 T apple cider vinegar
Instructions
Cut the eggs in half lengthwise, remove the yolks, and place into a small bowl. Add the mayonnaise, the anchovy paste and the apple cider vinegar, and mash with a fork until the ingredients form a paste. Add the parsley and the capers, stir until combined. Using a small spoon, fill the cavities in the egg white halves with the yolk mixture. Top with parsley sprigs.