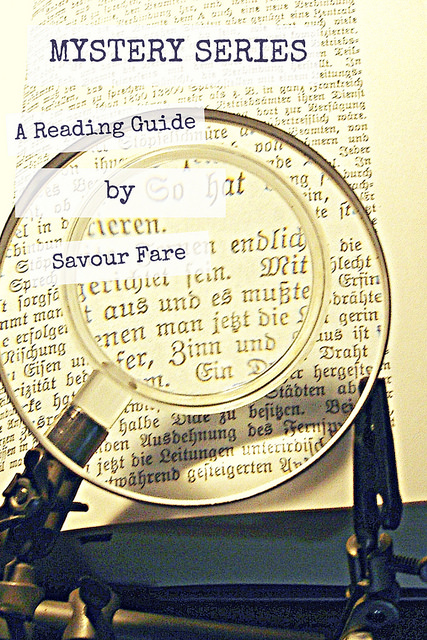 As you may realize by now, I start to hyperventilate if I don't have something to read.  I feel aimless and lost, and I wander around the house  But I also know that not every book can be the latest tour-de-force
that has taken the world by storm. That's one reason I love mysteries. They're usually relatively short, easy reads (for when tackling that 800 page monster just seems too daunting), they're usually reasonably smart, and most importantly, they come in series. I've mentioned my love of series before. A series means that there's always (often) another book to pick up, that you're reasonably likely to enjoy reading, before you start on the hyperventilating. I'm always excited when I find a new mystery series I like, because it gives me backup books for days. Everyone knows about Agatha Christie
(and if you haven't, she wrote 80 books! That should keep you busy for quite some time), but here are five other great mystery series to check out.
(These all happen to be by women writers. I didn't set out to make this one of those "women writers" list, but when I was jotting down my favorite mystery writers, I came up with a bunch of women writers. So there you have it.)
The Lord Peter Wimsey Series by Dorothy L. Sayers
Among true mystery-lovers, Dorothy Sayers is canonical, and if you haven't yet encountered her, you will be lost among the book nerds and mystery-lovers in the dark corners of the internet, and reddit.  However, you're also in for a treat.  Sayers's detective, Lord Peter Death Bredon Wimsey, second son of the Duke of Denver, is so 1920's English aristocrat as to be almost a caricature, from his smooth blonde hair to his vintage port collection, monocle (!) and loyal manservant, Bunter.  However, Wimsey, charming, effete, enigmatic, created the cliche, and Sayers makes him a real and believable person, rather than a paper cut-out.  The plots are classic puzzles, but where Sayers really excels is in settings, whether it's London aristocratic society, or the bleak fens of Cambridgeshire.  As delightful as Peter Wimsey is, my favorite books of the series are the ones where he shares the spotlight with Harriet Vane – dark haired, strong-browed, an Oxford girl and a successful writer.
First in the series: Whose Body?
Favorite in the Series: Gaudy Night
, set in Harriet's fictional Oxford college of Shrewsbury College, not least of all for the most brilliant author's note ever penned, IMO.
 The Mary Russell Series by Laurie King
Laurie King isn't actually British herself (she lives in Northern California) and neither, technically, is her detective Mary Russell, but these books, featuring none other than the most British of great British detectives, Sherlock Holmes, definitely qualify in my mental list of great British mystery series.  If you're a lover of the BBC's  Sherlock
(and if you're not, you're missing out.  CUMBERBATCH!), you owe it to yourself to check out Laurie King.  The premise is simple:  John Watson is married and settled (and mostly out of the picture), and the great Sherlock Holmes has retired to the Sussex downs to study beekeeping.  Into his life stumbles Mary Russell, young, half-American, and brilliant – finally a match for the great man's mind.  The two of them make a formidable crime-solving team.  King has a marvelous sense of time and place, and whisks her detectives over a series of marvelous locales that  absolutely come to life, from Sussex and Dartmoor in England, to India around the fall of the Raj, Morocco in the 1920's, and San Francisco at the time of the 1906 Earthquake.  King, who has a background in theology, uses some of the books to explore early Christianity and Judaism, and they are all thought-provoking and smart reads, while never losing the pacing and fun of a good mystery.
First in the Series: The Beekeeper's Apprentice
Favorite in the Series: A tie between O Jerusalem
 and Justice Hall, which are 
companion novels (not to spoil anything).  The first is set in Palestine shortly after WWI, when the Ottomans and the British were arguing over a territory that was long-settled, and the second in England at a country house estate.
The Adam Dalgliesh Series by P.D. James
P.D. James is a bit of a departure on this list – her books, featuring Scotland Yard detective Adam Dalgliesh, err a little more towards the thriller and away from the cozy mystery genre.  However, James can write.  Her books are tightly-woven, fiendishly plotted and dense.  Again, she has a marvelous sense of place (are we beginning to see a pattern here?) and her psychological insight is terrific.  Unlike the other books in this list, these books are set in the present-day, and feature some of the horrors of contemporary England.
First in the series: Cover Her Face
Favorite in the series: A Certain Justice
. As a lawyer myself, I thoroughly enjoyed this exploration of the intricacies of the British criminal justice system, complete with barrister wigs, and of course, blood.
The Maisie Dobbs Series by Jacqueline Winspear

Maisie Dobbs is a private detective working in London in the 1920's.  She's Cambridge-educated, the daughter of a fruit-seller (her entire origin story is told in the first book of the series) and like many of her contemporaries, she was deeply wounded by World War I.  The books in this series all contain mysteries that elucidate some scar in English society left from the Great War.  Without being pedantic, each book contains a small history lesson, and you end up learning more about World War I than you ever expected.  Many mystery series are set in this interwar period (with Agatha Christie and Dorothy Sayers both writing in that era, it's a natural choice), but Maisie Dobbs is the only one I've read that goes into depth about what the period between the wars was like for veterans of that first war.  The books are psychological rather than dashing, but all are good reads.
First in the Series: Maisie Dobbs
Favorite in the Series: Probably Maisie Dobbs
, where the detective is also the heroine. I love a good origin story.
The Professor Hilary Tamar Series by Sarah Caudwell
Sadly, Ms. Caudwell died after writing only four of these gems, but despite the brevity of the series, it's one of my favorites.   Unlike most other mystery series, the detective here, Professor Hilary Tamar of Oxford, is a complete cipher.  We don't know his/her gender, temperament, or physical characteristics.  The mysteries are primarily epistolary, the facts told to Professor Tamar in letters and diary entries from four former students, now practicing barristers.  The books are very witty and arch, with a load of wordplay and in-jokes about British society, Her Majesty's Revenue and Customs (the English IRS), and the tax bar and Inns of Court.  They're everything you would imagine a mystery series with covers illustrated by Edward Gorey would be, and they're a tremendous amount of fun.
First in the Series:Thus Was Adonis Murdered
Favorite in the Series: All of them. Really. I can't choose.
Any favorite mystery series that I've missed here?
Note:  Links are affiliate links.  Thanks for keeping The Domestic Front running.