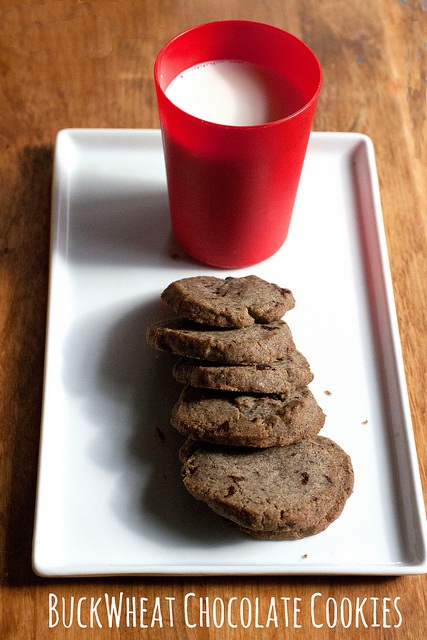 I love the holiday season – I really do.   I keep a nested to do list on my phone to keep track of Christmas presents.  I drive out of my way to find houses with the best light displays.  And I bake a lot of cookies.   But there's a point in the season (and this year, it's right about … now) when the merrymaking starts to feel a little forced.   I consult my calendar, and it reads something like "Holiday Performance (school):  10 am.  Holiday Performance (after school program): 2 pm.  Coworker's Party:  4 pm.  Family Movie Night:  7 pm. "  It should be followed by "Mom falls asleep on the couch: 7:30 pm.  Kids get into Christmas candy dish and smear chocolate on said couch:  7:34 pm."  I'm a little burnt out, and when every single event on that calendar asks that you bring "a homemade dessert to share!" I start to consider putting my head under a pillow until January.
Fortunately, there are easy Christmas cookies that come to the rescue.  These are not the decorated, iced, hand painted, seven layered sugar swirled confections that usually constitute Christmas cookies.  These are a little more … austere, when austerity provides a welcome counterpoint to the mad festivity.  (And don't  suggest just forgoing cookies altogether, BLASPHEMER.  It is Christmas and there will be cookies.)  These are easy Christmas cookies to make – the dough comes together seamlessly, the ingredients aren't too difficult to track down, and the log sits happily in your refrigerator (or freezer), ready to be sliced and baked whenever the calendar demands it.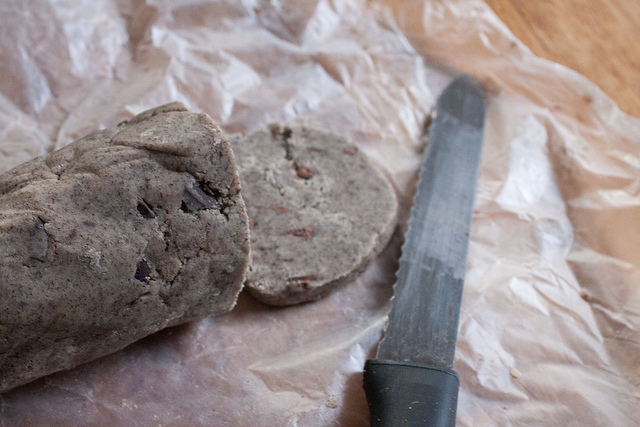 And despite the austerity, these are pretty darn… wonderful.  The ingredients may not seem like much – sugar, butter, flour, buckwheat flour to add an attractive gray color, chocolate so dark that even your kids won't eat it (mine will though.  Because my kids are freaks.)  But the whole is more than the sum of its parts – the buckwheat adds a nutty flavor, the chocolate a deep counterpoint.  If you like them crisp, slice them thin.  If you like them chewier, slice them more thickly.   This recipe is adapted from Alice Medrich's recipe in Pure Desserts – hers calls for cacao nibs in place of the chocolate, and they're wonderful, but cacao nibs are also not the easiest thing to find, and also cost something like $17.99 a pound a Whole Foods, while 72% dark chocolate is also wonderful, is easy to find these days, and costs something like $6 a pound at Trader Joe's, so the choice, at this time of year when you've spent all of your money on plastic doodads for your beloved offspring.  (Side note: I curse you American Girl and your enticing catalogs.) (Second side note:  The Pound Plus Bar at Trader Joe's is really great and rumor has it that it's Callebaut chocolate.  Also, the remaning chocolate makes excellent hot chocolate.)
So this weekend, I'll be baking some of these, putting my feet up and sitting by the fire before the holiday season gets away from me entirely.

Slice and Bake Buckwheat Chocolate Shortbread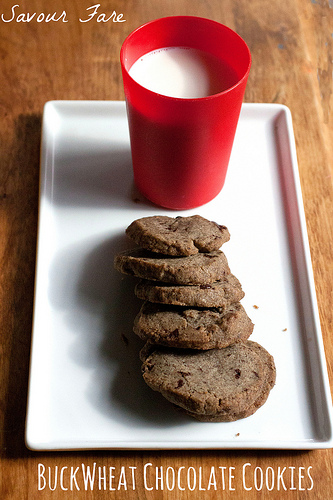 Ingredients
½ lb. (2 sticks) salted butter, softened
⅔ cup sugar
¼ tsp. salt
1 tsp vanilla extract
1¼ cups flour
¾ cup buckwheat flour
3 oz. 72% dark chocolate, chopped
Instructions
In a mixer bowl or with a spoon and a lot of arm strength, cream the butter and the sugar together until creamy and smooth, but stop short of fluffy. Add salt and vanilla.
Add the flours and mix until the dough holds together. Stir in the chocolate.
Form the dough into a log with a 2" diameter, wrap well and refrigerate.
When you want to bake the cookies, preheat oven to 350 degrees.
Slice the cookies from ⅛" thick to ¼" thick, and place them on a parchment lined cookie sheet.
Bake 10-12 minutes, until the cookies are just getting golden at the edges. Cool on racks.
Notes
Adapted from Pure Dessert by Alice Medrich