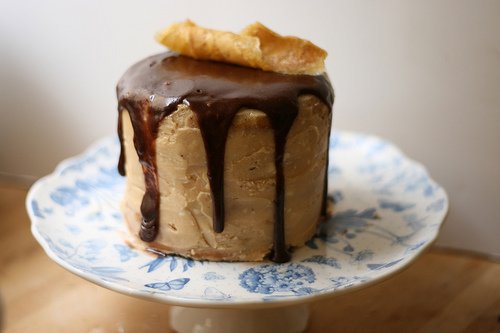 They say you are either a cake person or a pie person. While I think that this is a somewhat loaded dichotomy, and the "cool" answer is nearly always to be a pie person, since pies represent down home cooking and Americana and real cooks and cakes are Frenchy or something, I am unequivocally a cake person, both in the eating and the making. Pies are fraught, with all that rolling and transferring, and the end result is pretty much what you put into it, but cakes are magic. Butter, sugar, flour eggs and you end up with celebrations, or nostalgia, or dreaminess. Did I ever mention I made my own wedding cake? That's a story for another time, but suffice it to say I love baking cakes.
When family birthdays come around, I eagerly jump on the cake making occasion. For me, cakes are best saved for parties, because it's dangerous to have leftover slices of frosted layer cake on the lam in my kitchen. But sometimes the party is small, but the occasion is still worth a full on celebratory multi-layer cake. That's when my favorite cake cookbook comes in handy: The Wedding Cake Book
by Dede Wilson. I love this book because not only does it have multiple interesting and delicious recipes for different flavors of cake, each recipe is given separately for the individual tiers, which means you can make a 6 inch cake, or a 12 inch cake, and you don't have to make the whole thing. I particularly love the 6 inch cakes — they're perfect small celebration cakes for just a few people.

This particular cake was made for my mother in law's birthday. I chose an almond banana cake with a salted caramel buttercream, and since she loves chocolate, I topped it with a slick of chocolate glaze. Now listen closely, because I am going to tell you the secret to baking a good cake: Beat the hell out of it before you add the flour, and beat it as little as possible afterwards. When you're creaming butter and sugar, beat it until the mixture is not just combined, but fluffy, and nearly pure white. Add the eggs one at a time, beating between each addition, and then beating some more. Once you add the dry ingredients, just stir until barely combined. What you don't want to happen in cake is the development of gluten. Line the bottom of the pan with parchment cut to size, and spray with Baker's Joy, and your cake will release perfectly.

Most people would probably consider baking a cake a piece of, well, cake compared to the challenge of decorating said cake, but there are a few tricks to this as well.
1) Freeze your cake layers before you start decorating.
2) Split the layers with a serrated knife, and while you're at it, cut off the domed top of the layer.


3) If you're planning on decorating a lot of cakes, invest in a turntable. They're not very expensive and make the process easier.
4) Secure your bottom layer to a surface (a small cake can be transferred from the decorating surface with a spatula, but for a larger cake you might want to build it on a cardboard round), then spread filling on each layer and stack, checking to make sure it remains level.


5) Don't skimp on the frosting. There's no sense in making a delicious cake and using frosting from a can. You can tell. Powdered sugar will do in a pinch, but the best buttercreams are sugar syrup based (and this particular buttercream, which is made with whipped caramel, might be the best thing you've ever tasted)


5) Start with a thin layer of frosting on the outside of your cake (called a crumb coat), chill, then add additional frosting.
6) If the cake is primarily for looks, have a thick layer of frosting — it will hide more imperfections. If you're willing to embrace some imperfections, aim for a thinner coat of frosting so the sweetness doesn't overpower the cake.
Follow these steps and you'll have a cake worthy of the grandest celebrations, the smallest parties, and even leftovers in your kitchen.

Mini Almond Banana Cake with Salted Butter Caramel Icing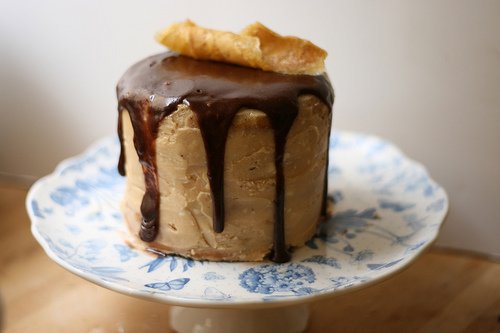 Ingredients
For the cake
¾ c. banana puree (2 sm bananas)
¼ c. buttermilk
1 c. + 2 T flour
¾ tsp baking powder
¼ tsp baking soda
2 oz butter
⅔ c. sugar
½ tsp vanilla
¼ tsp almond extract
1 egg
1 oz. almond flour
For the Salted Butter Caramel Buttercream (8 cups)
4 c. heavy cream
4 c. sugar
2 c. water
1 lb salted butter (Ordinarily, buttercream frosting is the one time I would tell you to use unsalted butter, but with this caramel flavor, salted butter adds the perfect note of salt.)
For the icing:
7 T butter
2 heaping T cocoa powder
3 T milk
½ tsp vanilla
8 oz. powdered sugar
Instructions
For the cake
Preheat oven to 350 degrees
Cream butter and sugar until fluffy. Add extracts and egg and beat until thoroughly combined. Combine buttermilk and banana in one bowl and dry ingredients in another, and add them in alternate batches to the butter sugar mixture. Bake at 350 degrees for 30-40 minutes or until a cake tester shows its done.
For the Salted Butter Caramel Buttercream (8 cups)
Combine sugar and water, heat until amber, following directions for caramel in the hazelnut praline paste recipe. Immediately add the cream. Cool 10 minutes, put in mixer bowl and cool until firm (but not ice cold). Whip with an electric mixer with balloon whisk attachment until the caramel is fluffy, add butter 2 T at a time and whip until butter is incorporated. Use before chilling.
For the icing:
In a small saucepan, melt the butter, add the cocoa powder. Allow to bubble for 30 seconds, turn off the heat, then add the milk, vanilla and powdered sugar. Stir until combined, let cool slightly, and pour over frosted and chilled cake.
Notes
Almond Banana Cake with Salted Butter Caramel Frosting and Chocolate Icing Cake and Frosting from The Wedding Cake Book by Dede Wilson, Icing from thepioneerwoman.com