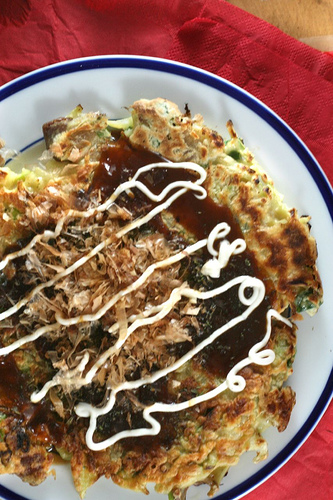 When people think of comfort food, they usually return to their childhood, and foods of the nursery. Macaroni and cheese, mashed potatoes, chicken noodle soup. The food of my childhood, while delicious, was not in the same vein. My mother was a child of California, and the 1970's and 1980's saw the rise of California cooking and a focus on health food. While I did have occasional macaroni and cheese, the foods I remember most vividly from early childhood are grilled steak, fresh cantaloupe, Caesar salad. Oatmeal cookies and Crystal Light lemonade on hot summer days by the swimming pool. Chocolate chip cookies made with whole wheat flour and raw sugar. Lamb steaks with red wine and garlic. These are the foods that evoke childhood for me, but I would classify them as staples more than "comfort food".
Although I do occasionally, in times of distress, turn to foods of my California childhood, namely whole wheat toast, either buttered or spread with soft avocado and salt and pepper, as an adult, I have had to create my own idea of comfort food, and the world is a different place than it was in 1978. What's more comforting than a steaming bowl of pho? Or a dish of perfectly puckered soup dumplings? Or some green corn tamales, dripping with melted cheese? When I want quick comfort at home, though, I turn to okonomiyaki.
I first encountered okonomiyaki on a cold day in New York. I had heard about a tiny place in the East Village that made octopus balls, and being interested in any curiosity, I sought it out. It was tucked on a side street, and miniscule – even in NYC, my closet was bigger than this place, which consisted of a counter (for ordering, there was no room to sit) and a galley style kitchen. The menu was equally tiny, consisting of the sought out octopus balls, or takoyaki, and okonomiyaki. The takoyaki were good, but it was the okonomiyaki that really caught my eye.
Referred to variously as Japanese pizza or a pancake, it's a common street food in Osaka whose name roughly translates to "As you like it." There are some basic ingredients that don't vary, but additional ingredients can vary widely from seafood to cheese. The okonomiyaki I make at home is really a few fresh staples that I always have around, plus a few traditional Japanese toppings which are inexpensive and store almost indefinitely, and it comes together easily and quickly — the perfect thing for a Wednesday night dinner.

You start by making a batter from chicken (or vegetable) broth, egg, and flour (if you have dashi, it's better than the broth, but I'm more likely to keep the broth around.) Mix in scallions, shredded cabbage, and whatever filling you like (it's particularly good with fried pork belly, but a little bacon, some cooked shrimp, some vegetables or what's in the fridge will also do in a pinch). Cook it in a hot pan with a little oil, and top with any combination of the following traditional Japanese toppings
: Okonomi or Tonkatsu sauce
(a sweet and salty sauce similar to Hoisin), dried seaweed (aonori), dried Bonito flakes
(I think these are key, actually and wouldn't skip them), and mayonnaise.


What you get is a crisp exterior, with the crunch of cabbage, and a salty sweet hit. Comfort food at its finest, even if it's not just like mom used to make.

Small Comfort - Okonomiyaki
Ingredients
1 egg
1 cup flour
¾ c. or more of chicken broth (the batter should be the consistency of pancake batter)
pinch salt
1 c. shredded green cabbage
6 scallions, chopped
1-2 oz. precooked filling of your choice
1 T vegetable oil
Topping:
mayonnaise
Okonomi Sauce
Bonito flakes
seaweed
Instructions
Combine the flour, eggs and broth in a bowl and stir until combined.
Add cabbage scallions, and filling, and stir until the vegetables and filling are thoroughly incorporated in the batter.
Heat oil in an 8-10" nonstick skillet.
Add cabbage mixture, and cook until browned and crisp. Turn (it may be easiest to do this by sliding the pancake onto a plate and then turning it from the plate back in the pan.
Cook until other side is brown and no batter oozes out when you press.
Top with any combination of the toppings, and enjoy.
Notes
All amounts are approximate -- this is, after all, as you like it.