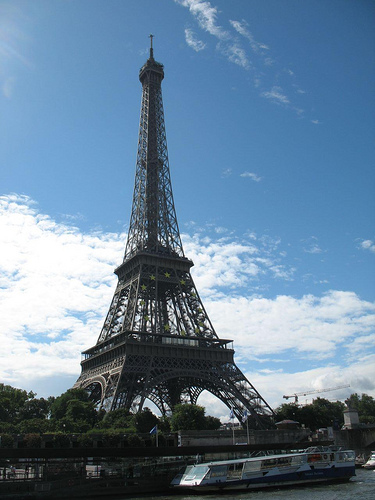 It's the fourteenth of July, known in France as Le Quatorze Juillet and in America as Bastille Day. It's a national holiday in France, celebrating the Revolution and its principles of Liberte, Egalite and Fraternite. So what day would be better to return to the summer travel series and talk about Paris?
Is there any city more recognizable than Paris? From the Eiffel Tower to the Arc de Triomphe, the city is firmly embedded in many people's imaginations — full of romance and possibility and beauty. And the thing about Paris is that it actually lives up to its reputation. It is beautiful, and romantic and glamorous. It's also noisy and crowded and exciting and infuriating.


Gertrude Stein said, "America is my country, but Paris is my home town," and I identify strongly with that sentiment. Although I grew up in Los Angeles, my parents are huge francophiles, and we spent a good portion of my childhood summers in Paris. We'd stay in an apartment, rather than a hotel, and live there for a month at a time. As a result, it's a city that feels like home. I have a mental map of where I am in relation to the river, of the posh neighborhoods and the seedy ones. And Paris holds many special memories for me. I got drunk for the first time in Paris. I felt homesick for the first time in Paris. I learned to walk in Paris. And twenty nine years later, my daughter did as well.

Duck with Blackberry Sauce
Ingredients
3 T butter
3 T sugar
⅓ cup white wine
⅓ cup orange juice
2 T orange vinegar or raspberry vinegar
1 c. fresh blackberries
1¾ c. beef broth
2 T brandy
1 T pure maple syrup
2 5- to 6-ounce duck breast halves with skin
Instructions
Melt 2 T butter in heavy large saucepan. Add sugar; stir until sugar dissolves and mixture turns deep amber color, about 5 minutes. (Don't go off and try to do something else or you'll burn the caramel and the butter makes it a pain to clean up. I'm guessing).
Add wine, orange juice and vinegar and bring to boil, stirring to dissolve caramel. Add berries and broth and boil until the sauce is thickened and reduced to about 1 cup, stirring occasionally, about 25 minutes.
Strain into small saucepan, mix in cognac and maple syrup and remaining butter. Set aside.
Preheat oven to 400°F. Cut the skin but not the meat of the duck breast into a diamond pattern (this will allow the fat to drain and help the skin get wonderfully crisp). Season duck with salt and pepper. Heat heavy large ovenproof skillet over high heat until hot. Add duck, skin side down, and sear until brown, about 5 minutes. Turn over, cook 3 minutes and then transfer to the hot oven and cook for about 3 more minutes.
Notes
from Bon Appetit, February 1996
Because I spent so much time in Paris as a child, French food is sort of a default cuisine for me. And my favorite thing to order in a restaurant in Paris was duck. Specifically duck with raspberry sauce. Maybe in part because it's not something you used to see as much in the United States, maybe in part because it's not something people often cook at home, or maybe because duck breast is one of the most delicious foods ever invented. After many failed (but eaten, nonetheless) experiments over the years, I finally found this recipe for duck breasts in a blackberry sauce, which closely approximates the typical duck dish found in a Parisian restaurant. The preparation is a little fussy, but it's a wonderful dish for any special occasion or any night you'd rather be in Paris.

And a few travel tips for Paris:
1. Paris is remarkably child friendly. There are spots on each bus that are reserved for strollers (les poussettes) and you can skip lines at places like the Louvre if you are pushing a stroller. Parisians also love children, and coo over them excessively (unless it's your child, in which case no amount of cooing is excessive.
2. The best thing to do in Paris is walk. The second best thing to do is go to a street market, buy bread and cheese and wine, and eat it in one of the marvelous parks.
3. The Galeries Lafayette is the famous department store, but the food hall at Au Bon Marche is a foodie paradise. Paradise, I tell you.
4. If you don't have a stroller (see #1), the best place to get into the Louvre is through the mall underneath it (the Carrousel du Louvre) – the lines are generally much shorter.
5. You can eat wonderfully, and for much less money, if you stay out of the touristy areas (any area immediately around the major tourist attractions -the Eiffel Tower, the Louvre, the Arc de Triomphe) and eat where the French are eating.
6. Don't deny yourself pastries. They're wonderful. The best chocolate eclairs are from Gargantua on the Rue St. Honore in the 1st Arondissement.
7. When you go to Paris, give it a kiss for me. Once you've been to Paris, a little piece of you will always be there.