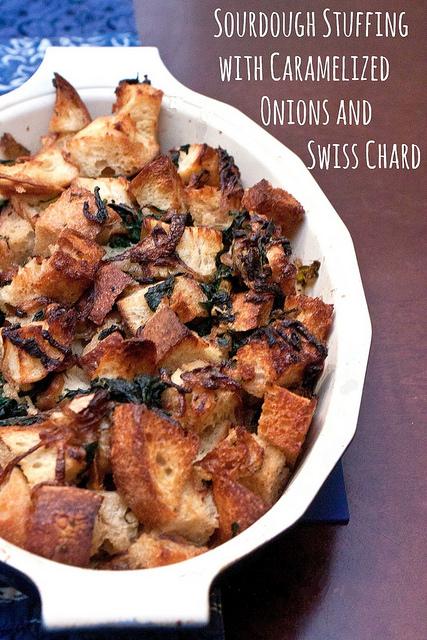 Thanksgiving is one of those holidays that can be hidebound by tradition.  Even the most adventurous eater has certain holiday rules that make Thanksgiving dinner more than just a lot of food.  For some, jellied canned cranberry sauce is required.  For others, they have to have grandma's sweet potato casserole.   My husband has to have pumpkin pie.  My parents once shared Thanksgiving dinner with otherwise reasonable people who insisted on green bean casserole with condensed cream of mushroom soup and canned fried onions (I actually love the stuff, but it's not part of our family's Thanksgiving tradition.  Which mostly involves making everything from scratch.)
I consider myself pretty open minded with regards to Thanksgiving.  Obviously – turkey.  And cranberry sauce in some form.  Some vegetables are nice. Some form of pie.  I don't even need rolls.   There is one dish, however, without which Thanksgiving is just not worth celebrating – and that's my dad's old-fashioned fresh sage stuffing  (Coincidentally, today is my dad's birthday. Happy birthday, dad. I miss you).  This is not that.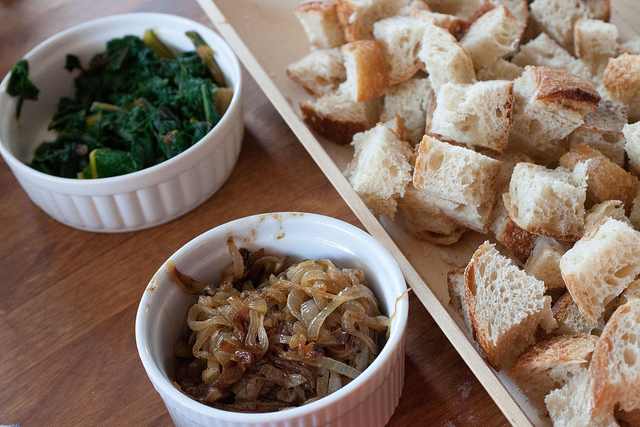 BUT, being a food blogger, which means Thanksgiving comes not once, but thrice (or more) a year,  I've discovered that stuffing?  Makes a pretty great side dish.  It's a great alternative to potatoes or rice, and everyone always enjoys it.   You can mix it up in a Southern direction with cornbread and bacon, or you can making something like this, which has a decided California bent.  Inspired by a great recipe for panade in the The Zuni Cafe Cookbook
(affiliate link), this stuffing features tangy cubes of sourdough bread laced with sweet caramelized onions and ribbons of swiss chard.  I baked it in a shallow dish, so the ratio of crisp edge to moist interior is high, but a smaller, deeper dish would have the opposite effect.
If your Thanksgiving rules involve mashed rutabagas, or quivering cylinders of jelly, this would be a great addition to your Thanksgiving table.  If, like me, you are a Thanksgiving stuffing purist, this is a great side dish for roast chicken, or pork, or even a nice stew.
Sourdough Stuffing with Caramelized Onions and Chard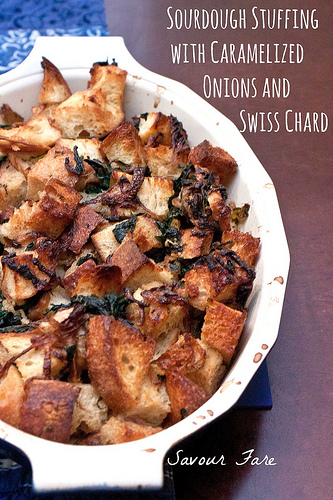 Ingredients
1 1-lb loaf of crusty sourdough bread
6 oz. fresh swiss chard, large stems removed and cut into ribbons
salt
2 medium onions
2 Tablespoons olive oil
12 Tablespoons butter
3 sprigs fresh thyme
1 cup chicken broth
Instructions
The day before you make the stuffing, or the morning of, cut the bread into 1-2" cubes and let it dry out a bit.
Place the chard in a saucepan with a lid. Sprinkle with salt and a couple tablespoons of water, cover the saucepan, and cook over low heat until the chard is wilted, which should only take a couple of minutes. Set aside.
Cut the onions in half lengthwise, then peel them and slice them thinly into cylinders. Heat the oil in a large skillet, then distribute the sliced onions over the skillet and sprinkle with salt. Let sit, undisturbed, over medium heat until the onions start to color. Continue to cook until the onions are golden brown (see the photo). Set aside.
Preheat oven to 350.
Melt the butter with the thyme in the same skillet you used to cook the onions.
In a large bowl, toss the bread cubes with the onions, chard and melted thyme butter until everything is relatively evenly distributed.. Arrange in a large, shallow baking dish,and pour the chicken broth over the bread.
Bake at 350 degrees 20 minutes, or until the bread is crusty and golden.