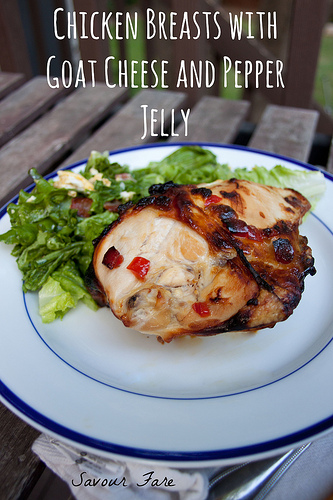 Not every recipe comes with a cute story, a long origin tale, a photo-worthy finish. Sometimes we are just trying to get dinner on the table. Sometimes we're dealing with real life here — that life where we have to get dinner on the table EVERY NIGHT, where lamb is expensive and beef unhealthy and your kid won't touch lentils with a ten foot pole so you're making chicken again, where if you see another boneless skinless "cutlet" you might have to throw something. That life.
In that life you might have optimistically bought two jars of pepper jelly at Christmas time – it's so nice on cream cheese For all those parties you ended up not going to, since one kid had the stomach flu and the other had an ear infection. In that life, you buy too much cheese and have odds and ends of it overflowing the cheese drawer in your refrigerator.
Or maybe that's just me.

So today I'm offering you another chicken recipe. This one uses split breasts, with BONES (keep it juicy!) and SKIN (wonderfully crispy.) It's also super-quick to assemble because I'm a fan of cooking for real life, though it will take some hands-off time in the oven. It's a solution to yet another chicken breast dish syndrome, and it even tastes kind of fancy.
No cute stories, no gimmicks, just real life.
Which isn't so bad, after all.

Chicken Breasts with Goat Cheese and Pepper Jelly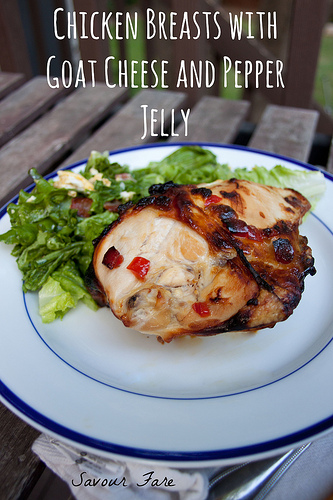 This is barely a recipe, so I'm not going to give quantities. Plan on 1- 2 oz. cheese per chicken breast, and 2-3 tablespoons of jelly.
Ingredients
Pepper Jelly
Split Chicken Breasts with bones and skin
salt and pepper
Goat Cheese
Instructions
Preheat oven to 400 degrees. Line a rimmed baking sheet with foil.
Using a microwave or a pot of simmering water, gently melt the pepper jelly until it's liquid. (I used Trader Joe's hot pepper jelly, but you can often find jalapeno pepper jelly in most grocery stores).
Salt and pepper the chicken breasts. (Split breast halves can be HUGE because apparently all chickens these days are Dolly Parton. Don't cut them prior to cooking, but 1 breast can make two smallish servings.)
Lift the skin of your chicken breasts to create a pocket underneath with your fingers. Stuff the goat cheese into the pocket. (you want a soft chevre type cheese - I used Redwood Hill Farms Chevre. 1-2 oz. per chicken breast.)
Using a pastry brush, brush the pepper jelly all over the chicken.
Arrange the breasts on the baking sheet, and bake for 40 minutes or until the juices run clear and the internal temperature measured by a thermometer is 160-165 degrees. Serve hot.