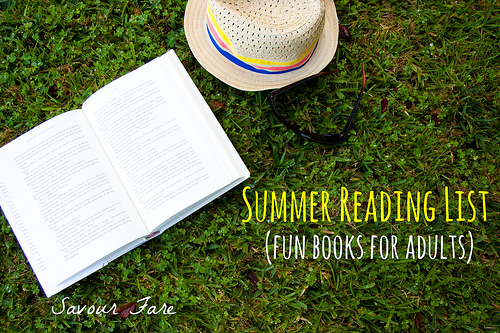 The Nuni has just joined the summer reading program at the library, and she is SUPER excited.  This is the first summer she can really read, and she is taking all sorts of delight in sitting down with a huge stack of books and racing through them (she is naturally picking the easiest of her easy readers), all the while exclaiming in a loud voice, "I LOVE READING."   This whole process of course leads to the ultimate goal- she can write the titles down on her list, take it to the library and get a sticker.
It's a preliminary step in what I hope will be a lifetime love of reading.  And summer seems like the perfect time to embark on a reading program for adults as well.  My perfect summer involves long hours by the beach or the pool or on an adirondack chair out on the porch with my nose in a good book.  Not just any book makes for good summer reading.  Summer reading should be gripping, enjoyable, light.  This is not the season for tackling Bleak House, or brushing up your knowledge of Russian agricultural theory.  The below list includes some  of my favorite fun books that are perfect for summer reading.
(Note:  Links are affiliate links.  Feel free to get these from the library.  Or support the site with click throughs.)

Outlander
 by Diana Gabaldon
This may be one of my favorite summer reading books of all time.  This book played a large role in why I spent my honeymoon in Scotland.  The premise – WWII nurse accidentally time travels to 18th century Scotland and falls in love with a Highland Laird – sounds a bit farfetched, but the book is really a historical romance/adventure and has it all – villainous redcoats, conniving clan chieftains, witch trials, wolves, a strapping heroine and the most dashing romantic lead you will ever meet.  Heathcliff, move over.  Meet Jamie Fraser.   Long of limb, red of hair and madly in love with his wife.  What's not to like?  It's the start of a series (though Outlander and the second book – Dragonfly in Amber – are by far my favorites) and I guarantee you'll get hooked.
Summerland by Michael Chabon
I think Chabon is known as a "serious" writer, but Summerland, which is nominally for young adults, is short and delightful.  An adventure story that combines Norse Gods, Paul Bunyan, a flying dirigible, and that most American of sports –  baseball – this one enchanted me from start to finish.  And with a title like Summerland (which Chabon actually borrowed from a small seaside town just south of Santa Barbara) how could this not be summer reading?
Where'd You Go, Bernadette
 by Maria Semple
If I told you that Maria Semple used to write for Arrested Development, that might be enough to convince you to read this book.  It is funny.  If you have a school-aged child it will be doubly funny, since a lot of the book is a send-up of private school and PTA culture.  If you happen to live in Seattle, it will be triply funny, since a lot of the book is also a send-up of Microsoft culture.  It's an epistolary novel with a lovable narrator, a mysterious heroine and a surprising ending.  It will keep you laughing and cringing in recognition.

A Discovery of Witches by Deborah Harkness
I think we're all familiar with an extremely popular but not exactly literary vampire book.  This one is the adult version.  (Not the XXX adult version, just one written for people whose brains have progressed beyond 15 year old girl-dom.)  About the romance between a witch and a vampire, this is also a mystery about the makings of the supernatural universe and scholarly exploration.  Deborah Harkness is a professor at USC, and her meticulous research does her well in this novel.  It's sophisticated and fun at the same time, and will make you rethink vampires.  The second book in the trilogy, Shadow of Night, is also available, but we are still waiting on number 3…
Helen of Pasadena by Lian Dolan
I have to say, having grown up in Pasadena, and living there now, this social satire about my hometown struck a few familiar chords.  The local institutions are very loosely disguised (I went to "Raleigh"), and the characters are spot on.  But even if I weren't as intimate with Pasadena culture as I am, this would be a fun read.  A social satire set in a very small town (population 150,000), this deals with rascally husbands, local traditions, competitive parenting, and a woman trying to find her own way in a life that has become unfamiliar to her.

The Beekeeper's Apprentice
 by Laurie King
I am totally obsessed with the BBC series Sherlock, starring Benedict Cumberbatch (the BEST NAME EVER) but my fascination with the detective in the deerstalker dates back to my discovery of this series of mystery novels by Mary King.  Sherlock Holmes, semi-retired, lives on the Sussex downs, keeping bees.  One day he stumbles upon a young girl, Mary Russell, who can become the foil that Watson never was, because she meets Holmes as an equal in intellect and observation.  The stories (again, it's a series) are wonderfully set in their time and place, from Oxford in the 1920's to Jerusalem shortly after World War I.  Holmes and Russell are marvelous characterizations – these are mysteries, but they are so much more than the neat plot twists you'll find in something like Agatha Christie – these are immersed in their setting and wonderfully enriched by their characters development over several books.  If you're a fan of mysteries, these are worth picking up.
Parallel
 by Lauren Miller
Full disclosure:  Lauren is a friend and former coworker of mine.  We also happened to go to college together.  So that's why I picked up the book.  But once I did, it totally sucked me in.  A girl (or is it two girls?) living parallel lives in which the actions of one a year earlier affect the life of the other, a year later, without her knowledge. It will keep you turning pages until the end.  Bonus points for all the fun references to my alma mater – I felt like I was in college again when I read this.
The Secret History of the Pink Carnation
 by Lauren Willig
Regency Romance meets spy novel meets modern day Brit chick lit – this is the first in a series that are just pure fluff, and pure fun.   They cover the escapades of a British spy in Paris during the Napoleonic wars (think: the Scarlet Pimpernel), and there are enough swoony heroes, spunky heroines, action and romance to keep you excited. Fluffy, yes, but Willig writes intelligently enough that the book won't give your brain sugar shock.
Mr. Penumbra's 24-Hour Bookstore
 by Robin Sloan
This is a book for nerds.  Book nerds, font nerds, history nerds, tech nerds and lovers of D&D-style fantasy  – Mr. Penumbra's 24-hour hour bookstore, a small shop located in San Francisco – is the nexus for all of these.  Whatever your nerd topic of choice, this book – a mystery slash adventure – will push your buttons.
Blackout
 and
All Clear
 by Connie Willis
First of all, this is really one book that has been published in two parts.  I got Blackout from the library, and immediately upon finishing it, had to buy All Clear, because Blackout has no ending on its own.  These deal with a common construct of Connie Willis's books – history students in the future research the past through time travel – but this particular iteration has the most thorough and realistic portrayal I've seen of life in London and Britain during WWII (At least I THINK it's realistic – obviously I wasn't actually there).  Life during the Blitz, the Battle of Britain, the Evacuation at Dunkirk – is all covered in stunning detail.  The books can be confusing at first, since the characters switch names in their various "research" roles, but it's worth sticking with – the payoffs are great, and you'll feel like you were there.
Obviously, I've read all these books, so I'm in need of more summer reading suggestions.  What are your favorite fun summer reads?