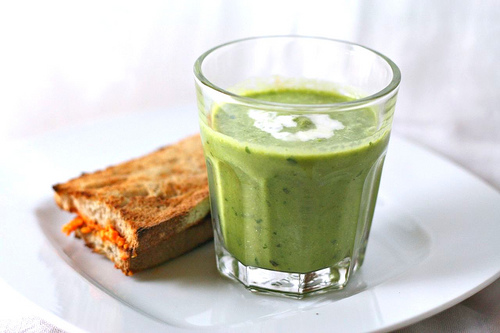 Springtime may be the most eagerly anticipated time of the year. I have vivid memories of the first warm day of each year when I lived on the East Coast – people would emerge from hibernation, cast off their coats and rush outside to soak up every last ray of sunshine. Even in Southern California, where "winter" means that the temperature is more likely to be in the high 60's than the high 70's and flowers bloom year round, springtime seems to be especially lovely, with more flowers, green hills, and birdsong.
But springtime, while lovely, is also fickle, and it's just as likely to blow cold as it is to blow hot. It rained in Los Angeles yesterday. In April! This is a desert! And it's snowing today in New York. This of course, leads to the ultimate culinary conundrum – we're tired of the heavy stews and root vegetables of winter, but we're not ready for the light salads of the warmer months. You could plan your meal for seventy five degrees and sunny only to find it's fifty and blustery at dinnertime. Or vice versa.
In jumps pea soup. I found this recipe years ago in an old issue of Real Simple, a magazine that I love despite the dawning of the realization that reality is rarely simple (but soup can be!). I was reminded of it by a recent post on A Chow Life and Joy the Baker's lament about the lack of neon colors in the spring palette. This soup is electric green, fresh tasting, and a snap to prepare, and it has become a standard part of my springtime repertoire. Best of all, it is excellent served both hot and cold, so it can stand up to the vicissitudes of spring weather.
To make it, you chop a large onion (you want about a cup of chopped onion for this) and sauté it in two tablespoons of (salted) butter. If there is a smell that is more savory and appetizing than onions frying in butter then I don't know what it is.
Then you add 2 cups chicken broth (I have no objection to canned broth, so long as it is GOOD canned broth. I very much like Trader Joe's organic chicken broth – it smells and tastes very chickeny. Whole Foods 365 brand tastes like salted water, in my experience. Smell your broth, and taste it. It will make a huge difference in a simple soup like this one.) and bring it to a boil. When the broth and onion mixture is boiling, add 2 cups frozen peas. You can use fresh peas, but peas start to convert their sugar to starch immediately once they're picked. Frozen peas capture all that sweetness, and they're quite delicious. They also make excellent ice packs for bruises, and seem to appeal very strongly to small children.
Bring the soup back to a boil, then add ¾ c. fresh mint leaves, and remove from the heat. Use an immersion blender to puree the soup, and season to taste. (To get this soup really smooth, you might want to use an actual blender, but I find the logistics of transferring hot soup to a blender quite daunting (having my arm splashed with hot pea soup while using the immersion blender was fraught enough, thankyouverymuch, I would highly recommend long sleeves for this part), so I live with slightly chunky. It's quite good either way.)
As I said, this could be served hot or cold, and tastes light and springlike either way.
(As a note, the improbable colored sandwich that appears in the pictures of the soup is not a result of overzealous saturation boosting in Photoshop – it actually IS that color, and I'll teach you how to make it soon)

Spring Pea Soup with Mint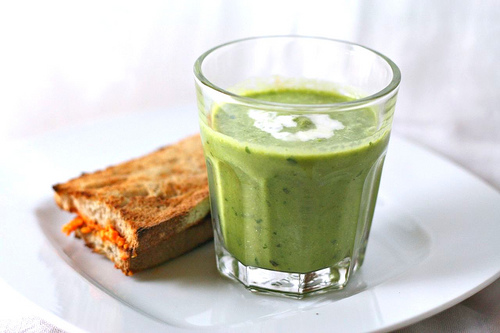 Ingredients
2 T butter
1 c. chopped onion
2 c. chicken broth
2 c. peas
¾ c. mint
Salt and pepper to taste
Instructions
Saute the onion in the butter in large and heavy pot. Add broth and bring to a boil. Add peas, return to a boil. Add mint, stir to wilt the mint, then puree the soup using an immersion blender and season to taste. May be served warm or chilled.
Notes
From Real Simple Magazine