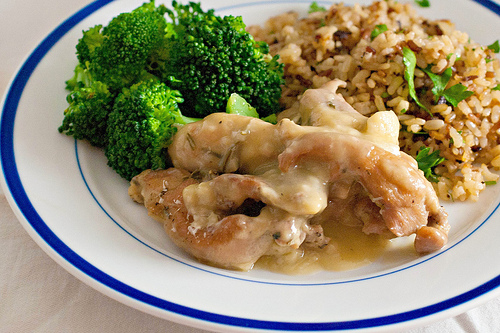 One of the things I love most about writing a food blog is that people come out of the woodwork with their best and most cherished recipes. I don't know if they want a moment in this small spotlight, they entrust me, as an "expert" to recreate their family treasures, or they are just inspired by the community of cooking to share, but I am glad, whatever the motivation. Although I love my cookbook collection fiercely, and poor over the food glossies every month looking for recipes and inspiration, nothing floats my boat so much as a tried and true family favorite — a recipe that is burnished by love and experience until it just shines. And they're almost always completely and totally delicious (we will ignore for the moment my own family's recipe for tomato aspic made with tomato juice, lemon jello and chopped celery and served with a side of mayonnaise).
This is one of those recipes that makes me happy to be working in food and writing about food, because if I wasn't, this recipe might never have come into my life. It comes from the kitchen of Spring (her actual name), the lovely mama of my lovely friend Rebecca (progenitor of the Bacon Salted Caramel Brownies – these people know good food.) Spring is very English but has lived in California for years and years — this dish, in my mind, combines the best of those two culinary traditions — an English focus on simple heartiness (and gravy!), with California Mediterranean flavors.


It's my favorite kind of recipe– simplicity itself to prepare, with ingredients I always have on hand, that becomes, upon the eating, so much more than the sum of its parts. I like to make this with small pieces of boneless chicken thighs, to maximize the browning and shorten the cooking time while keeping the flavor, but this could be made with whole boneless breasts or thighs for a more elegant presentation or even bone in chicken — just lengthen the time in the oven until the chicken is cooked through.
Either way, it's a recipe I'm delighted to share.

Spring's Parmesan Rosemary Chicken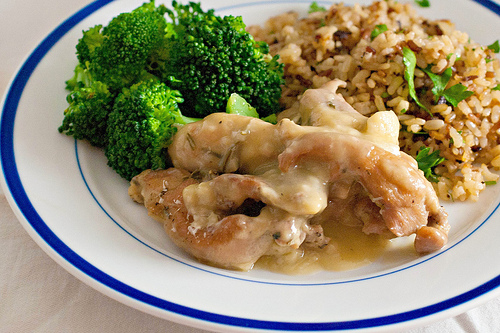 Ingredients
2 lbs chicken, trimmed of skin and, and cut into smallish pieces.
1.5 teaspoons salt
¼ teaspoon ground pepper
¼ teaspoon minced fresh rosemary (I tend to use a little more)
¼ teaspoon minced fresh garlic
2-3 Tablespoons olive oil
1 cup white wine
2 cups chicken broth (both the wine and the broth can be reduced -- you need at least ½ cup liquid total, but any proportion of white wine and chicken broth is allowed. I use this proportion, which makes ample gravy, upon the advice of Rebecca, and it is just sharp and savory enough, IMO)
2 Tablespoons flour
½ cup grated Parmesan Cheese
Instructions
Preheat oven to 350.
Combine the salt, pepper, rosemary and garlic in a bowl, and toss chicken to coat.
Heat olive oil in a large heavy skillet. Add chicken and brown, turning frequently, until the chicken is a lovely toasty brown color. Add broth and wine, scrape up any browned bits at bottom of pan, then cover and simmer until chicken is cooked through (about 10 minutes with the piece size I use).
Remove chicken to a baking dish, then add flour to the skillet with the liquid (you might want to add some of the liquid to the flour first to make a slurry, then stir in the slurry to avoid lumps), and pour gravy over chicken.
Sprinkle parmesan over chicken and gravy and bake 10 minutes at 350.
Notes
Recipe courtesy of Spring and Rebecca